Lady Godiva Procession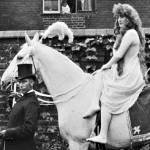 London Hippodrome actress Vera Guedes leads a procession as Lady Godiva leading a procession, celebrating the coronation of King Edward VII. The event takes place on 9th September 1902, probably in Coventry, which is where the legend originates.
Godiva, a Saxon noblewoman, famously rode naked through the streets of Coventry to save the townspeople from her husband's oppressive taxation.
UK 1902
Produced by Mitchell and Kenyon
c. 2 min. Black and white
Keywords: Lady Godiva, horse, procession, parade, men on horseback, soldiers, historical costume, civil war, marching band
Key frames
























Download Lady Godiva Procession (2:16)
Note
: It is not possible to download the video clips by right-clicking on the links below. You first need to
left-click
and accept the licence agreement before downloading.
To find out more, see the analysis of Lady Godiva Procession on BFI Screenonline.
Having problems downloading or using these files? Let us know.