Tropical rocket: Abandon Normal Devices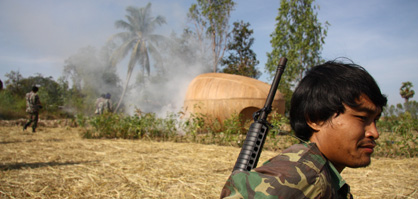 photo credit: Chaisiri Jiwarangsan
Tony Rayns sees Apichatpong Weerasethakul's 'Primitive' installation at the inaugural Abandon Normal Devices Festival of New Media and Digital Culture in Liverpool
---
Web exclusive, 30 October 2009
---
There's an undeniable twinge of disappointment when the turgid speeches at the opening ceremony for Abandon Normal Devices, all of them apparently drawing on the same list of Arts Council-approved platitudes, reveal that the festival is part of the run-up to the 2012 Olympics Arts Festival. What seemed on paper like a terrifically enterprising regional grass-roots initiative turns out to be centrally planned. The redeeming feature is that the actual choice of films, installations, events and exhibitions is in local hands (festival director: Kate Taylor), even if many of them stubbornly refuse to conform to the rubric of "exploring physical, social and technological concepts of normality".
AND's headline attraction is Apichatpong Weerasethakul's major installation Primitive, which fills Galleries 1 and 2 in the art centre FACT, running until 29 November. This spectacular piece was actually co-commissioned by FACT under the curatorship of Karen Newman; it was first shown in a different configuration in Munich last February, and yet another version will open in Paris shortly. The material in the show all springs from Apichatpong's stay last year in the village of Nabua (it's in the far North-east of Isan Province, near the border with Laos) and draws on the community's resonant modern history. The Thai military, which had seized power in a military coup, targeted the village as a hotbed of supposed communist resistance and launched an attack in 1965: many were killed, and all the surviving adult males fled to mountain bases. In 2008 Apichatpong found a community in which the adolescent boys and young men had grown up fatherless and somewhat wild. He started shooting videos in the village without a clear plan of how he'd use them, and then typically threw a spanner in the works by challenging the community to build a 'spaceship'. This cocoon-like structure (another of Apichatpong's "mysterious objects") sits in the village, surrounded by rice-paddies, arguably symbolising a collective desire to escape from an ugly past; it's somehow appropriate that it's become a hang-out den for the kids.
Gallery 1 at FACT is a large oblong cube, and Apichatpong has erected a steel gantry (shaped as a pyramid) at its centre to mount five digital projectors. The cinema-screen-sized image at one end of the space shows repeated lightning strikes on Nabua, suggesting (amongst other things) the violence visited on the community; while this screen is on, a deep red light, matching the interior of the 'spaceship', bathes the area under the gantry. Other screens around the room, some with sound, show the village boys kicking a blazing football and relaxing inside the 'spaceship'; yet others show the building of the 'spaceship' and an attempt to launch it. Outside is a 'music video' showing the boys dancing on the back of a truck as it hurtles along a country road, and upstairs in Gallery 2 are the film A Letter to Uncle Boonmee (a kind of mission statement for Apichatpong's upcoming feature Uncle Boonmee, Who Can Recall His Past Lives) and a video in which one boy listens to another singing his own song about the massacre. I also noticed something sinister (a monkey ghost?) lurking in the dark of Gallery 2.
No clear-cut interpretation of all these images and ideas is possible, but the whole certainly adds up to a richly cinematic experience. Exploring the implications and fathoming the connections between the screens demands - and rewards - at least an hour and a half of your time. Equally resonant was Apichatpong's Masterclass on 24 September, an extended PowerPoint presentation in which he reminisced, discussed his working methods and showed dozens of photos and a couple of wonderful short films.
I wasn't quite as lucky in my choice of other films and events, although the only one which prompted an early exit was Carolee Schneemann's shambolic 'performance' Mysteries of the Iconographies at Tate Liverpool. Aside from projection problems and endless faffing around with microphones, this was basically a slide show in which Schneemann claimed that recently rediscovered drawings she made as an infant prefigured her 'mature' work. The example of the latter which made squatting on a cold flagstone too much to bear was a film celebrating Schneemann's relationships with her two cats.
The biggest surprise awaiting anyone who sat through Lynn Shelton's Humpday (a big hit at Sundance, apparently) was the discovery that it told exactly the same story as Kelly Reichert's Old Joy: a wayward Neal Cassady figure bursts in on the domestic contentment of a Jack Kerouac figure, now settling into married middle age, and drags him into something that tests the limits of their friendship from years back. Old Joy's camping trip and awkward nudity at a hot spring here become a project to make a gay porno tape together - a project so obviously a non-starter that the film soon lacks all dramatic momentum. It's very well acted, though, and there are a few good laughs. Alicia Scherson's Turistas is a more credibly ambitious approach to hetero/homo panic, even if its story and characters are ultimately too slight to shake up anyone's body chemistry. A woman is dumped in the back of beyond after a row with her uptight partner and starts trekking through one of Chile's national parks, soon teaming up with a young gay man who, for reasons obscure and possibly threatening, is posing as a Norwegian tourist. Scherson juxtaposes human and animal lives in the forest (shades of Hukkle), but she's too caught up in her protagonist's insecurities to achieve a properly anthropological vision.
There are also a couple of films to watch in the Malcolm Lowry exhibition Under the Volcano at the Bluecoat; I didn't have time to see either of them all the way through, but they were anyway less interesting than the collection of Lowry memorabilia on show alongside a very impressive selection of paintings and sculptures inspired by or otherwise relating to Lowry's writings. Lowry was a local boy (the son of a wealthy cotton trader) who left Liverpool as a merchant seaman at the age of 17 and never came back; the exhibition (which runs until 22 November) chronicles everything from his experiences under mescalin and his fascination with the Mexican day of the dead to the efforts of his father's emissaries to save him from physical and mental collapse. Here, at last, is a real "challenge to normality". By the way, the Bluecoat is quite some venue for this; built as a school in 1717, it has recently added a new wing for exhibitions and performances which makes it one of the best centres of its kind in the country.
See also
In Loving Memory: Syndromes and a Century reviewed by Tony Rayns
Beyond the Horizon: Mark Cousins on Peter Sellars' New Crowned Hope film commissions
Tropical Malady reviewed by Roger Clarke
Tropical Malady reviewed by S. F. Said