Retrospective
Queen of Hollywood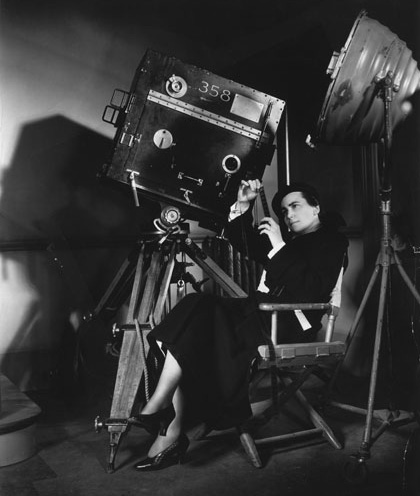 Star-maker and pioneering female director Dorothy Arzner brought women to the fore in Hollywood when it really counted, says Sophie Mayer
Todd Haynes' biopic of Dorothy Arzner, rumoured since 2003, has yet to make it to the screen - but with Julianne Moore firmly ensconced as the go-to lesbian after Chloe and this year's Teddy award-winner The Kids Are Alright, it's tempting to imagine that were the project to go ahead, Moore would be Haynes' number one choice. Who better to embody the besuited, openly lesbian Arzner, the only female member of the Directors' Guild throughout her career? At the very least, Moore could out-ice Cate Blanchett in a cameo as Katharine Hepburn, whom Arzner gave her first starring role in Christopher Strong.
The mother goddess of women's film-making, Arzner not only directly fostered the careers of many intelligent, strong female performers, but also indirectly inspired the wave of English-language women film-makers who emerged in the 1970s and 1980s; when feminist film historians looked for Hollywood ancestors, Arzner and Ida Lupino were the only figures they could find. Yet Arzner only just became a legend in her own lifetime, dying in 1979, a mere four years after the publication of Claire Johnston's groundbreaking collection Dorothy Arzner: Towards a Feminist Cinema.
While the feminine, feminist and lesbian qualities of Arzner's movies have been much examined and debated, what's most remarkable is her work rate, which equalled that of male studio directors. Having grown up around the silent-film stars who frequented her family's Hollywood café, Arzner approached the movie business as a hardworking studio hand, directing an astonishing 16 features in as many years between 1927 and 1943. Compare that with Kathryn Bigelow's eight feature films to date, in a career spanning 28 years since 1982's The Loveless.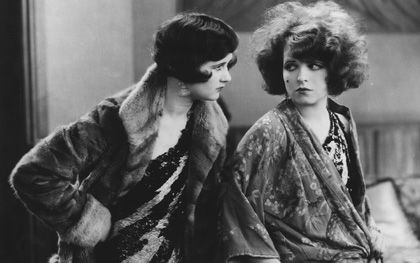 The Wild Party
Having worked up through the ranks at Paramount as typist, screenwriter and editor, Arzner eventually demanded the director's chair, otherwise threatening to defect to Columbia. She brought confidence and panache to her first feature, Fashions for Women (1927), repaying the studio with a commercial success that convinced them to put her in charge of its first talkie, The Wild Party (1929), a remake of a silent film she had edited. Famously, Arzner invented the boom mike during shooting to deal with the problem of fixed mikes hampering the actors' movements. With Clara Bow appearing (awkwardly) in her first speaking role and Frederic March making his screen debut, the film was both a critical and commercial success, and its racy themes and setting - in a girls' college - set the template for Arzner's oeuvre, which is populated by chorus girls as well as housewives.
But Bow's it-girl star began to wane as Hollywood edged from the Roaring Twenties into the Hays Code Thirties. Paramount directed Arzner towards melodramas such as Sarah and Son (1930), starring Ruth Chatterton in an Academy Award-nominated role as a woman who defies her husband to search for the son that he sold, and Craig's Wife (1936), which brought Rosalind Russell to moviegoers' attention in a spellbinding performance as a woman trapped in a loveless marriage. Arzner turned the misogynist source material, a play that sides with Mr Craig against his cold wife, into a plea for women to become their own people rather than beautiful possessions.
The repressiveness of marriage is Arzner's constant theme, and her films show again and again that when a man believes he can own a woman and women have to compete for men, then romance, loyalty and friendship go out the window. Honor Among Lovers (1931) is an almost Schnitzlerian roundabout of coupling that subtly parallels the problems of the sexual economy, in which men believe they can own more and more women, with the downfall of Wall Street speculators in the 1929 crash. It seems like a perfect film for 2010's duelling headlines of male celebrities in sex scandals and bankers' bonuses: it's a shame that the BFI London Lesbian & Gay Festival aren't including it in their retrospective.
But Honor Among Lovers lacks the other defining quality of Arzner's work, one that is the basis for her inclusion in the festival and that most appealed to feminist film theorists such as Judith Mayne: her detailed, complex and affectionate studies of female companionship, often rich in homoerotic overtones. Her most famous fictional female roommates, Bubbles and Judy in Dance, Girl, Dance (1940) - as played by Lucille Ball (in her first starring role) and Maureen O'Hara (in a rare screwball turn) - do eventually come to blows over men and money, but before the preposterous conclusion they are the classic odd couple, tiffing and dancing like a crypto-lesbian Fred and Ginger.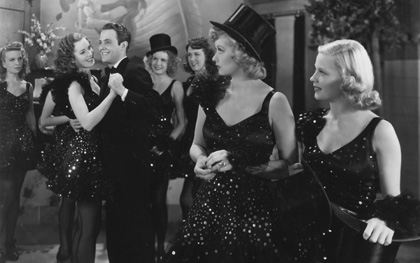 Dance, Girl, Dance
Dance, Girl, Dance is Arzner's best-known film, not least because it was based on an original story by Vicky Baum, who also wrote the novel adapted as Grand Hotel, in which Greta Garbo famously vamps it up as a dancer who "vahnts to be alohn". Bubbles and Judy are the exact opposite: like the protagonists of Arzner's earlier Working Girls (1931), Bubbles and Judy want to be together. Of course, they eventually transfer this affection onto a man, but there's no mistaking the far more passionate glances that pass between Judy and her butch dance teacher Madame Basilova (played by Maria Ouspenskaya, founder of the Stanislavski-based School of Dramatic Art in New York and famed for her role in The Wolf Man).
Arzner was in a long romantic relationship with Marion Morgan, the choreographer on Dance, Girl, Dance. Backstage gossip also associated her with a series of female stars, including Joan Crawford, who appeared in Arzner's European melodrama The Bride Wore Red (1937), a film that almost destroyed the careers of both director and star after Crawford's character transgressed class boundaries. In the same year Arzner directed Crawford in the jewel-thief comedy The Last of Mrs Cheney (1937), finishing the film uncredited after director its original Richard Boleslawski died during shooting. Long after Arzner left studio feature film-making, Crawford encouraged her out of retirement to make commercials for Pepsi, for which Crawford (as every Mommie Dearest fan knows) was a director and tireless spokesperson.
As with Crawford, whether Katharine Hepburn and Arzner were lovers remains a moot subject (perhaps one for that Haynes biopic), but what's undeniable is that Arzner first cast Hepburn, in Christopher Strong (1933), in the iconic role that would define her as Hollywood's 'spitfire' (the title of a 1933 film starring Hepburn as the titular wild girl). In aviatrix Lady Cynthia Darrington, Arzner and Hepburn crafted the actor's image into that of the fearless woman always in motion, a 1930s version of the 'serial queens', the female free spirits of silent cinema. Yet Darrington crashes to a miserable, albeit noble end: pregnant out of wedlock by a married man, she kills herself in her plane in a gesture of solidarity with the woman whose husband she loves.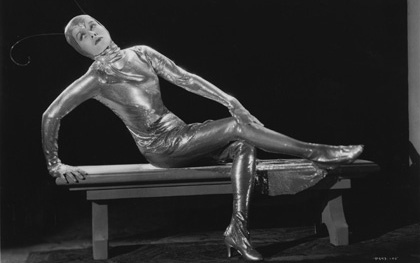 Christopher Strong
It's one of the quixotic gestures that Arzner heroines favour, like Nicole (Merle Oberon) in Arzner's final film First Comes Courage (1943). A Norwegian counter-intelligence agent, Nicole refuses to flee Norway with her British lover and comrade even after the death of the German officer whom she has been working for/against and is then married to. She runs back into the woods to hide - and perhaps to pursue her relationship with resistance worker and nurse Rose Linstrom (Isobel Elson). As the film's title twist on the rhyme suggests, love and marriage weren't even close seconds to courage and self-determination for Arzner and her protagonists.
No one knows why Arzner left feature film-making after First Comes Courage, although a decline in her films' critical and commercial success after The Bride Wore Red and a severe bout of pneumonia in 1943 were both factors. Systemic sexism and homophobia also increased in Hollywood with the implementation of the Hays Code from 1934, propagandistic curbs on moral laxity during World War II, and the post-war return to strict gender roles. While fans can only imagine an Arzner-helmed Rosie the Riveter feature, at least the films she made so prolifically - including Working Girls, the prints of which were presumed lost by Arzner herself - are being celebrated. They belong in the festival not only for their depiction of girls together, but for their often celebratory mode. Welcome to the wild party.
The Dorothy Arzner season runs from 20-28 March at the BFI Southbank as part of the London Lesbian & Gay Film Festival
See also
Six chapters in search of an auteur: David Thompson on Josef von Sternberg (January 2010)
Everywhere girls? Sophie Mayer on women film-makers in the 2009 London Film Festival (online, October 2009)
Embezzler of hearts: David Robinson on Rudolph Valentino (June 2004)
Starmaker: Gwenda Young on Clarence Brown (April 2003)
Day in the life: Sheila Johnstone on The Hours (February 2003)
Take it like a girl: B Ruby Rich on Girlfight and the women's boxing movie (February 2001)
Desire is violence: Chris Darke on the films of Claire Denis (July 2000)
Queer and present danger: B Ruby Rich on the New Queer Cinema of 1992 (March 2000)
Women directors special (October 1999)