Bedlam in brief: Encounters short film festival report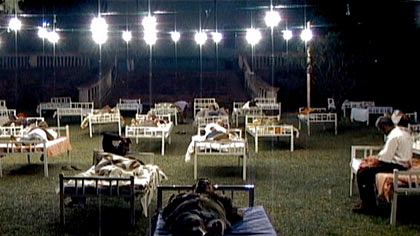 Cocais, The Reinvented Town
Nick Bradshaw picks a hatful of the best movies at Bristol's Encounters Short Film Festival
You didn't have to have a mental disability to be the subject of one of the better films in this year's Encounters Short Film Festival – but it seemed to help.
Item one: local Bristol film-makers Tom Stubbs and Michael Smith's Light and Dark, which scooped two awards (the South West Jury and Audience Awards) to add to the Best Documentary prize it won at the London Short Film Festival at the start of the year. As documentaries go, it's a crowded house: a portrait not only of the co-directors themselves (Stubbs is a professional documentary film-maker, Smith an amateur comic-book artiste; the two pals answered a South West Screen commission to team an experienced film-maker with a neophyte), but also of their respective alter egos, 'Graham Lightside' and 'The Dark Fox'. Smith is (boisterously) autistic, and his self-fantasy of a highly sexed and bloodthirsty comic-book superhero seems a not unfamiliar escape from the frustrations of the real world (qv. the Brothers Crumb). Then again, the sensible-seeming Stubbs turns out to live an alternate life as a enthusiastic 'corporate videographer', or camera nerd. (With Stubbs and Smith both vying to show their stuff, the film is also its own making-of). Luckily Smith wasn't judging his friend. This was a film that embraced the reality of fantasy, with good cheer and pride.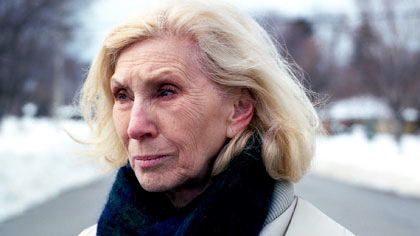 Sadder was Kazak Radwanski's Princess Margaret Blvd, a bifurcated snapshot of an Alzheimer's sufferer before and after she's consigned to a care home. Half the film plays out on the remarkable face of Gina Sylvester, all wide eyes, thin puckered lips and fearful reserve as she tries to keep her footing in a discombobulating world. (She ends up in care after jailing her grandson in the wardrobe.) Radwanski conveys her disorientation through a strategy of spiky edits that never quite mesh. The film deservedly won the festival's International jury Award, to add to the Best International Short prize it took away from Edinburgh in June.
Item three: Adam Elliot's Mary & Max isn't actually a short, but the festival showcased a series of recent full-length films by its alumni under the banner 'Shorts 2 Features', including Eran Creevy's Shifty, Andrea Arnold's Fish Tank and Tom Harper's The Scouting Book for Boys. Elliot's 2003 claymation short Harvie Krumpet, which won a small nationwide release, was a telescoped life story of an Australian depressive; Mary & Max relates a 20-year on-off pen-friendship between two social misfits, a bespectacled Melbourne girl full of questions and an overweight middle-aged Bronx Jew with Asperger's Syndrome (resonantly honked by Philip Seymour Hoffman), who's sent into a fresh panic attack by each new wondering letter he receives from Mary. The character animation and illustrative flights of fancy are funny and engaging, but it's Elliot's bittersweet writing that makes this a small masterpiece of delicate melancholia.
The most beguiling images of the festival, though, were to be found in Inês Cardoso's Cocais, A Cidade Reinventada (Cocais, The Reinvented Town, pictured at top), a fever dream of a documentary portrait of an open-air asylum in a remote Brazilian village, impressionistically shot over the most part of a year. There are no walls here; the clinic's inmates may not quite be the film's co-authors in the way Michael Smith was of Light and Dark, but as they and the film build up to a wild masked wedding ball and feast, Cardoso's camera free-wheels amongst them much as the local villagers mix with the party. (The film itself is also a part of the communion: we watch the crowd gather in the 'Cine Cocais' to watch themselves.) After the party, as the revelers sleep off their antics in an open-meadow dormitory, a flock of sheep wend their way amongst the dreamers. Or was that just me dreaming them?
Item five... well: you probably don't have to be crazy to be a customer of Getty Images' central London Hulton Archive, but who are all these 'researchers' who call up demanding photos of the Yeti, a dodo, Hitler at the 1948 Olympics or a crowd of astronauts behind Neil Armstrong as he makes his moon landing? Like Light and Dark, Laurie Hill's Photograph of Jesus (above) was the fruit of a commission, in this case Getty's 2008 Short & Sweet Film Challenge to make use of the Hulton's footage; also like Light and Dark, it's documentary that focuses on the fanciful and fictional – sending its animated never-nevers (an Edwardian lady in the Victorian era?) through the filing stacks as a librarian discusses the optimistic requests in voice-over. The film won Encounters' Best of British award.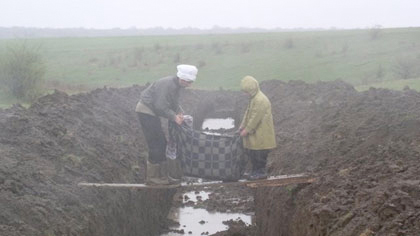 A postscript: there weren't any mentally 'ill' characters in Encounters' Romanian Programme, just a whole lot of strained family relationships, and one bereaved widow. But if there had been an award for the strongest programme of the festival, this would surely have walked away with it. Cristi (Four Months, Three Weeks and Two Days) Piui's Cannes-winning 2004 short Cigarettes and Coffee, in which an unemployed old man is given an impatient job-interview grilling by his own more market-savvy son, was included, perhaps in the suggestion that it was a wellspring of the neorealism that marks much of the Romanian New Wave, and which ran through this programme (setting aside the two-minute-long Immerse, a stylish inner-space voyage which nonetheless managed to evoke a headache-pill advert).
Radu Jude's The Tube with a Hat and Marian Crisan's Megatron both followed journeys of a strung-out parent struggling to meet the over-expectant hopes of a young son, whether involving a muddy Sunday treck into town with a big old broken television or a birthday trip to McDonald's for a special-edition meal toy. Adrian Sitaru's Waves was a more black-humoured depiction of family-holiday frustrations and delusions on the beachside, with a French single mother turning the heads of both a gypsy boy and a family man; if it was a little too sarcastic, it at least provided some comic relief after the pristine lonesomeness of George Chiper's The Palm Lines, in which a widow reflects on how she once held the fate of her husband and daughter in her hands, since when she has lived a life of scrupulous, hollow routine and order. You desperately wanted a flock of sheep to crash down her door.
See also
Eat my shorts: James Bell on the digital deluge of short films (May 2004)
Where there's pomp: Cristian Mungiu interviewed by Nick Bradshaw (online exclusive, November 2009)
Eastern promise: Nick Roddick on Romanian cinema's new wave (October 2007)