Berlinale: We have the stars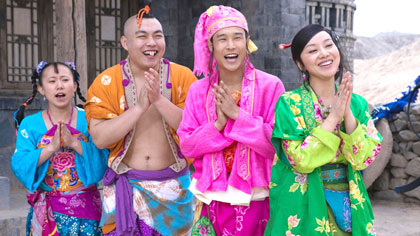 Scraping three stars: A Woman, A Gun and a Noodle Shop
Thumbs a-quiver at the Berlinale, Nick James wonders if dreaming of a festival without instant ratings is asking for the moon
Sight & Sound never gives anything so reductive as a star rating for a film, but sometimes at festivals I'm asked to join the star-rating panel of the trade journal Screen Daily and I can't resist. I'm giving stars at Berlin this year and the flaws of the rating system quickly become apparent when you find yourself giving two stars (out of a range from none to four) to the majority of the films in competition.
If you discount Polanski's The Ghost Writer (three stars for its mild sense of self-mockery), which I'd already seen in London, my two-star run started with Berlin's opening film, Wang Quan'an's Apart Together, a reasonably well-crafted piece of bathos about Taiwanese Kuomintang soldiers returning to the Chinese mainland. It continued with Howl – Rob Epstein and Jeffrey Friedman's portrait of beat poet Allen Ginsburg, beautifully performed by James Franco but ruined by naff animated illustration of Ginsburg's titular poem – and with the well-regarded, -made and -acted Romanian prison movie If I Want to Whistle (prison-related movies are everywhere at this festival), whose only flaw is its predictable storyline. Then I hit my first one-star with Submarino, Thomas Vinterberg's unconvincing portrait of a rather prettily lit pair of damaged and impoverished middle-aged brothers.
This clutch of okay, competent, not bad (or whatever other euphemism for average we can use) films are alike in that they're well-shot and acted but unlikely to shake anyone's world. Then came Zhang Yimou's A Woman, A Gun and a Noodle Shop, a very entertaining, cartoonish Chinese remake of the Coen Brothers' Blood Simple ruined only by the cowardly lover character being overplayed to shrill annoyance. This scraped a three. It was back to a two for Noah Baumbach's Greenberg, a portrait of an unpleasant man recovering from a nervous breakdown. The Robber, a taut Austrian portrait of a determined outsider criminal, again just made three stars after much hesitation on my part.
If it weren't for its rank misogyny, the Norwegian comedy A Somewhat Gentle Man, which stars an adroit Stellan Skarsgård as a mild-seeming ex-con trying not to conform to stereotype, might have deserved three stars instead of the one I gave. But you can see how marginal and contingent the whole process is from my deliberations and equivocations here. I worry that my more capacious recall of a movie gets reduced by the need for summary instant judgements. And I'm worried too that I'm starting to star-rate meals and even conversations with other film critics. Was Jonathan Romney's unrepeatable pun about this morning's screening a one- or a two-star? Was Geoff Andrew's complaint about rude and pushy people in the queues here a four- or a none? How should I rate the convivial Edinburgh drinks party? Wendy Ide's disappointment at a sexy star's half-dead interview? I'm seeing seven stars; perhaps someone just hit me.
Nick James and Geoff Andrew are also elaborating their Berlinale reactions in 140 characters on Twitter: twitter.com/SightSoundmag