Every doc for itself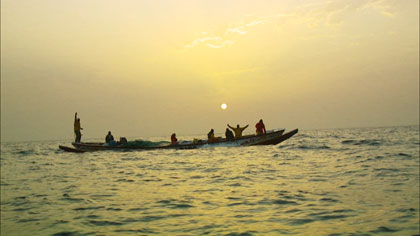 The End of the Line. Are our documentaries doomed?
Sheffield Doc/Fest brings documentary watchers and makers together to survey the state of the art – and get into a fight about it. This year charity-funded movies were on trial; Nick Bradshaw picked through the sloganeering, then went back to the screen for enlightenment
1. Campaigning pains
Looking back at the 2009 edition of the festival formerly known as the Sheffield International Documentary Film Festival (these days abridged for the Twitter age), it's hard not to want to start by dispensing with the contretemps at its most over-subscribed panel session. Lighting on one of the year's big documentary trends – the rise in advocacy-driven, 'social justice' documentaries (think The Age of Stupid), often 'filmanthropically' supported by campaigning charities (The Vanishing of the Bees by the Co-operative, The Cove by the Oceanic Preservation Society, The End of the Line by a host of NGOs from Greenpeace on down – the festival convened a panel to debate the subject 'Campaigning Documentaries: The Thin Line Between Passion and Propaganda'. And to light the touch-paper, it invited Moral Maze contrarian Claire Fox as arbiter.
Question: is it worse for an oil company than a charity to fund a film? "If Dr. Goebbels were to turn up with a huge sack of money he'd have documentary film-makers queueing up," argued BBC Storyville's Nick Fraser, cautioning us that "some money is better than other money." (Goebbels did of course have documentary film-makers queueing up; and there are plenty of denialists of everything from climate change to the HIV-AIDS link who have broadcasters and film festivals today feeding from their hand. The real question is whether or not the money is compromising editorial independence, or the art. Some film-makers have made great works with oil-company backing.)
The idea of partnering charities and documentary film-makers has lately been championed by the Channel 4 Britdoc Foundation, with its Goodfilm.org dating site and Good Pitch funding forums. The foundation's chief executive Jess Search found herself in one corner of the panel, as it were. Working with charities, she argued, Britdoc and its film-makers had been on a learning curve they'd never have experienced if they'd been funded by broadcast television. Charities were less jaded than TV people; they could bring films to new audiences, use them in different ways and give them a longer life-span. And they understood impact and change. Don't all documentary film-makers want to make a difference?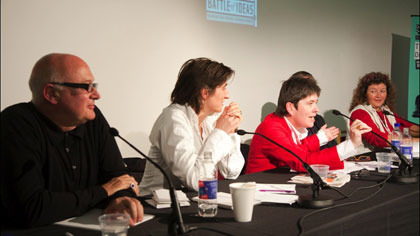 Debate: 'Campaigning Documentaries: The Thin Line Between Passion and Propaganda'
The other side of the table then read out the charge sheet. Writer and film-maker Kevin Toolis was worried about the strings that came with charity money. "NGOs like Greenpeace are as mendacious and self-centred and unaccountable as the CIA," he posited, adding that they were "politically unexaminable, push their own sectarian agenda" and are "human and just as corrupt". Plus they have no editorial standards or understanding. The upshot: the documentaries they fund don't look at "difficult, controversial subjects" but are "aimed at a wide consumer audience, dealing with what we all regard as intrinsic good"; they pander to majority opinions and confirm rather than challenge prejudices. Where "old-fashioned investigative journalism reveals something about the world" and comes with the ambition of critical engagement and being fair to the other side, campaigning documentaries constitute a "shrill back-and-forth" that merely targets attitudes.
Fox herself wondered if Search's new breed of docs were "simplistic messaging and advocacy that says it's serious investigative documentary", suggested that "what we're really interested in is feeling good about ourselves", and asked the audience to vote on whether campaigning docs amounted to "charity advertorials".
"We're demeaning humanity and contributing to the idea of politics not being important," added Fox's old Living Marxism comrade, now anti-environmental 'equality campaigner' Ceri Dingle. "It's a shame Jess doesn't recognise how status quo her films are," she continued. "Don't kid yourself that because they're popular, moralistic and 'doing good' that they're changing things in any way. That's the tragedy and anti-politics." Some of Search's slate might be "fantastic", she allowed, but they weren't going to change society until they dug "for the truth". (The audience also learnt that propaganda wasn't what it used to be: "Propaganda to me used to mean the propagation of many ideas to the few – as opposed to agitation, the single idea to the many," she garbled. "Today it's a dirty word… flung at things you don't agree with," a use she immediately demonstrated by explaining that whereas others considered The Great Global Warming Swindle propaganda, she instead considered The Age of Stupid (or in words, "Plane Stupid") propaganda. What had happened to the good old propagandists' aspiration to "take people beyond what they spontaneously know and think, beyond their immediate experience to challenge prevailing views"?)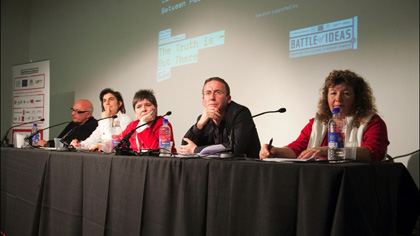 Nick Fraser, Jess Search, Claire Fox, Kevin Toolis and Ceri Dingle
Fraser attempted to raise the level of erudition by quoting Saul Bellow and Flaubert, but largely sat out the fisticuffs, except to adduce Eugene Jarecki's Why We Fight and the output of Boston's WGBH as evidence that documentaries can be both balanced and polemical. But if the debate was truthfully about the travails of investigative journalism, perhaps the finger should be pointed less at charities than at broadcasters' dereliction of their remit to support that work. "Times are so fucking bad that instead of quarrelling over the definitions of campaigning journalism… we should be devising some means of stopping Channel 4 and BBC from selling the past and destroying what in this country is a pretty remarkable tradition," he sallied, branding their abdication from the funding landscape "a major act of cultural vandalism." Search had set out her stall with a similar blast: "I don't recognise a world in which TV commissioning editors are solely concerned with truth and art and want to give film-makers independence to go off and tell stories as they see them," she argued.
It took the floor to provide what little light was shed on charities' likely effect on editorial independence. One film-maker explained that the only difference between NGO and broadcast funders is that "you can't change your mind halfway through a film for the former." A delegate from Human Rights Watch vouched for that group's self-searching staff and internal discussions, while repeating Search's point that films can instigate "critical, revelatory debates" in a way that written reports rarely can. Such films "are never a complete statement", of course, so HRW's own film festival makes a point of following its film showcases with live debates about the issues raised. But like propaganda, apparently, the quality of such debates can sadly vary wildly.
2. Wear your film with pride>>