Genre files
From strip to screen:
French comic-strip mavericks at the movies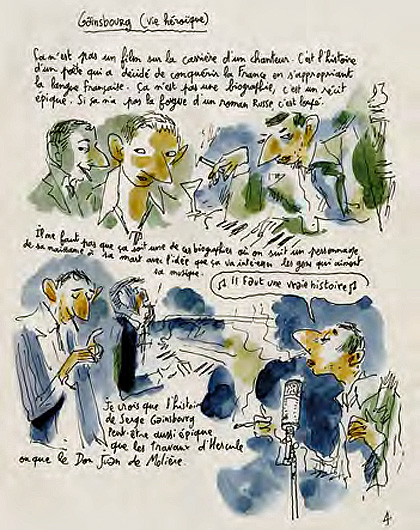 Joann Sfar's sketches for Gainsbourg
Joann Sfar's quirky biopic Gainsbourg, Sight & Sound's film of the month, audaciously blends a classicist approach to the genre with iconoclastic comic-book digressions featuring the singer's animated alter egos. It's a reminder of France's enduring tradition of innovative graphic-novel art, says Guillaume Gendron, who here charts the fortunes of two generations of bande dessinées talents as they've tackled the big screen
Whilst Belgium can boast all the big names and seemingly timeless icons (Tintin, Asterix, Lucky Luke etc) for generations of children's comic fans, French graphic artists have kept busy producing some of the finest adult bande dessinées ('BD', or 'bédé'), breaking topical and visual boundaries as they constantly rewrite the rules of the medium.
Quite a few of these successful mavericks have had a try at recreating their vision behind the camera, a trend that has recently gained strength and visibility with the successes of young artists turned film-makers like Joann Sfar, Riad Sattouf and Marjane Satrapi.
Over the last decade, as studios unashamedly recycled Francophone national treasures into dull live-action cash-machines (the three Asterix, a couple of Lucky Lukes, Largo Winch as a TV series), ambitious film adaptations of comics by ageing pioneers such as Tardi and Giraud have also found their way onto the big screen. And while Steven Spielberg is remaking Tintin into a big-money motion-capture blockbuster, exciting things are being done in small studios with tight budgets and bucketloads of creativity.
So without further ado, here are the most interesting and influential French graphic artists and a glimpse at their off-kilter productions, from the still images of the comic strip to life-like moving pictures. "Shebam! Pow! Blop! Wiiiiizz!", as Serge Gainsbourg would have Brigitte Bardot sing…
'La nouvelle bande déssinée': another New Wave?
Joann Sfar
Artist, writer, publisher, cineaste and philosophy graduate Sfar is the protean father figure of the 'nouvelle bande déssinée' ('new French BD', so branded by Hugues Dayez's 2002 watershed interview book of the same name, in which Sfar figured with seven other prominent figures of the movement).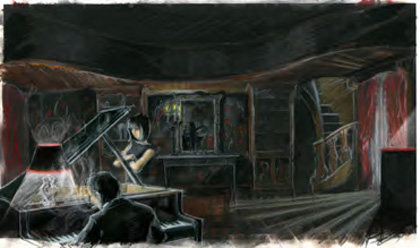 Driven by a wide range of influences – including Quentin Blake, Corto Maltese's Hugo Pratt and Marc Chagall – and an indomitable curiosity, Sfar has rapidly built an enormous, dishevelled and stimulating body of work, from the tongue-in-cheek heroic-fantasy Donjon to the poetic Rabbi's Cat series and a comic book adaptation of Saint-Exupéry's novella The Little Prince, among dozen of others projects. Combining a fairy-tale, almost childish visual style with philosophic considerations and his own religious sensibility, Sfar's oeuvre is often read as a cosmopolitan celebration of Judaism, made evident by his reinvention of Gainsbourg (a man who had a song called 'Nazi Rock' in the insanely provocative Rock Around the Bunker album) as a Jewish hero.
Sfar is an opinionated man who is not afraid of scale: his Donjon series has already spanned 30 episodes in a mere decade (Sfar plans a full collection of 300), and his debut feature is a blunt, two-hour-long poetic redefinition of one of France's most treasured and beloved icons. Many objected to his appropriation of the singer's life, starting with Gainsbourg muse Jane Birkin, who forced Sfar to add the suffix "un conte de Joann Sfar" (a fairytale by Joann Sfar) under the French title Gainsbourg: Vie Héroique.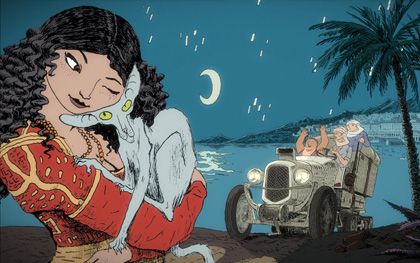 A still from Sfar's upcoming The Rabbi's Cat
For Sfar, filming, like drawing, is about "filling the frame" and he already has a very clear idea of what his films should look like, as he explained to Les Inrockuptibles:
"I can't stand the Audiard-wannabes. Nowadays French cinema is about popular films with beautiful images but made for children, or films that want to be intelligent, shot camera on the shoulder. There is nothing great about filming Pigalle by night with a handheld camera. Why are they shaking the camera? Because they can't assume their images. An image must be constructed."
As a result, the lavish, classical production values of Gainsbourg (trailer) put many French film-makers to shame, and anticipation is growing for the release later this year of Sfar's adaptation of The Rabbi's Cat, which will apparently be an animated film despite these misleading stills. (Apparently Sfar wanted his voice-cast to rehearse in hand-drawn counterparts' characters for a couple of weeks, costumes and all.) In the meantime the Franco-German cultural TV channel Arte commissioned the actor-turned-director Matthieu Amalric to direct a documentary on Sfar, released in June on DVD.
Riad Sattouf
Sattouf is another young gun of French BD who surpassed all expectations with his first film The French Kissers (2009) (trailer), a popular success based on his graphic novel Retour au collège, crowned in February with a César for Best First Film. Sfar was the editor at Bréal Jeunesse who published his early work: Manuel du puceau (The Virgin's Guide) and My Circumcision.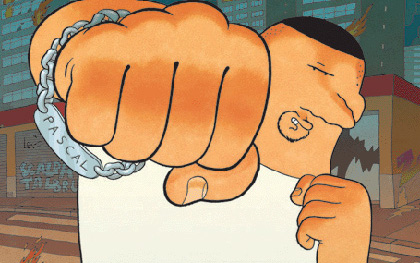 Riad Sattouf's Pascal Brutal, "the most virile man on earth"
An acute observer of the mundanity of everyday life, Sattouf depicts the "secret life of the youth" – the name of his mordant weekly strip for the satirical newspaper Charlie Hebdo which became an overnight success in France. The French Kissers doesn't depart much from his comics, offering a Gallic alternative to Judd Apatow with its tender collection of gawky teenagers and profoundly uncool characters. But under the layer of juvenile gags, Franco-Syrian Sattouf offers a laser-sharp and at times uncomfortable reflection of French society, with its fair share of racial tensions, urban violence and social inequalities. He also created the hilarious cult-character Pascal Brutal, Sattouf's anti-alter ego, a street-wise alpha male obsessed with his own virility who regularly saves a futuristic France from all sort of conspiracies.
Marjane Satrapi
The overwhelming international success of Satrapi's Persepolis (2007) (trailer) kick-started the trend of nouvelle bande déssinée's film adaptations. Satrapi met Sfar at l'Atelier des Vosges, a collective of young artists who decided to share the same studio back in 1995, setting in motion the genesis of the movement.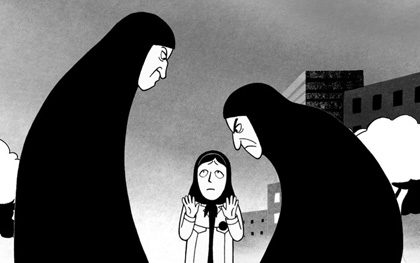 Marjane is being told off for wearing trainers and a punk jacket in Persepolis
Satrapi's bittersweet autobiographical graphic novels, like Sfar's and Sattouf's work, rely heavily on childhood memories and cultural observations. Aside from the sensitive nature of the themes tackled head-on by Persepolis (the Islamic revolution, Muslim girls' emancipation, the casual racism of Occidental countries), the boldest aesthetic choice of the film adaptation was to keep the grim black and white colour scheme of the BD, without losing the spontaneity and uplifting quality that characterise the story of Marjane, a middle-class Iranian teenager fleeing her country after the Islamic revolution.
Winshluss
Another rising star of nouvelle bande déssinée, Winshluss was credited under his real name of Vincent Paronnaud as co-writer and director of Persepolis, and recently published a stunning reinterpretation of the Pinocchio tale, picking up the Best Book award at the prestigious Angoulême festival in 2009.
Paronnaud also has a few short films under his belt, co-written and directed with regular collaborator and graphic artist Cizo (French for 'scissors', as his work is based on collages and image 'hijacking'). Quite keen on high-concept pranks and archive remixing, they play with deliberately retro techniques and the original codes and characters of silent animation to deliver their own brand of sarcastic 'Disney-punk'. Their latest offering is a 23-minute-long mockumentary, Hollywood superstars avec Monsieur Ferraille – la biographie non-autorisée de Monsieur Ferraille, devoted to their creation Monsieur Ferraille (Mr Scrap Metal), "a true Hollywood superstar who changed cinema forever". It's a pretext for witty parodies of Godard's Contempt, Star Wars, blaxploitation flicks, Easy Rider and televised hagiographies in general.
At the 2010 Cannes Film Festival, Satrapi and Paronnaud announced they were about to start shooting their next project, Poulet aux Prunes (literally, 'Chicken with Plums'). Based on another of Satrapi's graphic novels, the film, in "Technicolor and Cinemascope", will be "a moral tale, an allegory and an Italian-style comedy" depicting the tortuous biography of a world-class violinist from Tehran spanning seven decades (from the 1930s to the 1990s) as he reconsiders his life after his favourite instrument has been shattered. An international cast including Mathieu Amalric, Chiara Mastroianni, Jamel Debbouze, Golshifteh Farahan, Isabelle Rossellini and Maria de Medeiros will give voice to Satrapi's characters.
If liberty of tone and style define their movement, Sfar, Sattouff, Satrapi and to some extent Winshluss are united by a number of common features: an unfussy, ligne-claire drawing style, the recurrence of childhood stories, the tropes of nascent sexuality and loss of innocence and a tactful but militant celebration of their own cultural identities: Sfar's Jewish heritage, Sattouf's Arabic roots and Satrapi's Iranian origins. The 'nouvelle bande déssinée' collective has taken French cinema by storm – contrasting with the uneven output of their elders…
The old guard's mixed fortunes
Tardi
A prominent figure of adult bande dessinée for the last 40 years, Jacques Tardi became a household name with Adèle Blanc-Sec (The Extraordinary Adventures of Adele Dry-White), set in the years preceding World War I in a Paris full of monsters, anarchists and working-class antiheroes. He also illustrated special editions of Céline's and Léo Malet's novels.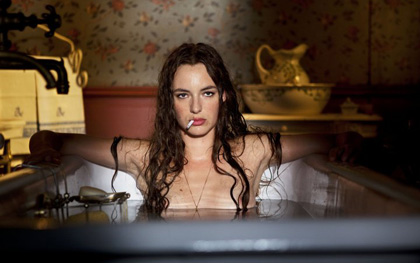 Louise Bourgoin as Luc Besson's Adèle Blanc-Sec
Earlier this year, Luc Besson, an avid comic book fan, adapted Adèle Blanc-Sec as an expensive mainstream movie (trailer), bizarrely pitched somewhere between Amélie Poulain and Indiana Jones. For many years Tardi also had an animated film in development with the studios that produced Persepolis, but is apparently struggling for money to complete the project.
Enki Bilal
Born in Belgrade in 1951, Enki Bilal moved to Paris with his family at the age of ten. Like many others, he started at Pilote magazine, the sadly defunct French BD institution that gave the world Asterix. He quickly garnered a cult following in the 1980s with the Nikopol Trilogy, an ultra stylised, metaphysical sci-fi tale set in a dystopian world, drawing heavily on ancient Egyptian aesthetics and mythology. After creating some of the sets for Alain Resnais' La Vie est un Roman and undertaking graphic research for Jean-Jacques Annaud's The Name of the Rose, he directed his own debut feature in 1989 with Bunker Palace Hotel.
Two other films would follow over the next two decades: Tykho Moon (1996) and Immortal ad Vitam (2004) (trailer; clip), both retaining a great proximity to his comics' style and themes. While his work on paper is breathtaking (every single frame is a masterfully composed painting), his films have tended to suffer from tight budgets and – crucially – underwhelming special effects.
Immortal ad Vitam, his most recent film, is a decent effort to adapt the first two volumes of the Nikopol Trilogy with a mixture of live and CGI actors and settings, illuminated at times by moments of graphic brilliance. Unfortunately the film suffers by comparison with Luc Besson's futuristic extravaganza The Fifth Element (1998), with its intensive recycling of French sci-fi including Bilal's own Egyptian imagery; Immortal ad Vitam looks a bit like The Fifth Element's anemic little gothic brother.
Moebius
Jean Giraud – aka Moebius when he puts his sci-fi wizard hat on – is a truly legendary figure of French BD, revered for both his mainstream output (the Western saga Blueberry) and his psychedelic, cult sci-fi work for the magazine Metal Hurlant (which became Heavy Metal in the US). Metal Hurlant was part of Les Humanoides Associés, the publishing house Giraud founded to free himself from the constraints of the conservatives Franco-Belgian publishing houses and offer alternative, adult graphic novels – Bilal's Nikopol Trilogy among them.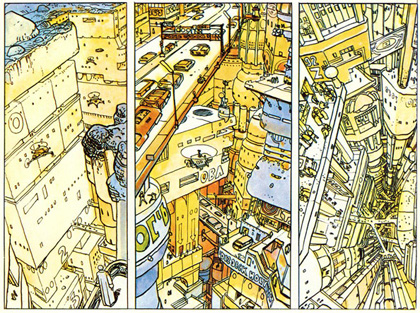 Moebius's futuristic city as seen in L'Inkal
Moebius is undoubtedly the most successful artist of his generation when it comes to film work, having inspired Blade Runner's metropolis and worked on such influential films as Alien, Dune and Tron. Giraud was also a creative director on Luc Besson's The Fifth Element, whose flying cars and bottomless skyscrapers are directly borrowed from Moebius' Inkal series.
Jan Kounen's 2004 adaptation of Blueberry (clip), starring Vincent Cassel and Juliette Lewis, was not the total failure many described at the time, but an interesting albeit clumsy endeavour to synthesise the two sides of Giraud/Moebius into one film. Mike Blueberry, the title-character of Giraud's long-lived series, was originally a family-friendly character directly inspired by Jean-Paul Belmondo's persona in French action flicks of the 1960s and 70s. Through the years (especially after the death of the original Belgian scriptwriter Jean-Michel Charlier and the start of the Mr Blueberry saga) he gradually evolved from a good-hearted renegade Marshall into something meaner, moodier and darker: a direction that would be expanded and exaggerated in Kounen's film.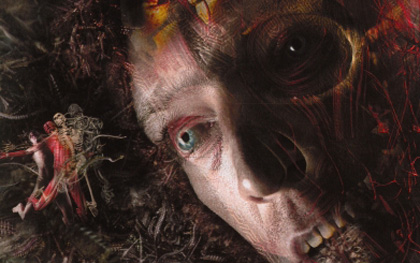 Many fans and critics complained about the 10-minute CGI frenzy, depicting Blueberry's 'inside' trip under the influence of peyote, noting that the scene was alien to the comic books' universe and more about Kounen's own obsession with drugs and shamanism. According to this fascinating interview in which Giraud dissects his film work (sorry non-French speakers), though, this came directly from the artist's own experiences with hallucinating drugs, which he believes to be responsible for his creativity, schizophrenic production and split personality.
See also
Gainsbourg reviewed by Ginette Vincendeau (Film of the Month, September 2010)