Project me
Isabel Stevens on the Jarman Award artists who straddle the worlds of gallery and screen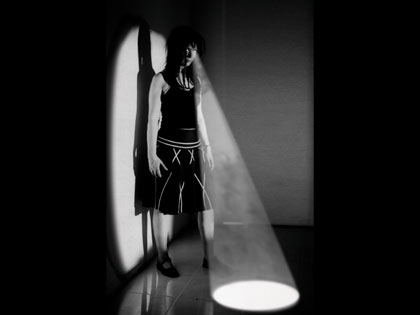 Whether you're an art student, a struggling artist or an established darling of the art world, rest assured there's a competition out there for you. Coming up: on October 7, the nominees for the Turner Prize go on show at the Tate Britain; a week later the Frieze Art Fair will be exhibiting Cartier award-winner Jordan Wolfson, while the Royal College of Art hosts the short-listed artists for the Magic of Persia Contemporary Art prize; and in early November the Paul Hamlyn Art Award nominees will be announced. (November also sees perennial Next-Big-Thing hunter Charles Saatchi aim to pump more hot air into the market with his reality-TV show Best of British.)
Amidst this artist-crowning frenzy, why should the news that Lindsay Seers has won the Jarman Award merit special mention? Like the Turner, Vincent and Duchamp prizes, the Jarman is one of the few named after an artist rather than a fashion brand eager to leech some cheap advertising and intellectual credibility. Funded by the Arts Council through Film London and FLAMIN (Film London's Artists' Moving Image Network), the award – now in its second year – is uniquely focused on mid-career, UK artists working with film and video. Like Jarman's, their work 'resists conventional definition' and (as you would hope) encompasses 'excellence and innovation', but the artists showcased are also 'at the cusp of breaking through to mainstream recognition' (last year's winner Luke Fowler has since had work shown at New York's New Museum as well as a solo show at the Serpentine gallery).
Each of the three runners-up (this year, Simon Martin, Stephen Sutcliffe and artists duo Anja Kirschner and David Panos) receive £1,000; the winner gets £10,000 and the opportunity to produce four short films for Channel 4's 3 Minute Wonder slot. With penthouse bankers' money dried up and confidence in the market at a low, film and video art is now less lucrative than ever – unless your name is Steve McQueen or Douglas Gordon. Funding is hard to come by and gallery representation harder to secure than for painting, sculpture or photography; film and video artists ascend the art world's ladder at a slower rate.
At a time when most experimental moving-image work is viewed in the domain of the gallery, the Jarman Award aims to straddle both art and film worlds. This year's jury consisted of members from both, among them Stuart Comer, film curator of Tate Modern, and feature film-maker Asif Kapadia; but while last year's shortlist included Andrew Kötting, all this year's nominees were firmly associated with the art camp, rather disappointingly. Their films were toured to cinemas in Glasgow and Bristol in September, but this inevitably limited the showcase to single-screen work. Recreating Seers' installation It Has To Be This Way wasn't an option and so only a short film documenting it was shown, but there was little insight gained from this secondhand encounter.
The nominees' work, though, demonstrates the variety of styles and themes at play in much of contemporary film and video art, while containing few of the characteristics typically associated with it. Far from being full of repetitive, obtuse and dawdling shots, these films offered surprising emphases on narrative, the use of actors and, yes, even humour.
Costume dramas aren't often found amidst white gallery walls – Kirschner and Panos' The Last Days of Jack Sheppard (2009) re-creates encounters between the titular Sheppard, an 18th-century criminal, and author Daniel Defoe. Verging on feature length at nearly an hour, the film is set in 1720, the year of Britain's first recorded financial crisis, and offers a timely critique of a speculative economy and the forces of greed and celebrity (Sheppard became mythologised as a popular hero and Defoe, saddled with debt, ghost-wrote Sheppard's autobiography after his execution).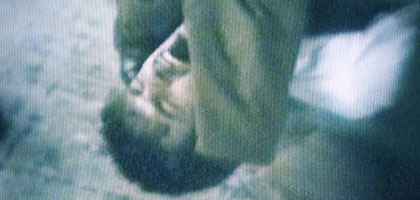 Stephen Sutcliffe has amassed his own archive of audio and visual recordings which he splices together to make short films. Come to the Edge (2003) (pictured) – which mixes an audio recording of poet Christopher Logue's anguished cries with visual archival footage of sixth-formers bullying one schoolboy – was the most arresting, while We'll Let You Know (2008), which featured a young Ian McKellen ruminating somewhat pompously on Shakespeare while an off-screen voice viscously heckles him ("Oh God… get him out of here"), drew the most laughs.
Simon Martin, perhaps the most established artist on the shortlist, contributed the most opaque work: in Untitled (2008) shots of a poisonous red frog are interspersed with text extracts from airport novels. The connection between the two is puzzling; Martin's previous films – Carlton, a film essay which analysed the work of the Memphis furniture group, and Wednesday Afternoon, a meditation on the experience of walking around a museum – were certainly more successful examples of his ongoing examination of the cultural significance of art and artefacts.
And finally the winner: Lindsay Seers is interested in documentary; in particular, she manipulates her own biography and those of family members. One of the most enjoyable pieces of work at this year's Tate Triennial was her film Extramission 6 (2009) (pictured at top). Screened in a replica of the Black Maria, Thomas Edison's original 1893 film-production studio, it recounts with still images and talking heads the highly unusual formative years of Seers' life.
Until the age of eight, we're told, Seers, growing up in Mauritius, was mute but possessed a photographic memory. But when she was presented with a portrait of herself, she began to speak and her eidetic abilities vanished. Moving away from her homeland, we learn she attempted to compensate for the loss of constant images recorded by her mind by transforming herself into a human camera: her lips became a shutter device – after exposing a piece of light-sensitive photographic paper in her mouth, she then retreated into a black sack. Her story then takes on even more twists; relationships with those around her sour as she becomes more reclusive, and finally, as an adult, she swaps her camera for a projector; by attaching a model of Edison's studio to her head, she projects the films in her mind onto her surroundings.
No doubt Seers is pulling our leg, but her highly singular and intriguing musing on how cinematic and photographic technologies shape us, and how veracity in documentaries is always elusive, is a far cry from many artists' dull explorations of the subject. The still black and white images of her as a young girl, alone, her upper body shrouded with a black sack, also posses a haunting quality. Into this bizarre dreamy tale she weaves scientific, philosophical and art historical theories (Plato and Lacan's among them); but again, unlike some contemporary artists, she's never content just to blandly illustrate them. There's something here which is so often lacking in much steely conceptual work: imagination.
Lindsay Seers' work will be shown on Channel 4 early next year. An exhibition of Stephen Sutcliffe's films will be on show at the Cubitt gallery, London in November. Simon Martin is currently the artist in residence at Durham Cathedral.