Jeonju: Digital watch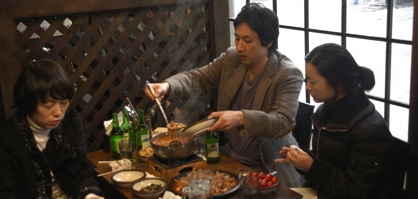 James Bell discovers the hidden treasures in Jeonju festival's Digital Project
When it was founded ten years ago, South Korea's Jeonju festival faced the challenge of how to stake out its territory in a country that already hosted the Pusan festival. Rather than compete as an underdog, Jeonju established a space for the kind of independent and experimental cinema that its compatriot tends to ignore.
The new Korean films on offer this year were generally disappointing, and there were suggestions that the programmers had been left with a smaller pool of films to choose from than in recent years, as funding opportunities for independent work of the kind championed by Jeonju have dried up with the global recession. A number of films tackled issues of immigration in contemporary Korea, including Bandhobi and Where is Ronny?, which touched on the experience of Korea's many Bangladeshi immigrants. Subject matter aside, neither film brought any revelations, and some of the stronger Korean efforts were to be found in the shorts programme, with Yim Kyung-dong's The Horn showing particular promise.
Jeonju's most anticipated programme, however, is its annual Digital Project, in which the festival commissions three featurettes from different directors, giving them each 50 million won (£24,500) to work with, and insisting they shoot and edit on digital equipment. This year the three directors were asked to consider the theme of 'visitation'.
The outstanding entry was Hong Sang-soo's typically wry, deceptively casual and often very funny Lost in the Mountains (pictured; an audience pleaser from the start given its Jeonju setting), which tells the story of an aspiring writer who returns to Jeonju, where she meets up with a friend and with her old university professor, with whom she had an affair while a student. When she learns that her friend has also been to bed with him, she invites another former boyfriend out to dinner with them, creating a hotbed of complications and jealousies. Though only half an hour long, the characters were expertly played, and so engagingly written and directed by Hong that the film felt like it could easily be expanded to a feature. Hong's probing of relationships and the neuroses of his characters had the warm, insightful touch that's long been missing from Woody Allen's films.
Japanese director Naomi Kawase's Koma concerns issues of identity faced by third-generation Koreans living in Japan, while Filipino director Lav Diaz's Butterflies Have No Memories tells of a young Canadian woman who returns to her childhood island home in the Philippines and remains oblivious to the distance that has grown between her and her old acquaintances.
The Digital Project has emerged as Jeonju's most enduring success. It's an initiative that demonstrates how a relatively small festival can have an international importance beyond its means, and have an impact on film production beyond simply acting as a showcase for more challenging work; many of the films have gone on to find distribution or screenings at other festivals. The festival recently collected all 27 films made for the project between 2000 and 2008 on a DVD boxset, which is available to buy though its website.
After focusing on Asian directors for its first year, the 2001 edition boasted films from Jia Zhangke, John Akomfrah and Tsai Ming-liang, opening up an international reach that now reads like a roll-call of some of the most interesting directors of the new millennium. As well as championing Korean directors such as Song Il-gon, later editions have included Darezhan Omirbayev, Eric Khoo, Bahman Ghobadi, Pedro Costa, Apichatpong Weerasethakul and Chad's Mahamat-Saleh Haroun, whose Expectations was the highlight of the all-African 2008 edition.
This edition also included Burkina Faso's Idrissa Ouedraogo, whose lazily conceived entry was especially disappointing. The sense that Ouedrago had taken the money and run was reinforced when he failed to show for that year's festival to present the film. Ouedraogo isn't the first director to have abused the festival's trust – when commissioned for the 2002 edition, the Chinese director Wang Xiaoshuai was busy working on another film, and asked his wife to submit something in his name. But these are only anomalies, for at their best – in Pedro Costa's The Rabbit Hunters, for example, or in Tsukamoto Shinya's nightmarishly claustrophobic Haze – one sees the possibilities of digitally shot cinema used in fascinating and effective ways.
What is also striking is the range of voices and styles that have been assembled, moving the project beyond the arthouse/festival ghetto. The films here range from the darkly comic (such as Bong Joon-ho's Influenza, one of the highlights of the set) to horror, in the guise of Tsukamoto's Haze, to the most challengingly austere.
The three films from the 2009 Digital Project play at the London Film Festival in October. The Digital Project DVD box set is available from eng.jiff.or.kr