London Film Festival reviews:
World Premieres, part one
44 Inch Chest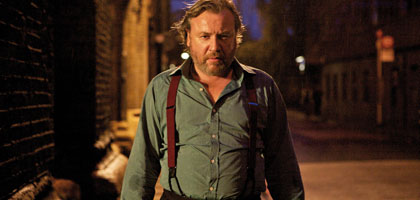 UK, 2009
Colin (Ray Winstone) can't believe it. "I can't believe it," he bemoans, swigs his whisky and repeats the point, talking more to his lap than to the quartet of motley Cockney rude pals he has gathered this long dark night to a vacant tumbledown behind the gas works. His wife Liz (Joanne Whalley) has met someone else, wants out – he can't believe it. Perhaps he loved her too much; but she's been a lazy lover, hasn't been doing the conjugal weeding, and they've got lost in the jungle…
Liz's loverboy is bagged in the wardrobe in the corner of the room, and Colin's mates (John Hurt, Ian McShane, Tom Wilkinson, Stephen Dillane) want to skin the pair ("What do you say, Colin? You're the one in the cunt hat"). But with Colin busy losing his bearings in a boozy sea of self-pitying flashbacks and hallucinations, the others – none exactly expert marriage counsellors – while away the movie with disquisitions on gay predations, life with aged mothers and Cecil B de Mille's Samson and Delilah. Written by Sexy Beast's Louis Mellis and David Scinto, it's a concentrated essay in macho Cockney rococo; with the plot going nowhere, the weight is on cast and dialogue. The language, as noted, is de-fucking-plorable, particularly out of the mouth of Hurt's lizardly homophobe ("Man with man? Fucking smarm"); the thespians themselves are evidently 'avin' a ball. But the lasting impression is of rum turning to vinegar.
Nick Bradshaw
Oil City Confidential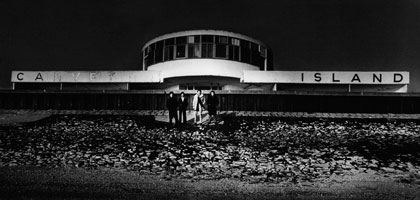 UK, 2009
The charms of Julien Temple's music documentaries do not always survive full feature length. For instance, in Joe Strummer: The Future is Unwritten, a graphic well-rounded telling of Strummer's early R&B (in the old sense) and punk biography slowly weakens towards talking-head mythomania and neo-hippy nostalgia. No chance of that here, however, because Oil City Confidential, Temple's portrait of the fast rise and gradual decline of pub-rock R&B exponents Dr. Feelgood, is a witty and wistful cockney-geezer saga. In the quizzically reflective Wilko Johnson – once the band's manic bug-eyed, guitar-thrashing showman – he has an ideal, albeit twitchy and teetotal, host to the history of this otherwise hard-drinking and non-aspirational band.
Their pure English urchin blues-rock reflected the Thatcherite era of rapid industrial destruction better than most. Pub rock was a fairly brief pre-punk phenomenon in which the Feelgood's re-energising of traditional rock and blues stood out in its monolithic intensity. Here bleak Canvey Island in the Thames estuary – which hosts a cockney overspill community and an oil refinery – where the band all originated and lived, proves a suitable psychogeographic backdrop. Best of all, apart from the insights of the straight-talking talking heads – including poignant observations from the widow of stalwart singer and booze-hound Lee Brilleaux – is the adroit occasional intrusion of vintage British cops and robbers films to illustrate the smash and grab nature of the Feelgood's success. All in all Oil City Confidential is meat but mostly drink for denizens of the London rock scene d'un certain âge.
Nick James
Ride the Wave Johnny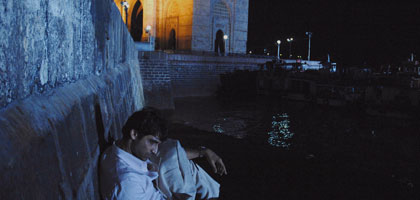 (Tera Kya Hoga Johnny)
India, 2009
"Life is fucked", reckons Johnny (Sikander Agarwal), a teenage coffee vendor and drug courier on the streets of contemporary Mumbai. Our protagonist and narrator dreams of slipping across the Arabian sea to Dubai, but can any of the characters whom he meets on his daily rounds help him in his quest? Aspiring model and dancer Preeti (Soha Ali Khan) is struggling to keep her relationship together with a cocaine-using boyfriend, who's himself beset by financial worries. And Muslim Parvez (Neil Nitin Mukesh) is in over his head on a property deal, whilst having an affair with the wife of a corrupt and ruthless policeman.
Written and directed by veteran Indian film-maker Sudhir Mishra, Ride the Wave Johnny has already been hailed as a Bollywood Slumdog Millionaire. Despite the dark subject matter – killings, institutional corruption, police torture, exploitation of children, addiction – gloss triumphs over grit in the film's mise-en-scene: hence the preponderance of bright colours, the slick camerawork, and the dance sequences, which punctuate the sometimes confusing plotting concerning rival factions. Although the ensemble performances are adequate rather than compelling, there is at least a welcome measure of ambiguity to the obligatory, generic happy ending.
Tom Dawson