The short of it:
London Short Film Festival 2010 highlights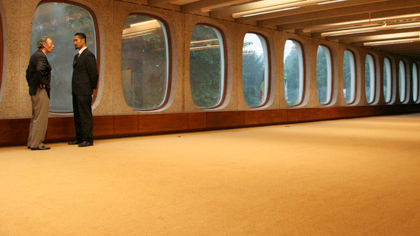 This year's London Short Film Festival will average over 20 new British films a day. Dylan Cave makes his way through the highlights
With New Year's Eve still a fresh memory, the seventh London Short Film Festival (LSFF) rushes into the new decade with over 200 new British short films screening over ten days. As with previous festivals, events are central to the festival and this year promises film-making competitions, interviews, discussion and live music events designed to appeal to anyone seeking their first good night out in 2010. A good place to start is 'Midnight Movies', a selection of late night comedy-thrillers showing at the ICA on Saturday 9th. It includes The Continuing and Lamentable Saga of the Suicide Brothers (The Brownlee Brothers, 2009), an upmarket riff on Viz's Suicidal Syd that features Keira Knightley as an impish fairy overseeing the comically unsuccessful suicide attempts of the eponymous brothers. An impeccable visual design and Working Title's backing gives the film a respectability beyond its twisted subject matter.
Tom Geens' latest short, You're The Stranger Here (2009), is in the same programme but cares little for respectability. A lo-fi science fiction thriller with hints of early Cronenberg, the film depicts a fascist society where an illegal leg twitch – a literal knee-jerk reaction to the authoritarian state – is punishable by death. Geens uses S-VHS to depict his lurid fantasy world; the archaic format looks like he filmed his provocative short in a day and makes explicit the aesthetic debt to Harmony Korine. A Belgian film-maker living and working in London since the 1990s, Geens is a master of the fine line between tragedy and comedy, as evinced by his 2008 debut feature Mentaur (Liar – pictured at top), which screens on Wednesday 13th. Twenty-something Antoine is a loser whose upwardly mobile family pressure him to get an impressive job but lead him to create an increasing circle of deceit and tension that threaten the whole family. As someone who rejects his family's attitude, yet cannot shake the ambition he has grown up with, Antoine typifies the conflicted protagonists that feature in all of Geens' films. His early shorts, including the magnificent Medelijden (aka Compassion, 2006), can also be seen on the Wednesday.
As in previous years, the festival will host a series of 'film-maker / musician' events, including live sets from the musicians behind Peter Strickland's Katalin Varga and audio-visual performances by film-makers Breton, Max Hattler, Noriko Okaku and Ben Blaine. The Roxy Bar & Screen hosts a night of music documentary-come-singalong screenings of The Last Waltz (1978) and Stop Making Sense (1984) on Saturday 16th, and screens Adam Garriga's post-rock documentary, Introspective (2006), on the 9th. Fans of Spiritualized, Mogwai, Tortoise and Sonic Youth will enjoy this look the past 20 years of alternative music, built up from footage taken from the Spanish Sonar and Primeavera music festivals.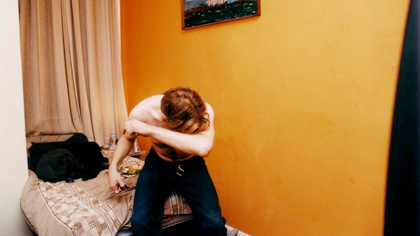 Capping the live events is a unique performance to accompany Luke Seomore and Joseph Bull's documentary Isolation (2008). Narrated by photographer and ex-Paratrooper Stuart Griffiths, Isolation is about the estranging after-effects of war faced by many returning soldiers. Seomore and Bull balance the personal stories with empty streets and cold housing estates; dour images from civilian life that emulate the solitude and suppressed despair experienced by the soldiers who feature in the film. The intuitive film-making is supported by Seomore's atmospheric soundtrack, which he will recreate on Sunday 17th.
Isolation uses its feature length to accumulate the ex-soldiers' stories and create a sense of universal plight, but the numerous shorter non-fiction films in the festival make equally profound arguments. In 15 minutes Peter King's The City With a Dirty Face (2008) paints a vivid landscape of the charms, problems and abuses facing the Latvian ghetto of Karosta. Succinct and well researched, King's film reflects the developing interest that many contemporary British shorts have in international subjects. It's playing on Tuesday 12th at the Roxy Bar & Screen as part of the 'Night of the Living Docs' strand, an evening-long programme where you can also see Laurie Hill's brilliant Photograph of Jesus (2008). Hill uses animation to bring to life the ignorant and ridiculous requests received by Getty Images' Hulton Archives picture library. She gently pokes fun at those expecting archival miracles such as a photograph of Jesus or, my favourite, a picture of an Edwardian lady but in the Victoria era. Hill's film is a non-fiction animation which is something of a rare beast. But it does have company in Samantha Moore's An Eyeful of Sound (2010), an inspired visualisation about synaesthesia – the experience of sensing in secondary ways. Moore uses her cell animation to bring to life the way her synaesthetes experience sounds as colours, or describe the taste of numbers and letters. It's part of 'Trick of the Light', a programme centred on beautiful cinematography across documentary and drama at Rich Mix on Wednesday 13th.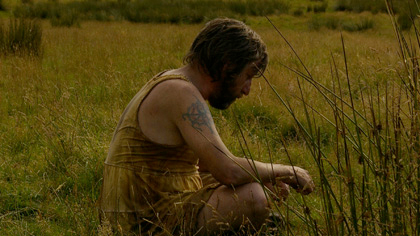 Other animations to look out for are Joseph Pierce's A Family Portrait (2009) and Matthew Walker's Little Face (2009). Pierce's previous film, Stand Up, was one of the best animations on last year's festival circuit and A Family Portrait – about a family's latent antagonism erupting under their photographer's gaze – promises a good laugh; it plays in the 'Funny Shit' programme on Friday 8th. Little Face comes from one of the rising stars in British animation, Matthew Walker. Walker's comic understatement made his first three animations – Astronauts, John and Karen and Operator – firm festival favourites. A simple tale about Nathan (Adam Buxton) and his childhood imaginary friend, Little Face marks Walker's transition to combined animation and live-action, but retains his love of the absurd. Anyone who has seen Walker's films will be unsurprised to learn that Little Face fits right in to the 'God's Lonely Men' slot on Sunday 10th at the Lexi Cinema. An exploration of male emotion, the selection also includes Paul Wright's Scottish drama Believe (2009; pictured above). The story of a widower paralysed by grief, the film is a must-see. A final mention should also go to the 'Femmes Fantastiques' slot on Saturday 9th where you can see Jade (Daniel Elliott, 2009), a muted drama about the difficult choices forced by teenage pregnancy, produced by Samm Haillay and Duane Hopkins, the makers of Better Things.
The 2010 London Short Film Festival runs January 8-17 at various venues. See www.shortfilms.org.uk
See also
Bedlam in brief: Nick Bradshaw on the 2009 edition of Bristol's Encounters Festival (December 2009)
Eat my shorts: James Bell on the digital deluge of short films (May 2004)