Online viewing
Scorsese rarities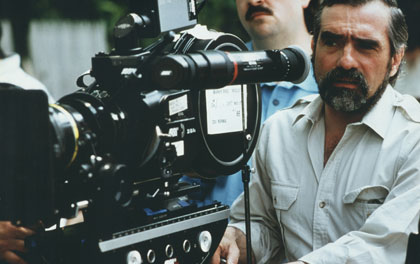 Martin Scorsese's early shorts, documentaries, and even his sponsored films and cameos all demonstrate a rare filmographic coherence, says Guillaume Gendron
Shutter Island demonstrates the mastery of film vocabulary and the encyclopedic knowledge of cinema of a director in the autumn of his career. In that sense, it is fascinating to review his student films, which already abound with visual experiments, audacious editing and cinephilic references. For years, those were extremely difficult to find and rarely screened; thanks to the YouTube revolution, this is no longer the case.
In the beginning
His first short film during his time at NYU, What's a Nice Girl Like You Doing in a Place Like This? (1963), tells the story of a writer so fascinated by a picture on his wall that he ends up literally disappearing into it despite numerous efforts to resist his obsession. This manically edited comic effort looks dated and is rather unfunny, but the sheer enthusiasm behind each frame, the appetite and "desire for doing the shot" (to quote the director behind the scenes on The Age of Innocence) are overwhelming. Scorsese will reuse some of the ideas from this exercise, such as the frequent use of axial cuts and extreme close-ups to break the rhythm. The most striking foreshadowing must be the montage of amateur photographs to illustrate the protagonist's wedding and honeymoon, which announces Scorsese's frequent use of fake home movies, as seen later in Raging Bull and the opening credits of Mean Streets.
It's Not Just You, Murray (1964) (part one; part two) is Scorsese in a nutshell: fascination with the Italian-American underworld, biting sarcasm, extended use of voice-over, rise-and-fall structure, supple handheld camera work, and of course Catherine Scorsese as the Italian mom feeding his son pasta through the prison bars. The humorous tale of a life in crime as told by a self-deluded bootlegger who repeatedly gets double-crossed by a partner for whom he has nothing but gratitude and admiration, It's Not Just You, Murray is a great rollercoaster ride, with many incredible similarities to Goodfellas (Murray breaking the fourth wall to detail the luxury of the gangster lifestyle like Henry Hill; the "we did everything together" passage). A comic draft of his 1990 masterpiece topped with conspicuous nods to musicals and nouvelle vague aesthetics, and an unexpected ending restaging the final scene of Fellini's 8 1/2.
The Big Shave (1967) is well known for being the short that launched Scorsese's career. Four decades later, it still stands as a powerful allegory of the Vietnam War and a study of aural and visual interaction, the gruesome bloody close-ups contrasting with the ironic use of upbeat rock music. There are some echoes of The Big Shave in Shutter Island's exploration of war trauma and vivid gory nightmares.
Also worth inspection are the opening credits of his first feature film, Who's That Knocking At My Door, starring Harvey Keitel. Over a quintessentially Scorsesian street-beating filmed in location in Little Italy, the clapping hands of the rhythm 'n' blues soundtrack serve as the sound effect for the sticks batting the victim.
Another rarity is this trailer for Boxcar Bertha, Scorsese's first 'commercial' film, produced by Roger Corman. Like many of his counterparts from the New Hollywood golden generation, Scorsese honed his skills on B-movie material, a genre to which Shutter Island obliquely pays tribute. (John Cassavetes famously exclaimed: "Martin, you just spent a year of your life making shit!" after the young film-maker screened Boxcar Bertha to his mentor.) Retrospectively, the film is a fine exploitation piece, riding on the success of Bonnie and Clyde as the director tries to include as many of his personal obsessions and visual motifs as he possibly can - and eventually concludes the film with a crucifixion scene.
Scorsese also made two documentaries in the 1970s, which explore the conflicting facets of his identity - the fragile Italian kid who wanted to be priest and the coke-fueled celebrity director - that engendered much of the tension and Catholic guilt in his most personal work. American Boy uses Scorsese's friend/dealer Steven Prince as a mirror to his own drug addiction and status as New Hollywood boy wonder, while Italianamerican is a touching tribute to his parents, working-class upbringing and Italian heritage.
High command
Considered an independent auteur and studio maverick for decades, Scorsese's star has slowly but steadily risen in Hollywood to the point that he is now widely hailed as the "best American film-maker alive" - a newfound profile acknowledged by systematic awards nominations and a Best Director Oscar in 2007 for The Departed (despite it being a far cry from his best work). This mainstream recognition has been orchestrated in some aspects by the director himself, indulging in a series of cameos in popular TV shows in which he plays a self-deprecating parody of himself, reminiscent of the way Hitchcock created a screen persona in his Alfred Hitchcock Presents appearances. Just as Hitchcock became the ultimate film-maker in 1950s and 60s audiences' minds, Scorsese's prominence and ubiquity has partly been achieved through a conscious staging of his public self.
'Entourage' spoiler alert
In Entourage, whose storylines focuses on up-and-coming Hollywood star Vincent Chase, there is an entire arc devoted to the making of a Great Gatsby screen adaptation directed by 'Marty'. In the final episode of the fifth season, the legendary director breaks the news to Vince that he got the part, using the scene as an occasion to settle the old argument: "how do you pronounce Scor-say-zee's name?" In the following season we learn that the film was a masterpiece and saved Chase's career from oblivion, thanks to Scorsese's Midas touch.
A fictional Scorsese movie is also the subject of a hilarious subplot in Larry David's Curb Your Enthusiasm, in which David plays a Jewish gangster, and ends up telling the director how to work: "you shoot too much, Marty," says David, as Scorsese is eager to "get quicker into the threat of violence".

Freixenet – The Key To Reserva

To conclude the Hitchcock parallels: Andrew Pulver recently opined in the Guardian that Shutter Island has "Hitchcock references by the lorryload"; I wonder what simile he would use to describe The Key to Reserva (2007), a lavish and jubilatory pastiche cramming all the hallmarks and signature shots of the master of suspense into less than ten minutes, complete with an ironic introductory skit mocking Scorsese's obsession for preserving film heritage. (He wants to restore a film that doesn't exist.) The whole project is a mere wine commercial, but the production design and attention to details are mesmerising, and even Thelma Schoonmaker makes an appearance in the editing room. And the film is a hundred times better than this ridiculously stereotypical perfume advert he did for his friend Giorgio Armani in 1990.
In current news, HBO just released a teaser for the upcoming series Broadwalk Empire, a much-anticipated return to known territory for Scorsese, this period gangster saga depicting the rise of Nucky Thompson (Steve Buscemi), criminal turned politician and ruler of Atlantic City in the 1920s. It sounds a lot like Casino set in the prohibition era, but a script by Terence Winter (The Sopranos) and some exciting supporting role appearances by Kelly MacDonald (No Country for Old Men) and Michael D. Williams (the legendary Omar from The Wire) should hopefully lift this project towards the heights of past HBO classics. Scorsese directed the pilot and will serve as executive producer for the rest of the series.
See also
Island of lost souls: Graham Fuller explores 'Shutter Island's' homage to the cinema of the 1940s and 50s, and Scorsese's return to the paranoid interior world of 'Taxi Driver', in the April 2010 issue of Sight & Sound
Bringing Out the Dead reviewed by Kevin Jackson (January 2000)
Death's cabbie: David Thompson on Scorsese and Paul Schrader's reunion on Bringing Out the Dead (December 1999)