Viennale: The whirls of time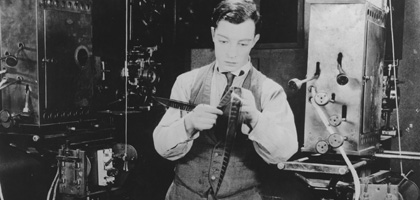 Sherlock Jr. projecting at the Viennale
Isabel Stevens revels in the Viennale's retrospectives, from Buster Keaton and Lino Brocka to Timothy Carey's fevered 'The World's Greatest Sinner', a film too crazy even for Frank Zappa
While other festivals frantically stake their claim to the new and undiscovered, the Viennale is more than happy to opt out of the stampede. Premieres don't hold much currency here; known for its adventurous programme rather than for red carpets, it caters to its audience rather than the industry. So films such as Amir Naderi's Vegas: Based on a True Story or Gianfranco Rosi's Below Sea Level, which have done the rounds on the festival circuit and would no doubt be considered past their screen-by dates by many other festival programmers, still get shown in Vienna over a year after their world premieres.

The Viennale's singular programming is nowhere more evident than in its attitude to older films. What you might at first suspect (as I did) were typos in the catalogue – surely films made in the 1930s aren't actually in the main programme? – turned out to be accurate. Rather than being relegated to an archive sidebar, Mizoguchi Kenji's two silent films The Downfall of Osen (1935) and The Water Magician (1933) screened alongside the latest works from the Coens, Clarie Denis and Jean-Marie Straub (and sold out on a Tuesday afternoon too). And those weren't the only examples – Gianfranco Rosi's 1993 debut The Boatman was there too, as was Abel Ferrara's Bad Lieutenant to juxtapose Herzog's remake.

Despite the huge range of films in the main programme, however, the tribute and retrospective sidebars exerted the greatest pull, providing a haven for celluloid that's lost, forgotten or just in need of a bit more recognition. The most irresistible of these proved to be Jonathan Rosenbaum's retrospective of transgressive American comedies, which lasted nearly a month. Entitled 'The Unquiet American', it offered a sprawling cinematic journey through a century of American culture, politics and society, all viewed through a comic filter. From Hawks and Sturges via the American avant garde to contemporary film-makers such as Joe Dante and Spike Jonze, all the films included displayed some form of boisterous or anarchic spirit. On show during my visit were two Buster Keaton films, Sherlock Jr. (1924) and Seven Chances (1925), both packed full of exhilarating antics which the (again sell-out) audience lapped up. (My favourite scene of mayhem was Keaton pursued by a swarm of wannabe brides.)

Among the tributes, Tilda Swinton was as mainstream as it got (although the focus was on her work with British independents such as Jarman, Potter and Maybury). Of more interest was the homage paid to Philippine director Lino Brocka by Lav Diaz, Kidlat Tahimik, Khavn De La Cruz and Raya Martin. Out of nearly 50 features Brocka made during his lifetime, these four Philippine directors selected the nine they considered his most important. This provided a rare chance to see rarely shown films such as his 1976 melodrama Insiang, a rallying cry against the cycle of poverty evident in Manila's slums – and the first Philippine film to be shown at Cannes.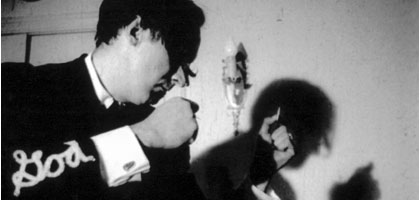 Timothy Carey shadowboxing in The World's Greatest Sinner
Just as anti-authoritarian as Brocka, and fuelled by a similar desire to agitate, was the actor Timothy Carey, the subject of the festival's third and without a doubt most outlandish tribute. A cinematic misfit if there ever was one, Carey is noted more for playing sadistic baddies (notably in Kubrick's The Killing) and for his crazy on-set antics (faking his own kidnapping as a publicity stunt during another Kubrick film, Paths of Glory) than for his own directorial attempts.

But after progressing in Hollywood from extra to 'scene-thief' (as many nicknamed him), in 1958 he decided to make his own film. His reasoning? "I was tired of seeing films that were supposedly controversial. I wanted to do something that was really controversial." The result was The World's Greatest Sinner, which took him three years to complete. Depending on your viewpoint, it's either a crazed vanity project or a cult classic – but it's certainly controversial.

Carey plays Clarence Hilliard, a middle-aged insurance salesman who makes a point of persuading customers that they don't need insurance, and gets fired after giving his co-workers the day off. As an offscreen voice (that can only be the devil) urges Clarence on, he starts to rally against his suburban life. Inspired by a rock 'n' roll concert, he forms 'The Eternal Man's Party', proclaiming that humans are greater than they believe themselves to be, and promising his entourage riches and eternal life. Naturally, he installs himself as God (the word is embroidered on his jacket cuff) and his followers are stamped with the letter 'F'.

The film is at its best in the first 40 minutes or so, with Clarence as a 1950s Lester Burnham (but just a tad more depraved), blowing a whistle to recruit housewives and preaching his "you are a super human being" mantra out of a megaphone on empty suburban streets. While I'd love to say this is a lost masterpiece, sadly it's not. Once power lies with our megalomaniac, the head-fuck dissipates. With far too many shots of Carey cast in shadows, cackling away on his throne, his deranged eyes flickering, this highly self-conscious satire on the allure and abuse of power, and the relationship between religion and politics starts to grate (although the snake wrapped around Carey's neck is a nice touch). But as an early exponent of underground film-making, with subject-matter that punctured the ideals of the 1950s, Carey was no doubt ahead of his time.

"I never really cared about conventional success," Carey admitted once. If true, it was a good thing. Distributors ran a mile from Sinner. Even Frank Zappa, who composed the film's score, bitched about it on a talk show in 1963. (Elvis Presley, though, reportedly requested a print for his private collection.) But Carey wasn't disheartened. Visions of roller-skating old ladies who knit were calling him, and in the early 1970s he started production on a TV pilot titled Tweet's Ladies of Pasadena, which was inevitably never picked up – and, sadly, never finished.