Artists (still) at play: Ann Arbor at 50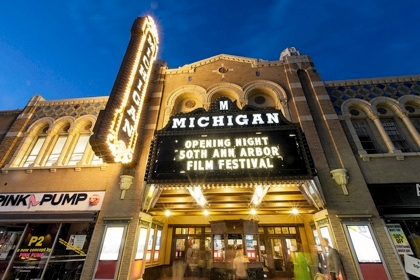 Stephen Connolly pays his respects to a legacy of lively engagement at North America's preeminent festival of artists' movies
---
Ann Arbor Film Festival, Ann Arbor, Michigan, USA;
March-April 2012
Web exclusive, 23 April 2012
---
To the reverberation of the organ's final chords of 'Hooray for Hollywood!', the curtains opened on the 50th edition of the longest running annual celebration of film in the US. With passion, humour and a strong streak of irreverence, Ann Arbor's extravaganza of artists' cinema passed from middle age to wisdom. Happy birthday!"
"So you've come to every festival for 50 years?! Seen a film you like yet?"

"Nope!"

—2012 Ann Arbor Film Festival meme
The festival was initiated in 1963 by George Manupelli, an artist teaching at the University of Michigan in the small midwestern town of Ann Arbor, 40 miles from Detroit. Initially occupying an academic auditorium, by the mid 1960s the festival was the annual place to be for a network of cineastes including Bruce Baillie, one of this year's guests of honour. Its importance was even felt in the New York art scene – the fourth festival headlined Up Tight with Andy Warhol, featuring the Velvet Underground performing in a hail of 16mm projector beams as a prototypical expanded-cinema event.
"Fifty is an important milestone, yet the festival feels so fresh," says festival director Donald Harrison. "This year we've seen the largest influx of people who study, write and make film for a living outside the commercial realm. New curators, programmers, writers, critics – it's very exciting to have this many people together in Ann Arbor." (The awards jury equally spanned the ages, from senior filmmaker and educator Peter Rose to his younger counterpart Michael Robinson, alongside Pacific Film Archive curator Kathy Geritz.)
The festival usually presents around 200 films, around five of which are of feature length. This year each of the 11 competition screenings saw the sly inclusion of a significant film from festivals past, laying bare many of the persistent forms and themes of artists' cinema as well as its ongoing rude health. A rarity like Arthur Lipsett's 21-87, originally shown here in 1964 and reinserted in 'Films in Competition 6', represented an early engagement with found footage, surveillance and the machine-like aspects of modern experience, all still significant preoccupations. And the audiences seemed as delighted by the experiment as the programmers.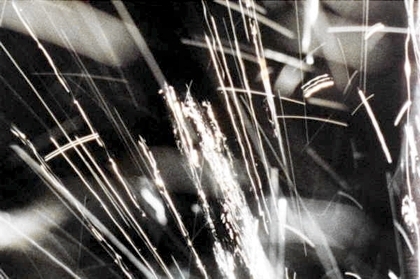 Feature-length works in competition ranged the from the micro-scaled, almost mineral, monochrome abstraction of Betzy Bromberg's Voluptuous Sleep to Scottish artist Luke Fowler's All Divided Selves, a new take on the impact and legacy of RD Laing using a thematically complex ensemble of archive and film diary. Special mention is also due to Simone Rapisarda Casanova's The Strawberry Tree, a closely observed yet formally precise portrait of a Cuban fishing hamlet whose inhabitants begin to contest the terms of their representation.
Sidebars played to full houses. A hot ticket was 'Space / Time', a two-programme survey of Japanese experimental film from the 1970s to today, curated by Ann Arbor's programmer David Dinnell and filmmaker Tomonari Nishikawa. The work employed an exciting yet refined take on structural cinema, and pleas for these programmes to become available were widespread.
Flaherty Seminar leader Irina Leimbacher contributed two programmes of artists' cinema from the Arab world, the second a selection of three films from recently deceased Syrian filmmaker Omar Amiralay. The recent deaths of Owen Land and Robert Nelson were also marked by a film and a retrospective programme; given both filmmakers' dedication to undercutting the pomp and circumstance of the big screen, the mood remained buoyant.
"We encourage filmmakers and film devotees to attend providing an environment to view and discuss the works."
These days the territory beyond industrial cinema is a contested place. In the eyes of the mainstream, Sundance and SXSW are the places where independent filmmakers come out to play. What distinguishes the kind of cinema screened at Ann Arbor?
Dinnell is forthright. "These are, in general, works made with no expectation of commercial gain. These filmmakers have no other expectation than that their work be viewed by this audience collectively," he says. And yet – ironically – "there are not so many platforms or contexts for works made with no aspiration other than engagement and attention by an audience."
At Ann Arbor the relationship between maker and audience centres on trust and mutual respect, opening up new modes of showing and telling.
"Whatever the mode of filmmaking, the work we show comes from a personal place and has a personal vision," continues Dinnell, a Detroit native who has also curated screenings for the city's Shrinking Cities Project. "For instance, over the years I've seen a number of artists' films which chart extraordinary changes in cities.
"What marks these films is their sincerity, their local frame of reference and their recourse to an experience of place and a moment in time. They may structure time differently, be diaristic or document an experience directly rather than relying on a narrative arc. With very different intentions, they try to inhabit the 'being there' rather than directly confronting big themes – the decline of the American Dream or manufacturing prowess or whatnot. I see them as a body of films, in the plural – with the emphasis again on the sense of community."
"I've always found that what I need will find me."

—Bruce Baillie, one of the spiritual founders of artists' cinema as a social practice
Starting in the early 1960s, Bruce Baillie fashioned an unrivalled body of work exploring the possibilities of the poetic cinematic document. His shorts Here I Am (1962), a gently inquisitive portrait of a school for disturbed children, and Castro Street (1966), a rhythmic poem of an industrial area of near San Francisco, are classics of artists' cinema and have informed countless iterations since.
The conditions underwriting Baillie's engagement with film at that time should not be overlooked. The formal concision and the technical advancements of his cinema were achieved as he lived a nomadic life in a VW Beetle, travelling around California and the Western States, and living in communes.
"Bruce Baillie had such an intense pursuit of filmmaking, while living a very impoverished existence," says Dinnell. "Everything went towards making these films. In a way it's a model, though difficult to follow. This is before the academy, before one could study film; he just had this vision and devoted his life for so many years to this pursuit."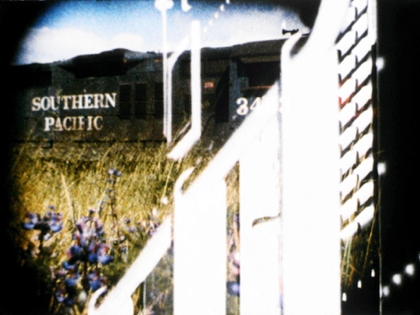 Although the syncopated superimpositions of monochrome and colour images in Castro Street are devices familiar in contemporary digital imagery, audiences in the 1960s were astounded by his orchestration of this ensemble of visual material, and the rendering of an industrial infrastructure as an impressionistic tapestry of images.
Now based on a small island in the Pacific Northwest and in frail health, Baillie screened Memoirs of an Angel, a video-in-progress he called "the final work of my lifetime." A digital work, it sees Baillie continuing to explore the possibilities of direct cinematic communication, the first section, 'Salute', revealing his childhood experiences in WWII through military archive tempered with to-camera inserts.
Baillie's importance stretches beyond his oeuvre. While based in Canyon, a small town near San Francisco, he became a central figure in one of the first backyard cinemas. Canyon Cinema's programming may have been eclectic and its premises temporary, but it pioneered a model of film exhibition rooted in a community, supported by a cooperative of artists and enthusiasts, as an alternative to the industrial cinema. Canyon Cinema later morphed into a distribution organisation for artists' work, still functioning albeit under increasingly precarious financial conditions.
The contemporary microcinema movement can trace a lineage to Canyon Cinema. Microcinemas are small exhibition spaces run on a non-profit basis by enthusiasts with a DIY outlook. Culturally they are open, receptive and responsive, able to take risks with emerging artists and assist the processes of making work with social spaces for exhibition and feedback. Christy LeMaster of Chicago's Nightingale theatre has proposed an online, continent-wide directory of microcinemas, scheduled to go online next year. The site will also feature a distribution module to connect filmmakers with curators.
"The following films will be shown to the awards jury and then publicly as time permits."
Ann Arbor's historical eccentricities include listing all submitted films in the 'as time permits' column of the programme; there was understandably little support for a return to this practice amongst the 2012 filmmaking fraternity. But a welcome addition to this year's programme was its expansion beyond the cinema auditorium, cloaking the city with images. The '50 Screens' project sited a series of moving-image installations in galleries and unexpected places throughout the city. Notable was the use of founder George Manupelli's hotel room as a projection booth to beam a work by abstract filmmaker Joost Rekveld onto the Burton Bell Tower, a local landmark.
At 50 years young, Ann Arbor is in fine health. Scott MacDonald, editor of the classic five-volume 'Critical Cinema' series of interviews with independent filmmakers, attended the festival this year for the first time.
"I still struggle with getting to understand the kinds of films I've been seeing here, and I've spent much of my life writing about them," he says. "I think the best films here are not afraid to piss you off – or take a chance on your attention. But I think calling them 'experimenta', 'avant-garde' or 'underground' just tends to marginalise the work. Here we are just seeing films in competition: cinema, at its best interesting cinema, that's all."
» 50th Ann Arbor Film Festival Jury awards
See also
Divining spirits: Vera Brunner-Sung on Chick Strand (October 2011)
The Miners' Hymns reviewed by Nick Bradshaw (July 2010)
Back to the future: John Beagles on the Glasgow International Art Festival (May 2010)