Norman Wisdom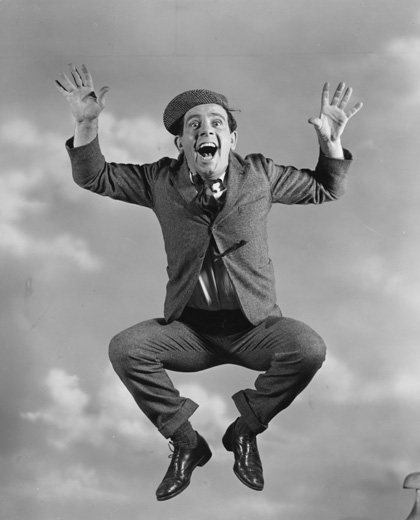 Post-war British clown, popular from here to Albania
4 February 1915–4 October 2010
If Charlie Chaplin has a true British heir, it's not Benny Hill or Rowan Atkinson but Norman Wisdom – and it's a sad reflection on certain attitudes to British cinema that he has gained wide critical attention only after his death. During his lifetime Wisdom's Rank studio career was largely disparaged by the film press yet his films were shown around the world (USA aside). Famously, in 1963 A Stitch in Time outsold From Russia With Love in world markets and filled Moscow football stadia.
Wisdom's screen career proper began with Trouble in Store (1953) and throughout his 13-year association with the Rank Organisation the central premise of each of his films remained pretty much the same: the universe, usually in the form of some British middle-class authority figure, conspired against Wisdom's character, a lowly childlike worker who is desperate to please and innocent of social status.
Almost always called Norman, and often bearing the surname Pitkin, he would sing, dance and slapstick his way through spivs, teddy boys, assistant managers and other post-war folk devils. The chief difference between Wisdom's 1950s and 1960s films was that the former had the star clad in his iconic, ill-fitting 'Gump' suit (pictured above) and showcased at least one song, often self-penned.
The sentimental quotient of each film grew as Wisdom took a progressively more prominent writing role. The comedian often argued that such pathos was an integral part of his act, but to pigeonhole Norman amongst orphaned children was to misread his appeal. From Trouble in Store onwards, the strength of the Gump character lay in his near-aggressive attempts to help those who had no need of his assistance.
Two films exemplify Wisdom's strengths and weaknesses. A Stitch in Time (1963) saw Norman attempt to bring comfort to an orphan, but it also boasted two stand-out slapstick routines: a wheelchair-bound Norman crashing through a brick wall on the roof of a moving ambulance, and the stretcher-bearer sequence in which Wisdom's attempts at aiding an ambulance man result in two further patients. The latter sequence stands comparison with the best of Jacques Tati.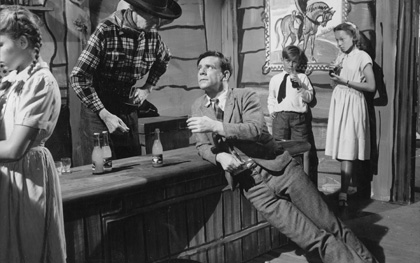 One Good Turn (1954) was potentially even more deadly. Norman plays an orphanage handyman, but the film did offer a stand-out routine centred on a telephone box in which his efforts to retrieve a number scribbled on the wall while arguing with Richard Caldicott's arrogant queue-jumper ends with the booth wrecked and the dial jammed into Caldicott's mouth.
Aside from Wisdom's musical talents and famed athletic ability (he eschewed stunt doubles), the key ingredient for his best cinematic work was the expert character-actor foils he had on hand: Glyn Houston, David Lodge and/or Edward Chapman as 'Mr Grimsdale'. His finest screen partner was the immaculate Jerry Desmonde, whose brilliantly timed reactions to Wisdom's antics are masterclasses in the art of the straight man.
A Stitch in Time was Wisdom's last film to be shot in black and white. This was a logical decision as far as world markets were concerned – and Wisdom's pictures were vastly successful across the globe, the USA excepted; he was the only Western actor whose films could be screened in Enver Hoxha's Albania – but colour cinematography made his real age more obvious.
When he signed with Rank in the early 50s, Wisdom began taking a decade off his official age, but by the time of his last contract film, Press for Time (1966), his screen relationship with an actress young enough to be his daughter was almost as ill-judged as his nude scenes in the hideous 'swinging sex comedy' What's Good for the Goose (1969). Wisdom often played scenes opposite a Rank contract ingénue, yet his only really successful screen relationships with the fairer sex was with character actresses such as Joan Sims, seen at her finest trying to seduce Norman in Just My Luck (1957) or Hattie Jacques as the determined music teacher in Follow a Star (1959).
By the early 1960s, Wisdom was complaining openly about the artistic straitjacket placed upon him by Rank. A brief defection to Bryanston films produced a well-realised character comedy role in There Was a Crooked Man (1960) but it was his brief late 60s sojourn to Hollywood that gave him his most ambitious role, as a vaudevillian opposite Jason Robards Jr in The Night They Raided Minsky's (1968).
Under William Friedkin's direction Wisdom gave one of his finest performances, but aside from this and his almost unbearably moving role as a cancer patient in the Stephen Frears-directed BBC TV play Going Gently (1981) he was rarely encouraged to display his full acting range. After the 60s Wisdom's career was almost entirely spent on television, or on the surviving variety stages. He was knighted in 2000 and was working until a year before his death.
Andrew Roberts
See also
Funny games: Andy Medhurst on the Channel 4-hosted Alternative Comedy of the 1980s (November 2000)
Kevin and Perry Go Large reviewed by Mark Sinker (May 2000)