Introduction
David Lean was one of the leading filmmakers of the 20th Century. He directed only sixteen feature films, in a forty-year career, yet many of these appear regularly in critics' and filmgoers' polls of the greatest films of all time. Five of his films appeared in the top thirty of the BFI's Top 100 Films, voted by the film industry in 1999 - Brief Encounter was placed at number two and Lawrence of Arabia at number three. Great Expectations was placed at number five.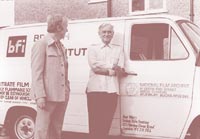 David Lean (right) with David Francis, Curator of the National Film Archive, in 1982.
The British Film Institute holds important collections relating to David Lean's career, and this website, sponsored by the David Lean Foundation, has been designed to display a selection of material from those collections, which it is hoped will be of interest to David Lean scholars and admirers, as well as introducing his work to new audiences.