Cannes: time for TV?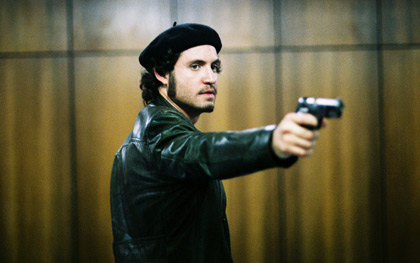 ---
Cannes, France
May 2010
Sender: Nick James
---
I said I would next write about the strong Un Certain Regard selection – and I will – but in the last day or so the tenor of this year's whole festival has been revealed; it is, despite many fine films, somewhat lazily programmatic. There's a feeling of the usual Cannes slots being filled: a weak Hollywood opener or two (Robin Hood, the Wall Street sequel), a couple of French examples of classical film-making (Beauvois, Tavernier), a Russian curio (Loznitsa's My Joy), the bloated social conscience epic (Iñárritu's Biutiful) and the return of the bad Italian film (Luchetti's Our Life) in the obligatory Italian slot. (The latter is particularly odd when there's a perfect, if modest, Italian film – Frammartino's Le quattro volte – in the Quinzaine.) I will probably develop this argument in the magazine's main report, unless the last three days reveals some genuine amazement, but it seems obvious that there have been few films here that have challenged and/or thrilled us in the way that von Trier and Tarantino did last year.
However, we did experience a breathtaking political epic in the five and a half hours that Olivier Assayas' Carlos takes to unravel its vivid tale of Europe's most notorious terrorist (never once referred to by his media moniker 'The Jackal'). There are brilliant scenes aplenty – particularly the 1974 OPEC siege – and a host of scorching performances, not least from Edgar Ramírez, piercingly intense as Carlos; and if the film's furious pace starts to flag at the same time (the late 80s) that Carlos' career does, this still wipes the floor with the likes of Che, Mesrine and The Baader Meinhof Complex. Since Carlos is primarily a television piece, you could say that convergence has come to loom large in Cannes at last.
In the meantime I'll get to Godard, Jia Zhangke and the rest of a compelling UCR crop tomorrow.
See also
Cannes 2010: side tracks: Geoff Andrew hunkers down with 100 goats in a Calabrian village (online, May 2010)
Cannes 2010: brotherly love: Nick James on Xavier Beauvois' Of Gods and Men (online, May 2010)
Cannes 2010: slow lift-off: Geoff Andrew on Cristi Puiu's Aurora and Mike Leigh's Another Year (online, May 2010)
Radical chic: Andrea Dittgen on The Baader Meinhof Complex (December 2008)
Stop making sense: Olivier Asssayas talks to David Thompson about Demonlover (May 2004)
Pup fiction: Edward Lawrenson on Alejandro González Iñárritu's Amores perros (May 2001)
Late August, Early September reviewed by Chris Darke (September 1999)