Cannes: brotherly love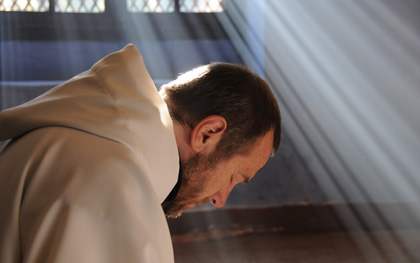 Xavier Beauvois' Of Gods and Men
---
Cannes, France
May 2010
Sender: Nick James
---
Peace and calm are not words one would normally associate with Cannes, but a distinct drop in numbers on the Croisette, combined with a run of films that mostly tease with greatness rather than achieve it, make this edition seem more like a gently lapping sea than the sort of torrent that wrecked these beaches here less than a fortnight ago.
This mood may suit one of the front runners for the Palme d'Or, Xavier Beauvois' Of Gods and Men (Des hommes et des dieux), a superbly crafted and exalting portrait of the lifestyle of a small group of monks living in the Algerian monastery of Tibhirine in harmony with the local Muslim community. Their fate as martyrs to the terrorist war of the 1990s is a given, and the film strives to be as forgiving and even-handed as the monks themselves, though for me it doesn't quite escape the grip of Catholic mythologising.
At this point the film's main rival is Mike Leigh's sombre character study Another Year. This film of acute perception concerns an amiable middle-aged couple's generous nurturing of more damaged friends and relatives over 12 months. Filmed with tremendous assurance, it is perhaps the most revealing exposure of ordinary human frailties that Leigh has yet made.
Abbas Kiarostami's marital-breakdown study Certified Copy boasts Juliette Binoche's best performance for some time. It's a little like Linklater's Before Sunset, albeit after too many sunsets; I'd be surprised if it won. Mahamat-Saleh Haroun's A Screaming Man, a moving tale of a father and son in war-torn Chad, might be an outsider, and with Tim Burton bossing the jury, Im Sang-soo's Hitchcockian melodrama The Housemaid could figure. But at this half-way point the competition as a whole (with the exception of the Leigh and the Beauvois) has been overshadowed by the Un Certain Regard selection – about which I will report in a couple of days.
See also
Cannes 2010: slow lift-off: Geoff Andrew on Cristi Puiu's Aurora and Mike Leigh's Another Year (May 2010)
The big wait: Tom Dawson interviews No Greater Love's director Michael Whyte (online exclusive, March 2010)
Lourdes reviewed by Michael Brooke (April 2010)
Into Great Silence reviewed by Catherine Wheatley (February 2007)
Unknown soldiers: Ali Jafaar on Rachid Bouchareb's Days of Glory (April 2007)
L'Arche du désert reviewed by John Mount (August 1999)
Drive, he said: Geoff Andrew on Abbas Kiarostami's 10 (October 2002)
Daratt reviewed by Roy Armes (August 2007)
Abouna reviewed by Philip Kemp (December 2002)