Everywhere girls?
Chuffed with this year's harvest of films made by women, the London Film Festival is hosting a panel debate on why the movies aren't always so even-handed. Sophie Mayer sizes up the festival's female perspectives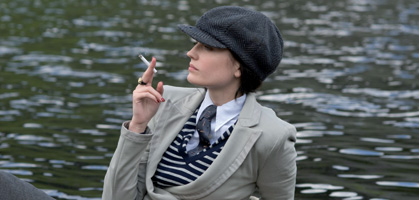 The evidence of women film-makers in the 2009 London Film Festival starts on the first gala spread of the brochure, with the closing night offering up John Lennon biopic Nowhere Boy by YBA poster-girl turned debut director Sam Taylor-Wood. And it's no token gesture: this year's festival abounds with striking new films from the goddesses of cinema, with Jane Campion's Bright Star and Claire Denis' White Material gliding in on rave reviews, a gala presentation for Dogme director Lone Scherfig's un-Dogme adaptation of Lynne Barber's memoir An Education, and distinctive new films from Catherine Breillat (Bluebeard) and Penny Woolcock (1 Day). There are films from emerging women film-makers showing across all the programmes: 30 years on from Edinburgh's second Women and Film Week in 1979 (when films by Sally Potter, Michelle Citron and Valie Export turned feminist film theory into a zeitgeisty reality), this should be a matter of course.
It's such a striking state of affairs, however, that on November 21 the LFF, in association with Women in Film and Television and The Script Factory, will be hosting Snipping Away at the Celluloid Ceiling, a fully-booked panel discussion to discuss the politics and aesthetics of gender in cinema. Leaving aside the snide hairstyling reference, the panel promises to tackle questions that have been circulating in the industry and academic discussions since Laura Mulvey blew open gendered film-making and spectatorship with her 1975 essay 'Visual Pleasure and Narrative Cinema'. The LFF is not so much jumping on the retro bandwagon as wondering why these questions are still relevant, in a year when a female-helmed actioner, Kathryn Bigelow's The Hurt Locker, was widely considered the best movie treatment yet of the invasion of Iraq. It's testimony both to the continuing urgency of questions of fair representation (onscreen and behind the camera) and to the LFF's stellar line-up of female directors, producers and screenwriters that the event (albeit in tiny NFT3) is fully booked. The shape of the discussion will depend on which female film-makers attend the panel, not least because the festival offers a diversity of female-directed films that prompt investigation into theories of a female aesthetic.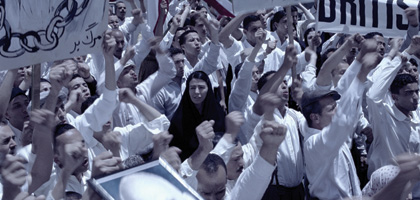 Although they're both literary adaptations, both Shirin Neshat's Women Without Men (pictured above) and Jordan Scott's Cracks (pictured at top) couldn't appear more different, the former emerging from artists' film and video into the arthouse, the latter gunning for the mainstream. Yet both depict all-female worlds with an intensity and intimacy that, it could be argued, depend upon the gender of the person behind the camera. Cracks is Scott's first feature, following a successful career in music videos, and viewers will be alive to the influence on her film of her father Ridley and uncle Tony. The film's milieu – the swimming team at a 1930s all-girls' boarding school – could hardly seem further away from the high-octane and often all-male worlds of the older Scott generation, although the film's noir-ish sensibility and entwining of violence and desire suggests there may be a stylistic inheritance. (Scott's arrival on the scene also invites another question for the LFF panel, discussing the advantages and disadvantages across the varied meanings of 'influence' in the father-daughter film-maker trend, as the Scotts add to the tag-teams of Coppolas, Makhmalbafs, Puenzos and Bennings.)
Neshat arrives with a different burden of expectations: like Taylor-Wood, she is an established film and video artist, whose work explores the politics of gender in Iran with what could be called a militant sensuality. She has shown sections of Women without Men, adapted from a multi-strand novel (censored in Iran) by Iranian feminist novelist Shahrnush Parsipur, in gallery installations and event screenings. Drawing on her long friendship with the novelist in their exile in the US, and bringing the haunting dream-logic and bodily focus of her installation work to the screen, Neshat has created an idiosyncratic portrait of Iran during and after the revolution that is at once highly stylised and shockingly personal. Although the novel presents the challenge of sustaining a narrative to an artist known best for her elliptical multi-screen installations, Parsipur's fiction draws on the same reservoirs of Persian folk tale and poetry for its magic realist effect, which gathers together four characters with distinct narratives in one haunted and unstable house.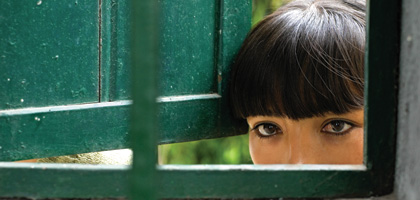 Four female first-timers come to the LFF without the leg-up/cloud over their head of family connections or gallery success: Sophie Barthes (no relation to the famous philosopher, although her debut film Cold Souls is of a philosophical bent), Lindy Heymann (with Kicks, funded by the Liverpool City of Culture Digital Departures project that also supported Terence Davies' Of Time and the City), Catalan film-maker Mar Coll (Three Days with the Family) and Suzi Yoonessi (whose Dear Lemon Lima, – note the comma! – wins my unofficial award for Best Title of the festival). But the festival also appears to be committed to supporting female film-makers serving up that difficult second feature, with films from Cahiers critic Mia Hansen-Løve (Father of My Children), Dutch NFTVA graduate Eugenie Jansen (Calimucho), Golden Bear-winner Claudia Llosa (The Milk of Sorrow, pictured), animator Maria Procházková (Who's Afraid of the Wolf), experimental film-maker Sarah Turner (Perestroika), novelist Xiaolu Guo (She, A Chinese), and breakout Japanese success Satoko Yokohama (Bare Essence of Life Ultra-Miracle Love Story).
To continue with the catalogical approach, there's the chance to catch well-received films from rising directors Francesca Comenici (The White Space), Catherine Corsini (whose casting choice of Kristin Scott-Thomas in Leaving may be the English-language market break for this well-established French director), Jessica Hausner (Lourdes) and Lotte Svendsen (Max Embarrassing), as well as a handful of striking female-helmed documentaries: My Greatest Escape (Fabienne Godet), Have You Heard from Johannesburg: The Bottom Line (Connie Field) and Mugabe and the White African (Lucy Bailey and Andrew Thompson), the latter two both examining racism in the horn of Africa.
The World Cinema and Treasures from the Archives strands fare least well in a programme-by-programme account, suggesting that the effects of the celluloid ceiling are felt most powerfully outside the developed world and in film history (note the appearance of Left Bank Smurfette Agnès Varda as the only female contributor to Far from Vietnam). Margot Benacerraf's Araya, though, really is a lost treasure of Third Cinema, its black-and-white cinematography as stunning as I Am Cuba. Oddly, the Experimenta section, a haven for female film-makers since screen feminism's 1970s heyday, showcases only one woman-made feature, Sarah Turner's intriguing Perestroika, and a specially-commissioned installation, Monolog, by tank.tv founder Laure Prouvost.
So parts of the celluloid ceiling remain in need of shears – and it will be interesting to track critical reception and, even more critically, distribution for the festival films. Whatever happens, the success of the panel (and events with Campion and Taylor-Wood) will hopefully lead LFF programmers to build on the interest and excitement of audiences voting with the proverbial bums on seats to see films that reflect, dazzlingly, the full variety of human experience.