Eastern promises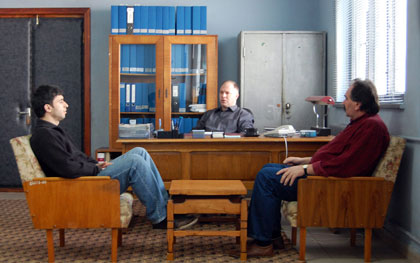 James Bell reports from both this year's Transilvania Film Festival and the Romanian Film Festival in London, and finds the Romanian new wave still rolling on
It's five years since the film world sat up and noticed that something was happening in Romanian cinema with the release of Cristi Puiu's debut feature The Death of Mr Lazarescu. Puiu's film cut through the chatter at festivals across the world as piercingly as the siren from the ambulance that carried its dying protagonist from hospital to hospital had sounded through an uncaring Bucharest night. To many outside Romania, the film seemed all the more miraculous because, however mistaken a view it was, it had apparently emerged from a vacuum, for Romanian cinema had barely registered outside its country's borders for decades.
But Lazarescu heralded a rush of exciting films from Romania, among them Corneliu Poromboiu's droll 12.08 East of Bucharest, Cristian Nemescu's California Dreamin' (Endless) and Cristian Mungiu's 2007 Cannes Palme d'Or winner 4 Months, 3 Weeks and 2 days. If nothing – before this year at least – has so far matched the critical acclaim those three films received, there were still interesting films being made, among them Radu Muntean's Boogie (2008), Radu Jude's The Happiest Girl in the World and the portmanteau film Tales from the Golden Age, both from 2009; and these were just the most prominent films. Here was a genuine Eastern European 'New Wave' to compare with the Czech New Wave of the late 1960s, or the Black Wave in Yugoslavia of the same period.
But how long do such waves typically last? Five to eight years at most? Energy withers as directors move on or abroad (or in the case of the waves of the 1960s, the authorities get nervous and close shop), while the levelling expectations of the arthouse circuit for more of the same can lead to imitation where there was once abundant inspiration.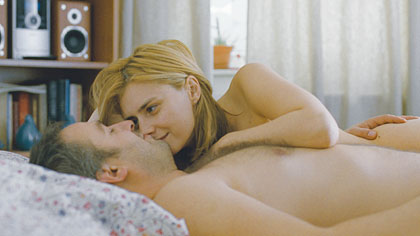 Thankfully, a visit to the Transilvania Film Festival in the region's capital Cluj in early June proved that Romanian cinema is a way from being stuck in a rut of its own or anyone else's making. There was a wide range of films being shown, and many of the strongest bore little evidence of the influence of Lazarescu or its followers, while those that did showed that the path it helped forge remains a marvellously rich one.
Now in its ninth year, the Transilvania festival has become the most important event in the Romanian film calendar. It's still small enough that it feels like the entire Romanian film fraternity can be found thronging the town's baroque streets, crowding its cinemas, or drinking until the early hours in one of its many bars. Everyone involved in the festival seems also to be involved in cinema in some other way, and have chosen to work at the festival through sheer enthusiasm for what it is doing for Romanian cinema. For instance, the best actress award was won by Ozana Oancea for her fine performance in First of all, Felicia, so Oancea had to temporarily forget her duties as the co-ordinator of the festival's foreign guests to go onstage and collect her prize.
There was a celebratory feel to much of this year's festival, never more so than at the screenings of the returning films by two of the leading lights of the Romanian new wave: Cristi Puiu with Aurora, his follow-up to Lazarescu, and Radu Muntean with Tuesday, After Christmas. Both films had been entered at this year's Cannes, but the screenings at the Transilvania festival marked their national premiere, and both screenings were full to overflowing, with the cast and crew coming onstage afterwards to long standing ovations. Both films were far and away the most impressive at this year's event, which is an indication of their great strengths rather than the weaknesses of the rest.
Aurora confirms Puiu as a singular figure within world cinema. Although it displays many of the characteristics that have come to be associated with the new Romanian cinema (which Puiu of course did more than any other to define with Lazarescu), with its extremely long takes, elliptical narrative, desert-dry black humour and cynicism towards authority, it marshals them with such a unique voice that it's unmistakeably his own. Muntean's superbly acted Tuesday, After Christmas meanwhile offers the sharpest and most tragic examination of infidelity, marriage and the weaknesses of men this side of French cinema.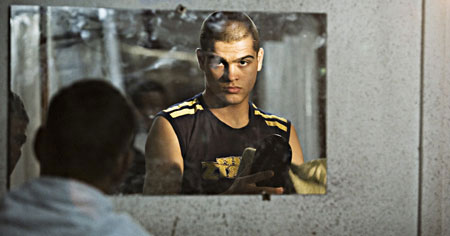 If I Want to Whistle, I Whistle
Both Aurora and Tuesday, After Christmas will be released in the UK this autumn, and so are regrettably not screening as part of the seventh Romanian Film Festival in London, held 2–4 July at the Curzon Mayfair cinema. However, many of the highlights of this year's Transilvania festival are. Its organisers have close ties with the Transilvania festival, and have attempted, within their brief programme, to give a sense of the variety of current Romanian cinema. So, alongside festival opener Police, Adjective – Corneliu Poromboiu's superb follow-up to 12.08 East of Bucharest, and a film which recalls Aurora with its use of long, dialogue-free takes and its slow build to a conclusion in a police station) – there's the festival closer, Florin Serban's Berlin Festival Silver Bear winner If I Want to Whistle, I Whistle.
Serban's film concerns Silviu, a teenager serving time in a reform school. Fifteen days before he is due to be released, his long-absent mother arrives from her home in Italy and tells him she plans to take his younger brother away from Romania before Silviu can stop her. Desperate to avoid that happening, Silviu goes against his gentle nature and contrives a plot to get himself out early.
If some of the twists in the film's narrative somewhat stretch credibility, and the characters slip a little simplistically into stock types, the film, which was adapted from a theatre play by Florin Saban and Catalin Mitalescu, nevertheless points to a different voice emerging within the new Romanian cinema. Cinematographer Marius Panduru, who worked with Corneliu Poromboiu on 12.08 East of Bucharest and Police, Adjective, gives the film a bright, 'golden-hour' light that lends its occasionally contrived story a poetic dimension.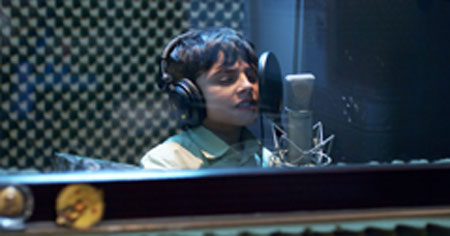 The role of parents, both absent and not, is a theme that also marks many of the short films programmed for the festival. Tudor Cristian Jurgiu's Oli's Wedding, for instance, concerns a widowed father whose son has moved to Texas and is marrying an American girl. The father can't be at the wedding, so together with two of his son's friends, watches on a Skype link as the day unfolds. It explores in an honest but gentle way the way the modern family is often scattered and broken.
Alexandru Mavrodineanu's short Music in the Blood stars the charismatic Andi Vasluianu as a father who is convinced of his son's musicality, and takes him to an audition only to see his hopes dashed. It too brings a light touch to its story, and offers a glimpse into Romania's gypsy community.
But perhaps the most interesting film in the festival is a UK premiere of one from the archives. Dan Pita's Sand Cliffs was made in 1983, and caused immediate controversy in Romania for its very thinly veiled criticisms of Ceaucescu's regime. It concerns a carpenter who is wrongly accused of stealing a radio from a party of people on a beach. Among the party is a surgeon (played by Victor Rebengiuc, star of the 2009 film Medal of Honour, which also plays at the festival), who is convinced he saw the carpenter steal the items, and decides to testify to get him thrown in prison.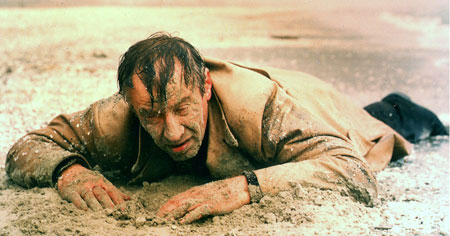 What with the scenes of police corruption as the carpenter is coerced into confession, it's remarkable that the film got past the Communist authorities at all. Upon its release, Ceaucescu immediately banned it and it wasn't seen again until after the revolution of 1989. The furore surrounding the film led to a tightened censorship of the film industry for the remainder of his rule. Pita had a background making experimental films in the 1970s, and that instinct can be felt in Sand Cliffs through its use of flashbacks and editing. It also has an incredible synth-driven soundtrack by composer Adrian Ionescu, which, if it hasn't already, should send DJs and collectors of esoteric electronic music scouring second hand record bins in Bucharest.
The controversy surrounding Sand Cliffs is explored in The Ministry of Truth, a documentary about the episode that screens the day after the film, followed by a Q&A with Dan Pita and actor Victor Rebengiuc. The screening is one of the many side events taking place during the festival – others include a Q&A session with Corneliu Poremboiu, and a screening of the documentary The New Wave of Romanian Cinema.
The 7th Romanian Film Festival in London runs 2-4 July at the Curzon Mayfair.
See also
Cannes: Slow lift-off: Geoff Andrew on Cristi Puiu's Aurora
Where there's pomp: Cristian Mungiu talks to Nick Bradshaw about Tales from the Golden Age
Eastern promise: Nick Roddick on the Romanian new wave (October 2007)
The Death of Mr Lazarescu reviewed by Michael Brooke (August 2006)
The Death of Mr Lazarescu previewed by Mark Cousins at the 2005 London Film Festival (November 2005)