The Death Of Mr Lazarescu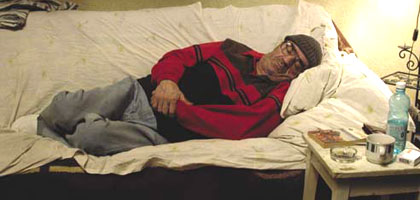 The Times
bfi

London Film Festival

Mark Cousins on death in Bucharest

Variety was right when it called this film "unexpectedly mesmerising". For at first sight there's not much new here. An old man living in a dirty Bucharest flat has stomach pain, so he calls an ambulance. It takes ages to come and the medic who eventually arrives is weary. There's been a bus crash and all the city's hospitals are busy. She loads him into the ambulance but casualty ward after casualty ward rejects them. Night turns into dawn and the man's health fails.

But The Death of Mr Lazarescu grips like an Arthur Miller play. The long running time (154 minutes), repeated incidents and the gallery of characters that the medic and the old man meet turn their journey into an odyssey. Director Cristi Puiu, a former painter whose second feature this is, has life flow past them like a river. He says his models were Eric Rohmer for the human interaction and the television programme ER for the camerawork, but watching the result, Death of a Salesman and Fred Wiseman come more readily to mind. The latter in particular because we get to know each hospital visited, the doctors and their assistants, their approach to their work. Though the odyssey is the man's and his medic's, The Death of Mr Lazarescu is as much about the humanity of casualty workers as Être et avoir is about M. Lopez's child-centred approach to teaching.

As such the quality of the acting is crucial. Puiu rehearsed his cast for three weeks, which goes some way to explaining the brilliance of Ion Fiscuteanu as the old man and Luminita Gheorghiu as the medic. Once together, they hardly leave each other's side. We watch his health fail piece by piece, and by half way through we could tell each of the new doctors his exact symptoms. She, equally gradually, comes to care for him and begins to protest at the dismissals of the hospital staff.

Four months after having seen this film, I wonder why it still moves me so much. Perhaps because, unlike in ER, there is a complete lack of urgency in the nightscape it portrays. The title of the film tells us that we are going to see the life of a man ebb away. Yet nobody panics. Only the medic seems to recognise how awful it will be for the world if this drunken old widower dies.

The Death of Mr Lazarescu is the first of a planned sextet of films, Six Stories from the Bucharest Suburbs.

It won the Prix Un Certain Regard at Cannes this year and is likely to win other prizes. It is a landmark in Romanian cinema and ranks with the films of the Dardennes among the great works of cinematic humanism of our time.