Jean Eustache: He stands alone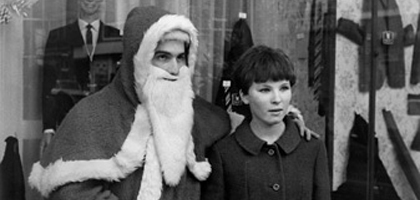 Martine Pierquin, curator of the French Film Festival's Jean Eustache retrospective, probes the career of one of cinema's most fêted yet unfamiliar auteurs
You have to record things; whether they're pretty or not, they're important" — Jean Eustache
One of the key figures in post-New Wave French cinema, Jean Eustache has influenced a great number of film-makers worldwide. Pedro Costa in Portugal, Claire Denis, Arnaud Desplechin and Olivier Assayas in France, Hong Sang-Soo in South Korea, Jim Jarmusch in the US, to name a few, have acknowledged his work as a source of inspiration. Over the past decade, there has been a renewed interest in Eustache, resulting in a month-long retrospective of his complete work at the Centre Beaubourg in Paris in 2006. Since then, his films have been touring worldwide: most recently, retrospectives took place in the US, Canada, Argentina and now the UK.
The French Film Festival UK is hosting a Eustache retrospective in Edinburgh, with some additional screenings in Glasgow and London. This is a rare opportunity as film screenings are, even today, the only way to access the films. Only La Maman et la Putain (The Mother and the Whore, 1973) and Mes Petites Amoureuses (My Little Loves, 1974) have been previously released in VHS or DVD, but editions are either out of stock or unsubtitled.
This paradoxical situation of renown and obscurity is, in a way, a reflection of the place Eustache had in French cinema in his lifetime. Indeed, despite receiving considerable critical acclaim right from the outset, Eustache remained an outsider. For a while a travelling companion of the Cahiers set, he became close to the nouvelle vague directors who unanimously praised his first short, Du Côté de Robinson (Robinson's Place, 1963). Jean-Luc Godard even famously gave him leftover film stock from Masculin-Féminin (1966) to ensure that Eustache could make his second film, Le Père Noël a les yeux bleus (Santa has Blue Eyes, 1966).
In the New Wave style, the two shorts, meant to be screening as a double-bill under the collective title Les Mauvaises fréquentations (Bad Company), have minimal storylines and are shot on location with non-professional actors. They portray the frustrating lives of working-class youths, first in Paris then in Narbonne, where Eustache spent his teenage years. The autobiographical element is very present, further reinforced in retrospect by the use of the nouvelle vague's fétiche actor Jean-Pierre Léaud in Le Père Noël. Léaud would later resume the role of Eustache's screen double as Alexandre, the main protagonist of La Maman et la Putain. In between, Eustache had written Mes Petites Amoureuses with Léaud again in mind. Unfortunately it was only after the resounding success of La Maman that the film could go into production, by which time Léaud was too old for the part.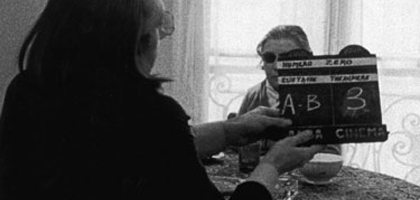 Like Daniel, the main character in Mes Petites Amoureuses, Eustache was brought up by his grandmother and only went to live with his mother as a teenager. He left school at 14, pressed by his family to get a job and earn his keep. His grandmother remained central to his life and he made a superb two-hour documentary about her, Numéro Zéro (1971), intended as a blueprint for his future films (hence the title). Shot in black and white, in real time and with a static camera that resembles the visual style of La Maman et la Putain, the film is, as always with Eustache, a blend of personal and collective history, but in a more engaged manner that breaks away from the playfulness of the early shorts. Eustache's camera moves closer to his subjects in a manner reminiscent of his early observational documentaries La Rosière de Pessac (The Virgin of Pessac, 1968) and Le Cochon (The Pig, 1970), which film provincial and rural traditions with anthropological care.
Indeed, the blurring of the boundaries between fiction and documentary is a central element in Eustache's oeuvre. If La Maman et la Putain is usually considered Eustache's first feature (he himself considered Numéro Zéro to be his first), it is also something of a document. Eustache based the film on his own complex love life and said he wanted the film to look like "a string of apparently insignificant events", thus mirroring the absence of plot structure in everyday life. The film is made of seemingly random conversations between Alexandre (Léaud) and his friends or lovers in Parisian locations. The film is scrupulously autobiographical: critic Serge Daney labelled Eustache as "an ethnologist of his own reality", and noted how the film's close observation of the verbal mannerisms and bohemian lifestyle of the May 1968 generation records for posterity what it was like to live in Paris in the aftermath of that moment. These qualities explain how the film was hailed as a masterpiece and very quickly gained cult status. It is also controversial for its stern (some say reactionary) re-examination of the 1968 generation's defeated dreams of gender equality and individual freedom.
However, despite its sociological and autobiographical qualities, the cinema of Eustache transcends one-dimensional realism. When the French magazine Telerama described his films as part of a new naturalist trend in 1970s French cinema, Eustache strongly disagreed. Indeed, his privileging of static camera shots with direct and diegetic sound (an approach described by critic Michel Chion as "neo-Lumière-ist") is a style apart both from the New Wave's virtuoso camerawork and audacious editing and from any new social-realist trend. It is more a longing for a bygone era of primitive cinema when such effects were yet to be discovered. As Eustache confides in Angel Diaz's documentary La Peine Perdue De Jean Eustache (The Lost Sorrows of Jean Eustache, 1997), "Quand la camera tourne, le cinéma se fait" ("When the camera's on, cinema is happening"). Ultimately this is all is really needed for cinema to happen.
Realist elements are equally undermined by the actors' performances, which Eustache uses as a counterpoint to the documentary feel in his films. The acting is either deliberately theatrical and lyrical – witness Jean-Pierre Léaud lyricism in La Maman et la Putain – or clearly understated, as with Martin Loeb's Bressonian sobriety in Mes Petites Amoureuses. In each case a Brechtian effect is felt, reminding us that these are fictitious characters and they do not behave as 'in real life'.
Eustache's interest in exploring the complex relationship between reality and film, documentary and fiction is made more obvious in his later films. Thus, Une Sale Histoire (A Dirty Story, 1977), the closing film in the Edinburgh retrospective, is the same story told twice: once by an actor, then by the man to whom the story supposedly happened. In the order chosen by Eustache, the fiction film comes before the documentary, with the result that the documentary finds itself contaminated by the fiction and we are led to distrust the two versions. The story Eustache chose for the exercise, however, is a most shocking story of male voyeurism, and the audience mostly female, with the result that, eager to express our hilarity or outrage, we brush aside any suspicion we might have had about its authenticity. In the end, we are reminded that the power of film is not dependent on a faithful representation of reality, but lies in its evocative qualities (whether visual or aural) and in its effects on the audience's imagination.
The French Film Festival runs November 8 to December 20 at the Edinburgh Filmhouse, Glasgow Film Theatre, London Ciné Lumiere and venues in Dundee, Aberdeen, St Andrews, Stirling, Inverness, Dumfries, Manchester, Warwick, Cambridge and Durham.