Family photos: John Akomfrah's Mnemosyne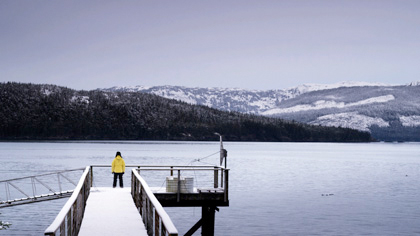 Sukhdev Sandhu revels in John Akomfrah's poetic Birmingham-centred cine-essays on migration and the nature of memory
Named after the Greek goddess of memory, John Akomfrah's Mnemosyne is a series of tone poems and essay-drifts around the theme of migration that rekindles many dense and evocative memories of its own. Memories of Handsworth Songs (1985), a pivotal work by the Black Audio Film Collective, which Akomfrah co-founded in 1982, whose exploration of both real and imagined west Midlands topographies prefigures the Birmingham setting of his new feature; of an era when a generation of young black artists tackled the 'inner-city question' using avant-garde aesthetics rather than the keeping-it-real banalities of films like Adulthood (2008); and of an era when such multi-layered and allusive films were often broadcast on national television, rather than being forced to take refuge in art galleries, as Mnemosyne is currently doing at The Public in West Bromwich.
Bucking the trend for multi-screen installations, Mnemosyne is a focused, intense and visually gorgeous single-screen work that excavates archival footage of Birmingham from 1960 to 1981, spanning a period from the initial arrival of south Asian and Caribbean settlers in the city to that when, as in so many other urban centres across the UK, it witnessed a wave of rioting, much of it the result of decades of second-generation anguish and frustration.
The images Akomfrah resuscitates are more private and elliptical than those normally used by television researchers to illustrate news headlines concerning race relations or the social condition of Britain. They're interlaced with footage not just of a flooded or frozen west Midlands, but of two men: one, his face hidden under layers of protective clothing as he yomps across polar landscapes; the second, an older black man who wanders through largely deserted Birmingham industrial sites.
This latter motif of a journey across fragmented cartographies refers back to Schubert's Winterreise song cycle, as well as to Eliot's 'The Waste Land'. It's a journey into a mood-space characterised by a ruminative melancholy, ensuring it avoids charges of Brummie boosterism and, furthermore, providing a stark contrast to that desire for historiographical clarity, racial uplift and Manichean narratives so often and so tediously found in cultural productions from the 'minority sector'.
What emerges is a fascinating fusion of two modes of modernism rarely brought into dialogue: the formal experimentalism and attention to ethnicity associated with elements of 1980s countercultures, and the interest in threnody, bricolage structures and the poetics of perambulation found in a writer such as W.G. Sebald.
That bricolage – extracts from Nietzsche and from Beckett rub up against passages from 'The Song of Solomon', Milton and Homer – has the effect of making stories long seen purely through post-war and postcolonial lenses take on a more deeply historical and universal resonance. Here hover the 20th-century equivalents of the solo trekkers and existential vagrants to be found in medieval writers such as William Langland or in Anglo-Saxon verse epics such as 'The Wayfarer' and 'The Seafarer'. Here the impulse to migrate to another land has its roots in impulses to do with curiosity, love and a hunger for otherness – impulses more elemental than economically deterministic explanations.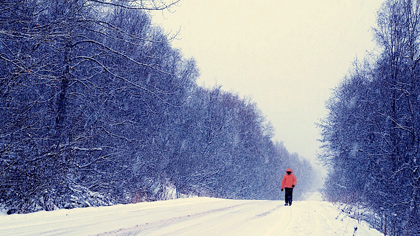 Mnemosyne is also part of a small but noticeable trend for black artists – among them Isaac Julien in True North (2004) and Paul D. Miller (aka DJ Spooky) in Terra Nova: Sinfonia Antarctic (2009) – to mine the creative potential of spaces seen as literally and symbolically white. It uses footage Akomfrah shot for a recent television documentary about the Exxon Valdez disaster in Alaska.
The snow-caked territories through which the silent protagonist slowly moves inevitably evoke the spectre of the melting of the icecaps, and of a more diffuse and hemispheric eco-catastrophe: the film's exploration of the fragility of memory is supplemented with a tactile awareness of the fragility of place, and an unspoken awareness that many migrants in the future will be environmental ones.
Another disappearance the film points to is that of industrial labour. Some of the most evocative archival footage shows migrants in factories and foundries, those hubs of interracial sociality that in recent times have often been disassembled, shipped to Asia and reconstructed as viable workspaces for Indian and Chinese proletarians. Images that a generation ago might have indexed working-class exploitation now have a nostalgic appeal. They recall the way in which manual graft often permitted a dignity and grace that's hard to replicate in today's service-sector economy.
In this respect, Mnemosyne should be treated as part of the growing body of cine-essay and documentary productions – others include Harun Farocki's Workers Leaving the Factory (1995), Travis Wilkerson's An Injury To One (2002) and Jia Zhangke's 24 City (2008) – that tackle what critic Andrew Ross describes as "the extinction of a mass industrial personality for whom labour was a livelihood in the fullest sense of the term."
Mnemosyne, like all the features Akomfrah made with the Black Audio Film Collective, is as attentive to sound as it is to image. It's a city-symphony that makes elegant use of Schubert and the drone-time of Indian classical music, as well as choice extracts from the likes of poet Zbigniew Herbert, refashioning Birmingham not so much as the heroic polis of Terence Davies's Liverpool in Of Time and the City (2008), but as somewhere closer in spirit to the ghosted, hauntological London of dubstep artist Burial. In its own way it is not just a welcome return to the arthouse fray, but a very necessary haunting of the present by a singularly important British film-maker.
'Mnemosyne' screens at The Public, West Bromwich, until 7 March 2010.
UPDATE: 'Mnemosyne' also screens at BFI Gallery at BFI Southbank, London, 10 July–30 August 2010.