Sonic youths: Jonathan Caouette's
All Tomorrow's Parties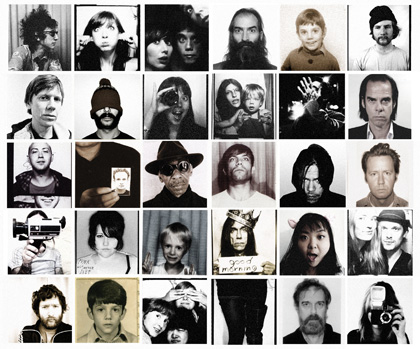 All Tomorrow's Parties rewrote the script for music festivals. Sam Davies wonders if Jonathan Caouette's fan-filmed, end-of-a-decade collage can remodel the concert documentary
A standing audience, beers in hand. A support band. Tour dates. These are not typically features of a film's theatrical release, but the people behind the All Tomorrow's Parties film rarely go about things in the conventional way.
The film celebrates the ten-year history of the All Tomorrow's Parties festival. All Tomorrow's Parties began with a one-off event held at Pontins in Camber Sands in 1999, the success of which encouraged promoter Barry Hogan to quietly reinvent the three-day music festival. In the All Tomorrows Parties model, camping, mudfields and portaloos were replaced by the joys of indoor plumbing and warm, dry chalets, set in the seedy cheerfulness of the off-season British seaside at Pontins, Camber Sands and from 2006, Butlins, Minehead. With each festival line-up curated by one of its headlining acts, All Tomorrow's Parties' ten years add up to a rough index of the last decade of leftfield music.
Accordingly, All Tomorrow's Parties is being introduced to audiences this autumn almost as a performance rather than a projection, with bands such as American post-punks Les Savy Fav sharing the bill. "The film's the headline act," says Luke Morris, who produced the project for Warp Films. "It's immersive; it's about capturing a feeling rather than telling a story. The one consistent reaction is that people watch it and want to be involved and see some music. It's good to have people watch the film as if it's a gig."
All Tomorrow's Parties began actively documenting the festivals in 2006, as well as encouraging fans to submit footage of their own. The Beastie Boys' Awesome; I Fucking Shot That!, in which the group distributed 50 camcorders among the crowd to document a gig, may have been an inspiration, but All Tomorrow's Parties's open call elicited DV, Super 8 and even mobile-phone clips. The choice of Jonathan Caouette as a co-director has a distinct logic: his 2003 debut, Tarnation, was a visionary collage of camcorder footage, edited together at home to produce a verité portrait of his difficult relationship with his mother.
The raw basic materials, collage techniques and occasionally dreamlike drift of the edits connect the two films, but Caouette is keen to stress their differences. "On the technical end, this film and Tarnation were entirely different animals," he insists. Not least because the sheer volume of footage – roughly 600 hours compared to Tarnation's 200 – meant that possible structures proliferated dangerously. "At one point, I wanted to do a quasi-narrative with the festival as a backdrop," he says. "Like a post-post-punk Nashville."
The finished film's rhythm roughly corresponds to the three-day arc of a typical All Tomorrow's Parties , as Caouette acknowledges, somewhat ruefully. "Even the most abstract experimental films have three-act structures if you think about it," he argues. But within that shape, improvisation became key: "I quickly realized over time that the atmosphere of All Tomorrow's Parties was so wonderfully chaotic and uncontrollable that it really had to be shot as though we were participating in a relay race."
The result of this relentless visual 'relay race' is at times brilliantly evocative. Folk, hip hop, roots reggae, free jazz, punk and noise from Daniel Johnston, The Boredoms, The Dirty Three, Genius/GZA, Fuck Buttons, Jah Shaka, Patti Smith, Lightning Bolt, Roscoe Mitchell and myriad others come and go in quick exhilarating succession, cut up with crowd shots, interviews, clips from classic music films. But it can also be frustrating, with many acts cut off mid-flow. Often this effect was imposed through lack of usable footage. "You have to make things work and sometime cheat time and space with whatever you have to work with," says Caouette. "One of my rules of thumb with anything is as long as things make complete emotional sense go with it."
And as Luke Morris explains, a carefully planned DVD release – synchronized to the public screenings and in all the major territories at once in an effort to limit piracy – has allowed All Tomorrow's Parties to work round the normally circumscribed time limits of a feature. "On the DVD there's the option to watch full performances of a lot of the bands, you can watch whole songs by Grinderman, The Stooges, whoever. And the DVD itself acts as a 'key' to extra content online." With the disc in your laptop, more material becomes available via a special website for streaming and downloading, with more to be added once All Tomorrow's Parties 's upcoming tenth anniversary shows have been filmed.
"The whole film was conceived with a self-distribution model in mind," Morris says, and this has allowed All Tomorrow's Parties to think through every aspect of its release, including its digital availability: synchronized with the screenings and DVD release will be a download available in three different file sizes, to suit viewers from mobile devices up to DVD-quality projectors. Like the festival itself, All Tomorrow's Parties is planning for success based on mobilising a small but enthusiastic fanbase through unconventionally direct means; if successful, it could potentially help set the agenda within independent distribution for all tomorrow's release schedules.
'All Tomorrow's Parties' is released on DVD on November 9. Features: over 60 minutes of full-length performance cuts, commentary by promoters Barry Hogan and Deborah Kee Higgins, a booklet with historical All Tomorrow's Parties artwork and exclusive online content including further interviews and performances.
See also
Tell it to the camera: B Ruby Rich on Jonathan Caouette's Tarnation