The Road Goes On Forever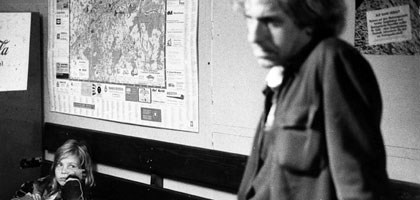 Wim Wenders' early films use the language of American cinema to express a sensibility that's inescapably European. Nick Roddick travels the director's potent landscapes of the mind
When I first saw Wim Wenders' 'Kings of the Road' in 1976 I experienced an exhilaration that has stayed with me during - and on occasions carried me through - some of the director's more recent films. Revisiting it recently, I felt that same thrill. It was late at night; I was alone; and I so wanted to share my wonderment that I kept texting people. Naturally, they were puzzled. Few whose assessment of Wenders is based on the period 1990-2007 can know just what an impact his early work had on a European cinephile also in love with a certain kind of American film. If I had to say what kind of American film that was, it would be somewhere between 'Bring Me the Head of Alfredo Garcia' and 'Two-Lane Blacktop' - road movies made in heaven (or, in Peckinpah's case, hell).
Wenders' early work proved that the spirit of the American road movie could be imported into films that were truly European. It wasn't a case of pastiche, like Sergio Leone's Westerns - rather, this was a genuine reinvention, the assimilation of the language of one culture with the experience of another. From his 1970 graduation film 'Summer in the City' (dedicated to the Kinks) to his 1984 Palme d'Or-winner 'Paris, Texas' - and maybe even up to 'Wings of Desire' in 1987 - Wenders reworked American cinema tropes (with just a hint of Ozu) into something profoundly European.
This determination to find ways of expressing a European sensibility through the language of American cinema set Wenders apart from his auteurist European contemporaries. For all the anger directed at fly-by-night Hollywood producers in 'The State of Things' (1982) - made in the middle of a bruising experience with Francis Ford Coppola on 'Hammett' - there isn't the sense, as there is in Godard, of an attempt to counter Hollywood's cultural imperialism. For Wenders, there were things to be learned, sometimes painfully - almost as if, like Dennis Hopper's Ripley in 'The American Friend' (1977), he was trying to see Europe through American eyes. Wenders was and remains defiantly European (he was a founder of the European Film Academy in 1988 and has been its president since 1996); it's just that his eyes somehow became American. And unlike his prewar predecessors, he needed no luring to cross the Atlantic: he was shooting in the US as early as 'Alice in the Cities' in 1974.
What he mainly brought back home with him was the road movie. All Wenders' early films are road movies in one way or another, and even documentaries like 'Tokyo-Ga' (1985) and 'Notebook on Cities and Clothes' (1989) spend a lot of their time just driving around. (The director also named his original production company Road Movies, though he lost control of it in the wheeler-dealer days at the turn of the millennium and now works under the name Reverse Angle.) The road-movie format was ideal for the loosely plotted early films, whether village-hopping in 'Kings of the Road', city-hopping in 'Alice' or just wandering off in 'The Goalkeeper's Fear of the Penalty' (1971). The constant movement fitted the rudderless alienation of most of the characters, especially when they were called Winter and played by Rüdiger Vogler, the first Wenders icon and a less problematic presence than Solveig Dammartin, Sam Shepard or Bono. Vogler was Wenders' Belmondo: an anarchic, at times morose but generally good-natured presence who excelled at doing very ordinary things - like the crap he takes in 'Kings of the Road' - with a cinematic nonchalance. The actor was also the perfect subject for Robby Müller's camera, a slightly shaggy object who seemed to blend into the landscape, be it urban or rural.
Making love and war
Actor, subject, style and cinematography all combined perfectly so long as the road they travelled remained a real one. But when an explicit metaphysical element was added in the later cycle of films that began with the hubristic, four-hour, four-continent 'Until the End of the World' in 1991, the journey, which should have been richer, became distinctly less enthralling. Of late Wenders has seemed like a brilliant film-maker, blessed with a natural eye and a superb sense of rhythm, but desperately in search of a subject. Look back at those early films, however, and you realise they didn't (with the possible exception of 1975's 'The Wrong Move') have a subject either. They just felt right, looked right and were in tune with the times. Those times, of course, were the 1970s.
The 1970s was when the 1960s finally hit Germany, but the psychedelic colours of the previous decade had faded into what Margarethe von Trotta (three years Wenders' senior) called "die bleierne Zeit" - the years of lead, which is the original title of her 1981 film known in the UK as 'The German Sisters'. In conversation in Utrecht last autumn, von Trotta insisted she invented the phrase, which has passed into the language of European politics, notably in Italy where it was used to describe the terrorism of the Red Brigades and their fascist counterparts. It refers to a time of frustrated hopes and a sense - which is what von Trotta's film is about - of people doing the wrong thing for the right reasons.
In Germany free love never seemed a movement in its own right but rather part of a political view of the world. For English speakers, that period is vividly and accurately evoked in John Le Carré's novel 'Absolute Friends': the Red Army Fraction (they always insisted they were a 'fraction' not a 'faction') may have made love, but their primary function was to make war on US imperialism and German capitalism. And the same seriousness pervaded popular culture: the US had Love; the UK had Pink Floyd; Germany had Kraftwerk. In the theatre, the plays of Wolfgang Bauer, Peter Handke (who co-wrote 'Goalkeeper' and 'Wings of Desire' with Wenders) and Franz Xaver Kroetz dealt with alienation, pain, murder and sadism in short, brutal bursts. They were, like Wenders' early films, a product of those leaden years, of a divided and troubled Germany where the economic miracle of the Adenauer era didn't seem enough and the pragmatic social democracy of Willy Brandt was no antidote. But being enclosed, hemmed in, was part of the identity.
Roaming the borderlands
The barbed-wire-and-Wall frontier between East and West Germany is a palpable background presence in several Wenders films. In 'Kings of the Road' Bruno Winter (Vogler) and Robert Lander (Hanns Zischler) spend the entire movie within ten miles or so of the Iron Curtain, moving northwards during the summer from Hof in Bavaria through a part of West Germany where villages were dying off because the roads through them no longer led anywhere, where derelict stations still had timetables listing places to which trains could no longer run.
In the film's most thematically explicit sequence they drive down a dirt track that peters out in the forest, then climb on foot to a hut on a hillside where the walls are covered with GI graffiti and the phone is a direct line to the US military. "The Americans have colonised our subconscious," says Robert. The whole dialectic of Wenders' world is there, but the perspective is very different from Godard's cheeky and apparently similar slogan "Children of Marx and Coca-Cola".
Wenders may be European, but he is essentially apolitical. Indeed, when he is being overtly political, as in the recent 'Land of Plenty' (2004), he seems ill at ease. His fascination with America and American film - as in his tribute to Nicholas Ray, 'Lightning over Water' (1980), or his repeated co-option of Sam Fuller to play cameos from 'The American Friend' to 'The End of Violence' (1997) - is both cinematic and emotional. What he saw (and borrowed) is the sense of movement only possible in a country with huge, empty open spaces of a kind we don't really have in Europe - though Wenders somehow found them in the borderland he used as a location for 'Kings of the Road'. But they were also contained, blocked off by the border, which made them more landscapes of the mind than places on a map.
Even as late as 'Wings of Desire', made three years after 'Paris, Texas', the sense of being hemmed in by a border is still crucial. The Wall appears in several scenes, with one even apparently shot in the no-man's land between East and West: we are taken on a tour of the old centre of prewar Berlin, the Potsdamer Platz, which since 2000 has been home to a space-age urban development but was then a weed-strewn field. "You can never get lost in Berlin," says the lugubrious voiceover. "You always end up at the Wall."
I am not the first to remark that something went out of Berlin with the Wende (the German word for reunification, which simply means change): some sense of a last-chance saloon, providing particularly fertile ground for a certain kind of art. Remember that in 'Wings of Desire' Bruno Ganz's angel and Solveig Dammartin's trapeze artist finally make human contact by dancing together in a club where Nick Cave and the Bad Seeds are playing. Not a band you would necessarily choose for an upbeat ending, but one whose doomed romanticism perfectly suits Wenders' world, in which constant movement masks the inability to make a decision, resolve a situation, reach a narrative conclusion. Look at the ending of 'Alice in the Cities', where a bravura aerial pull-back shot delivers an uplift but obscures the fact that we have no idea what is going to happen to Winter and Alice.
Perhaps that's the true meaning of the title of the film that immediately preceded 'Kings of the Road': 'Falsche Bewegung', variously translated as 'False Movement', 'The Wrong Move' and 'The Wrong Movement' (the last of which is closest to literal). But if something went out of Berlin, it went out of Wenders' movies too: 'To the End of the World' roamed the globe freely but covered much less dramatic ground than 'Kings of the Road'.
New freedoms
Wenders, of course, wasn't operating in a vacuum - even if he didn't take the emotional risks of Fassbinder or the physical risks of Herzog, he was part of the New German Cinema, a disparate movement united simply by its members' determination to make personal films, whatever the cost. Movements usually start with a public get-together of sorts (in the case of New German Cinema, the 1962 Oberhausen Manifesto), which no one notices at the time. They yield results locally, but by the time they gain international recognition the first flush is generally over. Then they move into a kind of international afterlife, referenced as a reality long after they are gone. This is especially true of cinema and even truer of German cinema.
Film needs money as much as artistic commitment, so those who begin on the fringes with almost no money are grudgingly co-opted into the mainstream as soon as their money-making potential becomes clear. As a result, making film is all about making compromises; movements, on the other hand, are about remaining pure. One of the interesting things about Wenders is that he embraced those compromises - in a way Fassbinder and Herzog did not - in the evident belief that his artistic vision coupled with his deep love of American cinema would overcome the obstacles. The demoralising experience of 'Hammett', his first 'real' American movie, whose script ran to a reported 40 drafts and whose production shut down for long enough for him to make 'The State of Things' before returning to it, would have stopped most people. But Wenders has gone on trying ever since to do 'Kings of the Road' in reverse: to impose a European sensibility on an American form. Sometimes he has succeeded triumphantly, as in 'Paris, Texas'; more recently he has failed, as in 'The Million Dollar Hotel' (1999) and 'Don't Come Knocking' (2005).
Wenders was not a signatory of the Oberhausen Manifesto - indeed, he was not yet 17 when it was signed. The only names on the list still familiar today are Alexander Kluge, Edgar Reitz and, if you really know your German cinema, Peter Schamoni. But Wenders' early films echo the arrogant optimism of that 1962 text. "The collapse of the conventional German film finally removes the economic basis for a mode of film-making whose attitude and practice we reject... the future of the German film lies in the hands of those who have proven that they speak a new film language.
"This new film needs new freedoms: freedom from the conventions of the established industry; freedom from the outside influence of commercial partners; freedom from the control of special-interest groups... The old film is dead. We believe in the new one."
So did Wenders - and so, when I first saw 'Kings of the Road', did I. It may not have been enough to change the world. But 31 years later, it still commands a large measure of respect.