Saura's flamenco flights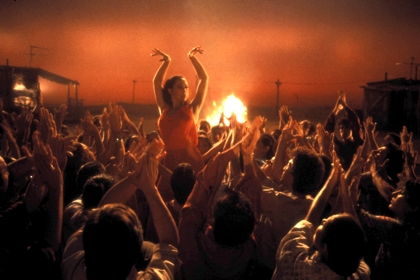 Carlos Saura's 1980s 'flamenco trilogy', now released in a set of bare-bones DVDs, constitutes some of the boldest dance films ever made. As Mar Diestro-Dópido reports, on a recent visit to London the director provided all the background you need
---
Web exclusive, 23 May 2012
---
In the wake of Wim Wenders' Pina – a tribute to choreographer Pina Bausch that has singlehandedly reawakened interest in film/dance collaborations – the UK DVD release of Spanish filmmaker Carlos Saura's Flamenco Trilogy is both timely and a cause for celebration. Comprised of Blood Wedding (Bodas de sangre, 1981), Carmen (1983) and El Amor Brujo (Love, the Magician, 1986), the discs have been individually released without extras – thus omitting the crucial context to these groundbreaking dance films.
As if to offer partial remedy for that situation, Saura was the guest of honour at last month's London Spanish Film Festival at the Cine Lumière. Billed as a masterclass, the event turned out to be a Q&A focused solely on the trilogy. (All the ensuing quotes in this article are from that discussion.)
Saura's trilogy marked something of a U-turn from the more obviously political films that sealed his reputation internationally, such as The Hunt (1966), Ana and the Wolves (1973) and Cría Cuervos (Raise Ravens, 1976). Long opposed to the dictator Franco's cynical appropriation of popular flamenco and 'fiesta' as a marketing tool to attract tourists and investment, Saura chose to focus on deeper and more complex layers of the art of flamenco.
Born in 1932, four years before the start of the Spanish Civil War, Saura inherited a love of music from his mother, a professional pianist. In addition, the Civil War left a strong mark on Saura mainly through its sounds, in the popular songs that people sang in the streets during and after the conflict – a tradition that Saura regrets is now largely lost.
Saura would eventually develop a passion not only for flamenco, but for folklore and classical music too. He pursued these passions in the documentaries made after his celebrated trilogy, which were filmed with what he defined as a minimalist, Zen-style focus: on the Sevillanas form of flamenco in Sevillanas (1992); Argentine tango in Tango (1998); and Portuguese Fado in Fados (2007). This amateur interest in a variety of musical forms is key to understanding the trilogy, since it meant that Saura approached flamenco from a much broader perspective than had hitherto been the case.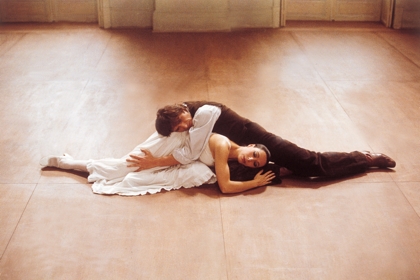 Flamenco originated in 18th-century southern Spain, the product of the melting-pot coexistence of different cultures, including (as the voiceover of Saura's 1995 documentary Flamenco explains) "Greek psalms, Mozarabic dirges, Castilian ballads, Jewish laments, Gregorian chants, African rhythms and Iranian and Romany melodies."
For Saura, flamenco's capacity to absorb many different influences is where its power really lies, because unlike traditional folk music, which tends to remain more or less the same over time, flamenco is constantly renewing itself. For instance, cult flamenco guitarist Paco de Lucía, who features in the trilogy, has added many influences from jazz and Latin rhythms to his music. And in Saura's 2010 documentary Flamenco, Flamenco the relatively recent rise of this art in Spain is credited mainly to the influence of younger artists. This renovation, together with its official recognition as an Intangible Cultural Heritage in 2010, has led to 'high art' status being bestowed on the dance form.
It is also largely owing to this generational renewal that Saura was able to make his trilogy with internationally recognised flamenco dancer and choreographer Antonio Gades, the riveting male protagonist of all three films. By the time producer Emiliano Piedra contacted Saura in the late 1970s suggesting this collaboration, Gades was already director of the Spanish National Ballet, with whom he was touring his own version of Federico García Lorca's Blood Wedding – originally written as a play about a gypsy woman torn between two men.
For Saura, a renowned fan of Lorca's work, adapting his highly metaphorical tragedy for the screen felt like a tremendous challenge. "I reread the play and was terrified," he said. "How on earth was I going to invoke the poetic aspect of Lorca's masterpiece for the cinema? Words, contrary to what is said many times, are much more important than images."
The answer came when Gades performed the show for Saura in one of the old National Ballet studios in the buzzing centre of Madrid. "The show was very interesting because the lead dancers and the rest of the cast all remained in the same space and they were wearing rehearsal clothes," said Saura. "It was very unconventional, and it is there, in the rehearsals, that you can really see the dancer's physical effort. This – together with my own obsession with mirrors – fascinated me. So I decided that what I wanted to make was a film that was like a general rehearsal. And that's the idea I've tried to keep in all my musicals: to show how a performance like this is created, how it's started, how the dancers warm up, how they get ready, how the movements are articulated."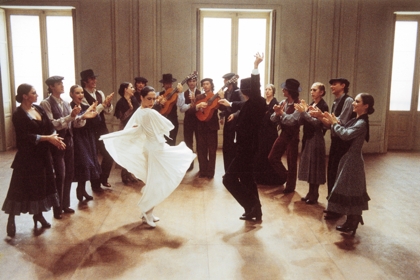 Of the three films in the trilogy, Blood Wedding has the most linear documentary style, although the capture of rehearsals on film demanded that the choreography was partly modified for the camera. On stage, action takes place as if it is filmed in a long take. However, during his Q&A Saura explained how in cinema actions have to be separated, and what on stage is a straightforward dialogue between two people becomes multiplied into a myriad of close-ups and takes, so Gades' original 30-minute version had to be more than doubled, stretching the film to 70 minutes.
"The camera collaborates with the choreography to foment and stimulate it, so that it focuses on those details that I am interested in. This was all a new experience for me," Saura explained. Extreme close-ups on the dancers' faces, feet and hands are highlighted with an equally carefully choreographed sound design that shifts between silence, sound and music, intensifying every sigh and step.
Silence takes over in a breathtaking half-hour sequence that ends the film, climaxing in a knife fight between husband and lover, danced in excruciating slow motion that creates such palpable tension it practically sucks the air out of the room.
After the resounding success of the Blood Wedding premiere at Cannes, Don Juan and Don Quijote were subjects that Gades and Piedra respectively put forward for a follow-up film, again drawing on flamenco. In the end, Saura proposed Mérimée's short novella Carmen, which he'd been interested in for a long time. Unlike Blood Wedding, which already existed as a stage version, Saura and Gades had to create both Carmen and, later on, Love, the Magician from scratch.
Carmen is set in the present and sees Gades both playing himself and depicting the creative journey he and Saura struck out on to reinvent it. "In that sense it was very interesting because the film doesn't follow either Bizet's opera or Mérimée's story," said Saura. "Everything was done within a much more modern and current context."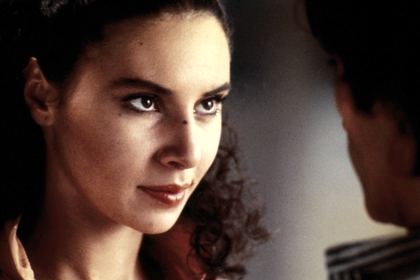 Sharing the same minimalist mise en scène as Blood Wedding, Carmen is once again filmed in a studio where rehearsals are taking place, only this time the reality of the creative process and the rehearsals become entangled with the fictional story of Carmen as manifested in both the novella and the opera. The latter is, in fragmented form, part of the film's soundtrack, as live flamenco is played in the studio. The film's artistic elements – opera, flamenco music and dance, literature and film – all feed off one another to create a narrative choreography that seamlessly moves between dance, music and fiction, creating something greater and more intense than even its original sources.
The film was a tremendous international success, receiving a nomination for the Best Foreign Language Film Oscar in 1984 (ceded to Bergman's Fanny & Alexander) and another for the Golden Globe. It won two awards at Cannes and a BAFTA the following year. The choreography Gades created for the film is still touring internationally with the ballet company he founded, playing to capacity audiences.
For Saura, it was the casting of the lead role that made the difference. "I couldn't see Cristina Hoyos [the lead in the other two films in the trilogy] as Carmen. She was the most talented female dancer of her generation and, as such, Gades' main dancer – that soon became a problem. I remember the first day we tested some dancers; the first one to arrive to the studio was Laura del Sol, a young woman, very insolent. And I thought she was wonderful. Cristina hated her straightaway, Gades didn't like her and Emiliano was not interested. We saw about another hundred dancers but I didn't stop pushing until Laura got the part." Ultimately, del Sol bewitches as a modern and fiercely sensual Carmen who falls victim to her own hunger for freedom.
On film Saura manipulates the very real tension between del Sol and Hoyos to ignite one of the most electrifying scenes, the fight between the two women at the cigarette factory, in which the filmmaker pays homage to Robert Wise's 1961 West Side Story. Saura fondly remembers when Carmen lost to Bergman at the Oscars: "Wise sent me a note saying, 'Carlos, you are making a very different and innovative kind of musical,' and exhorted me to carry on. I was really touched by that."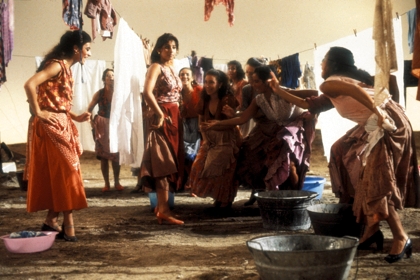 The influence of Wise's film becomes even more apparent in the trilogy's closing film, Love, the Magician, in many ways the most generic musical of the three, a ghostly love story based on music by Spanish composer Manuel de Falla. Though it is the least striking of the trilogy, Love, the Magician's most interesting aspects are its production design and its famous Ritual Fire Dance, the latter managing to conjure the same exhilarating magic as the previous films.
It should also be noted that it's in this film that, for the first time, Saura decides to portray flamenco as it's played and danced in the streets, albeit filtered through the deliberately heightened artifice of a film studio – Saura focuses as much on the details of the set as he does on the protagonists. Thus it is that Love, the Magician emphasises, more than the other two films in the trilogy, the interplay between the creation of a fictional reality and the development of the fiction within it.
But for Saura the film has some problems. "The music is a masterpiece, but the story is a bit trivial, so we had to reinforce it a lot, and the protagonist should have been played by Laura del Sol instead of Cristina Hoyos. I fought very hard to give del Sol the lead, but Gades told me that it was impossible."
Ultimately, Saura's trilogy is a filmed testimony to the key figures of flamenco at the peak of their powers, and above all an homage to the genius of Antonio Gades, whom Saura has described as a complicated, in many ways tormented man, an exceptional dancer with a vivid and dramatic apprehension of life.
"I've never seen anyone who worked to the point of exhaustion like he did. He had a Marxist take on life, and dance was a job… [therefore] he had to ensure that the people of his company lived adequately. So he found it hard to actually enjoy his art, although he did manage to relax a bit in Carmen."
Gades had, in fact, been mentored by one of Spain's most iconic dance figures, Vicente Escudero, and between them they revolutionised flamenco. "Escudero's was a sort of Castilian flamenco: very sober, severe, a wonder," said Saura. "Gades followed this to the letter – he institutionalised it. Nowadays anybody who wants to learn how to dance flamenco, gypsy or otherwise has to go to a dancing school. This is how Gades has marked flamenco. He was impeccable, a perfectionist and an extraordinary choreographer."
'Blood Wedding', 'Carmen' and 'El Amor Brujo' are available now on DVD from Studio Canal. 'Cría Cuervos' is released on DVD by the BFI in summer 2012.
See also
Pere Portabella: from Buñuel to Lorca: Mar Diestro-Dópido talks to an elusive Catalan film legend (July 2011)
Spanish spring: Paul Julian Smith on Spanish cinema after Franco (July 2011)
Goya in Bordeaux reviewed by Paul Julian Smith (November 2000)
Flamenco reviewed by José Arroyo (August 2000)
Tango reviewed by Geoffrey Macnab (August 1999)