Someone's got to do it
March 2011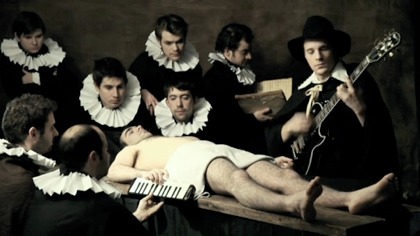 L'Ogre's video for Hold Your Horses!'s '70 Million'
Pop promo impresario David Knight introduces his inaugural online column for Sight & Sound
Every morning after the kids have left for school, I pop open the laptop and launch my email reader – unless I've left it on overnight. In which case I might as well go make another cup of coffee while I wait for the ageing machine to reboot.
So far so unexceptional. But I'm about to be reading the sort of emails that pretty much no-one else gets, introduced by subject headers along the lines of "music video submission".
What this heralds is a video that someone has sent me to feature on my blog, promonews.tv. The site features new music videos daily, from huge blockbusters for pop megastars to tiny no-budgeters for unsigned indie bands. (Last month's uploads included new videos for Lady Gaga and Take That, and also for bands like BangStrokeBlow and Thomas Tantrum.) Most importantly it's a showcase – within the industry and beyond – for the people who make the videos: the directors, producers, cameramen, editors and everyone else.
Hence all the emails from aspiring filmmakers, who know the website is a destination for those involved in making pop videos to check out new work. (Sometimes there are other emails titled "BUG Submission", from people who are aware that I am also one of the curators of BUG, the music-video night at the BFI Southbank. They would like their video to be considered for a future show…)
This is a rather long-winded attempt to explain how things work these days in the world of music videos. Just a few years ago, almost all such videos were commissioned by record labels, who handed a budget to a director and a production company and received their movie a few weeks later. Nowadays, of course, anyone with a camera and computer can make a music video – and some days it seems like nearly everyone does.
Now I don't want to look like I'm complaining, seeing as watching lots of music videos on a daily basis does sound on paper (or screen) like a fairly unchallenging job for an adult human. But this keeps me busy going on swamped. If my email-scanning addiction is left unchecked, I can spend all day and half the night cracking open those "music video submissions".
Kinds of magic
How did I get myself into this (ridiculous) situation? The answer is quite straightforward. It's basically the lure of finding something great: those awesome three or four minutes of audio-visual magic by an exciting new directing talent. It doesn't happen very often – but every so often something comes along that blows your head off. In fact the new democracy of music-video creativity means it happens rather more often than it did a few years ago.
In the past year there have been several examples of young filmmakers emerging apparently out of nowhere with remarkable, mostly no-budget music videos – which we've been able to show on the BFI Southbank's big screen at BUG.
For instance, there was the riveting spec film by Daniels – that is, young Americans Daniel Scheinert and Dan Kwan – for Icelandic band FM Belfast's superb track 'Underwear':
Ewan Jones Morris and Casey Raymond, a directing duo from Cardiff, created an extraordinary vision of the afterlife for American singer-songwriter John Grant's lovely song 'Marz' (it begins, unforgettably, with a young woman falling to her death):
Saman Keshavarz was still at film school in Los Angeles when he crossed several states to shoot a modern noir road movie from the perspective of the doomed anti-hero, complete with alternate endings, for dance outfit Cinnamon Chasers' 'Luv Deluxe':
Spanish director Jesús Hernández combined sex and bizarre sandwich-making for French band Mondrian's 'Last Breakfast on Planet Surf' – – and then fashioned a stunning dinner party from hell for Glez's 'Todo El Tiempo':
And Paris-based directing outfit L'Ogre fashioned live copies of some of the greatest works of art with ingenious resourcefulness, for new-folkies Hold Your Horses!:
These are all examples of work where the inspiration and perspiration of the filmmakers are way more significant than any financial input. But as music videos have found a new lease of life online, 'new talent' can make work and get it spotted faster than ever before.
Money makers
Bands and record labels are also able to (for want of a better word) exploit this. Just recently Norwegian electronica superstars Royksöpp invited filmmakers to make videos for any track on their latest album Senior (just one among several music artists who have organised a video competition in the past year on the Australian-based website Genero.tv).
In the space of a few weeks over 150 entries were received – and BUG screened the very best of these at a Royksöpp special last month. They were very good indeed – not least a movie by Seoul-based Irish writer-director Neil Dowling and German cameraman Nils Clauss for the track 'Senior Living', which is as good as anything I've seen in the past six months:
Whatever the budget, it didn't come from the band or label – although they did provide cash prizes for the competition winners.
Conversely, last year budgets in the mainstream world of music video production rose slightly for the first time in years, prompting cautious optimism. There was also an unlikely resurgence of proper live-action narrative – generally the most expensive way of making a video – with Daniel Wolfe's clutch of videos for Plan B's successful concept album The Defamation of Strickland Banks blazing the trail. In videos like 'She Said' and 'Prayin'', Plan B (aka Ben Drew, also an actor who played opposite Michael Caine in Harry Brown and recently directed his own movie) tells the serial tale of soul singer Banks's spectacular fall from grace:
Wolfe, an experienced promo director who seems destined to head into full-blown gritty drama sometime soon, has also recently directed an enigmatic video for The Shoes' 'Stay The Same' featuring London to Brighton and This is England '86 actor Johnny Harris –
– and a remarkably authentic recreation of the early 90s rave scene for Chase & Status's 'Blind Faith':
It remains to be seen if this modest upswing in budgets will continue, considering that the UK music industry posted another seven percent drop in year-on-year sales in 2010. No-one involved in music videos thinks that the old days of the late 90s or early 80s, when a cash-rich music biz financed golden ages of music video production and creativity, are going to return any time soon. But things might be slightly different now that music videos have become such an intrinsic part of music.
Their MTV
They're also at the core of a new venture which could be one of the music business's better ideas in the digital age. Last year a consortium including Universal (the biggest music label), Sony (the second biggest) and YouTube created Vevo – a dedicated area of YouTube for the latest music videos by the world's top artists. (It's going to launch officially in the UK very soon.)
Vevo has been very successful, and the labels have directly benefited financially from its substantial advertising revenues. One could describe it as MTV for the YouTube generation – except that the labels didn't own MTV. So it might be different this time…
My blog is is a completely different kettle of fish to Vevo, of course; but someone has to look out for the cool wacky stuff on the edges, and find those interesting baby directors.
Looks like another couple of emails have just come in…
BUG 24: Evolution of Music Video is at the BFI Southbank on 24 and 25 March and 7 April
See also
Nam June Paik: electric dreamer: Laura Allsop on the first master of video art (February 2011)
The best online videos of 2009 (January 2010)
A curious faith: Owen Hatherley on Depeche Mode fan documentary The Posters Came from the Walls (November 2009)
The best music in film special issue (September 2004)