Building unease: Bence Fliegauf's Just the Wind (without subtitles)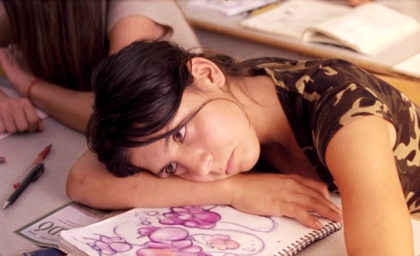 Jonathan Romney, 17 February
Was Berlin good this year? I really couldn't tell you – with a festival this sprawling, it's hard to get a proper grasp of things, and while people kept telling me that I'd missed some great films, I seem to have drawn a veritable quiver of short straws among the selection. And then, as luck would have it, my bad timing nobbled me in exactly the way it did in 2011. Just like last year, I checked out of my hotel and dropped my bag off at the Hyatt cloakroom just in time to meet a stream of wild-eyed people telling me that this morning's competition film, Kim Nguyen's African-set war drama Rebelle (War Witch), was the absolute revelation of the Berlinale. You'll no doubt be reading more about it here, and I can't wait to see it. (Mind you, I can't even remember what film it was that I missed for the same reason last year: these things never feel as important once a festival is over.)
Just like last year, too, I managed to grab a ticket for a public screening of a competition film, completely forgetting that I'd be getting German subtitles only. It happened with A Separation last year, and I can assure you my German's not much better than my Farsi. This time, the film is question was Just the Wind (Csak a szél), the latest from Hungarian director Bence (more usually known as Benedek) Fliegauf. I didn't rate his last film Womb – a weirdly airless story of love and cloning starring Eva Green and Matt (Doctor Who) Smith – so I wasn't expecting much from Just the Wind. And, although there's not a huge amount of dialogue, there was enough for me to know that I was missing some important nuances at least. So I won't presume to deliver a judgment here, except to say that I'm intrigued enough – if not positively gagging – to see the film again.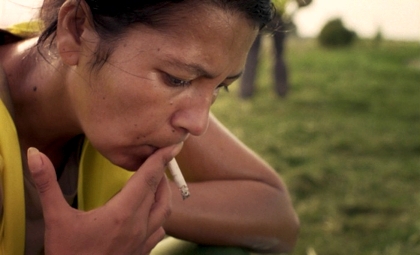 This extremely sombre drama is a response to a recent outbreak of murders of Gypsy families in Hungary, and takes us through a day in the life of one family, from morning to night, with the impending horror held artfully in suspense throughout. Fliegauf follows the trio of Mari, the mother, through her working day as a cleaner, her young daughter Anna to school, and older brother Rio through his hours playing truant, exploring the local countryside and swimming with friends. Throughout a seemingly free-form succession of parallel events, there are various manifestations of menace (a group of drunken men try to waylay Mari) and portents of death (in a striking act of respect, Rio takes time out to bury the body of a pig found in the woods).
Visually, I felt that we were in slightly familiar terrain – Zoltan Lovasi's photography is in a register of lyrical realism, making great use of glaring sunlight, but I couldn't help thinking of Peter Strickland's ruralism in Katalin Varga (possibly because of the Hungarian setting) and, even more, of the Dardenne brothers, with the camera hanging close on characters' shoulders. All in all, I wished Fliegauf had relied more on implying rather than showing the catastrophe at the end, and the grim coda seemed a misjudged overstatement. For me, it was the build-up of unease that made the film really special, with the sound design (I'm assuming it's the work of Tamas Beke, credited in the press notes as 'sound master'), sometimes using the almost subliminal tremor of a string instrument to create tension. But I'll withhold judgment till I see it again and get a handle on the dialogue.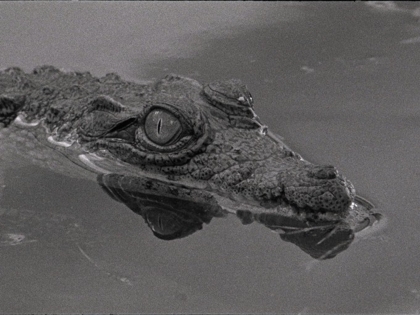 Crocodile tears: the Berlinale's Best Animal
I'm shipping out now but, for the record, my competition highlights were Miguel Gomes's inspired, eccentric Tabu (which also featured Berlin's best animal, in the form of "a sad and melancholic crocodile") and Christian Petzold's Barbara, with its superb lead Nina Hoss (whose East German medic in rural exile was pretty sad and melancholic herself).
And my competition low point: Edwin's Postcards from the Zoo, an Indonesian film which made me think that the influence of Apichatpong Weerasethakul's reveries hasn't been entirely beneficial. And if I were on the board of Djakarta Zoo, I'd be wanting to know whose bright idea it was to let Edwin make such a lamentable anti-advert for the place.
« Silver valentine: Miguel Gomes's audacious movie medley Tabu
O masterpiece, where art thou? »
See also
Weight of water: Jonathan Romney interviews Luc and Jean-Pierre Dardenne (October 2007)