Silver valentine: Miguel Gomes's audacious movie medley Tabu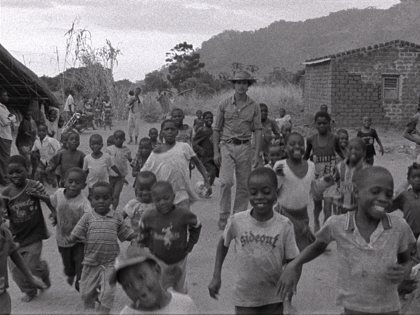 Nick James, 15 February
I've liked a few films here so far at the Berlinale – the Taviani Brothers' Caesar Must Die, Christian Petzold's Barbara, Axel Petersén's Avalon and even Billy Bob Thornton's Jayne Mansfield's Car, for instance – but I'm posting today about just one. Some films grow in the mind and I have been thinking off and on about Miguel Gomes's Tabu.
That it's the most audacious and intricate film to be seen so far in Berlin's competition is without question, and to some extent it's fulfilled the same role here as did Malick's The Tree of Life in Cannes last year. I don't mean that this monochrome valentine to melancholy (it screened on 14 Feb) was quite the media sensation that Malick's film was, but rather that former critic Gomes was already set up to be cinephilia's Next Big Thing – the subtle surprises of Our Beloved Month of August made sure of that. But the first coup of Tabu is that it's not much like that curiously beguiling summer film in either approach or content, and the fact that it bears the same title (and, I'm told, chapter headings) as the FW Murnau and Robert Flaherty classic [full title: Tabu A Story of the South Seas] is a much stronger indication of the kind of film it is.
Tabu begins with a prologue of considerable dry wit about a 19th century explorer in Africa who is so hounded by the ghost of the woman he abandoned that he sacrifices himself to a crocodile. The woman and the now "sad and melancholic" crocodile thereafter haunt the savannah together. This section also establishes a flat-on, cod-ethnographic, silent-era mode of representation with voiceover; later the film plays out another variation on the silent style, which becomes the dominant mode of storytelling (and makes Tabu a kind of antidote to The Artist). It evinces a similar fascination with vintage filmmaking techniques to that found in Apichatpong Weerasethakul's Uncle Boonmee Who Can Remember His Past Lives… but it also has the delicate picture-book flavour that gives so many of Manoel Oliveira's fables their own deliciousness.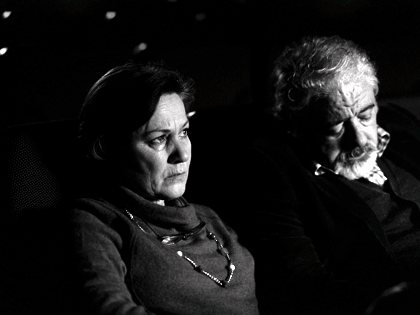 After the prologue, the film puts us in present-day Lisbon, and into a mild diary-led drama (with conventional sound dialogue) centred on Pilar (Teresa Madruga), an elderly woman worried about her disturbed neighbour Aurora (Laura Soveral), who gambles her money away and complains that she is kept prisoner by Santa (Isabel Cardoso), the live-in Cap Verdean carer/housekeeper paid for by Aurora's daughter (the latter a structuring absence). A teasing, gentle vein of self-mockery here combines with an oblique approach to editing and narrative to enliven what might otherwise be rather domestic exposition – including one fantastic movie-date scene with Pilar and her artist suitor that superbly contrasts much of what's to come. Indeed, one problem for this film is that its pleasures are so much to do with the ingenious ways it draws you into its fatal attraction that to write about it at length is to ruin some of that enjoyment.
I shall therefore try not to spoil too much more. Where we eventually end up after much sleight-of-hand is in a Hemingwayesque yarn of adultery in Africa some 50 years ago, shot in the DW Griffith tradition and acted without audible dialogue by a suitably comely pair, she (Ana Moreira) a lynx-eyed vamp and he (Carloto Cotta) an Errol Flynn lookalike. Comedy relief comes from a subplot about our hero being in a band that plays Phil Spector songs.
What stops this formally enticing film from achieving some kind of transcendence is that its emotional heart is in the wry present-day material and in the richly romantic letters that inform the framing voice-over narrative. The last and most melodramatic quarter of the film plays out with the dwindling effect that eventually besets all pastiche, and overall the tone of the film remains a little pleased with itself. Yet there's much that resonates here beyond filmic exercise. This year's Berlin selection would have been routine indeed without it.
« Time for outrage: Tony Gatlif's Indignados
Building unease: Bence Fliegauf's Just the Wind
(without subtitles) »
See also
The Artist reviewed by Tony Rayns (January 2012)
Our Beloved Month of August reviewed by Jonathan Romney (February 2010)
Serenity: Miguel Gomes on Pedro Costa's film work with the inhabitants of Fontainhas in Lisbon (October 2009)
Six degrees of Nosferatu: Thomas Elsaesser on FW Murnau, Nosferatu and Shadow of the Vampire (February 2001)
The Innovators 1910-1920: Detailing The Impossible: Vicki Callahan on the rich tradition of questioning narrative certainty begun in Louis Feuillade's crime serials (April 1999)
The Innovators 1900-1910: Time After Time: Charles Musser looks at the storytelling achievements of editing pioneer Edwin S. Porter (March 1999)