Bemusement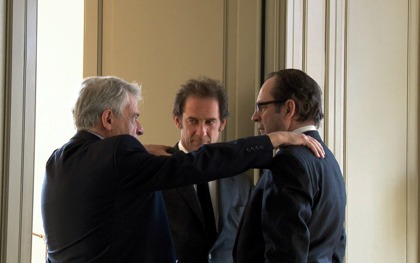 Nick James, 18 May
It happens every year: at least one film from France is in competition that the domestic audience seems to adore but which leaves us foreign journalists, almost without exception, utterly nonplussed as to why it was selected.
This year's puzzle is Pater (France), the latest relaxed, personal, made-at-home film from the usually estimable Alain Cavalier. The director is best known for movingly personal lo-fi work of immense intelligence – for instance Irene, his tribute to his late wife, a moving poetic search for fragments of memory typical of his inventiveness which screened here in Un Certain Regard two years ago.
But what are we to make of Pater? It's made up from a series of conversations between Cavalier and actor Vincent Lindon in which the director proposes that he is the President of France standing for re-election and that Lindon is the Prime Minister who wants his job. Lindon grabs the attention at first by insisting that the first thing he will do is slash the pay of top bosses.
Laudable stuff, you might think, but in its 'let's pretend' self-reflexive mode the film soon degenerates into mid-scene giggling, and a lot of preening about appearance that's probably aimed at Sarkozy but isn't funny (and the cosmetic-surgical removal of Cavalier's dewlap seems real). Pater is no doubt littered with French political in-jokes, but there could hardly be a more parochial exercise in insider filmmaking. So why put it in the Competition?
Follow Nick James' tweets from Cannes @SightSoundmag
---