Chicken with Plums: over-plummed?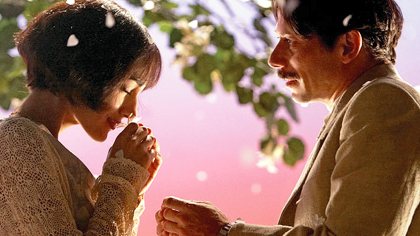 Sophie Mayer, 20 October
Chicken with Plums (Poulet aux Prunes) is the second outing from the directorial team of Marjane Satrapi and Vincent Paronnaud, and the second in a planned trilogy of adaptations of Satrapi's elegant black-and-white graphic novels. The first instalment, Persepolis, was one of the highlights of the 2007 London Film Festival, garnering the Sutherland Trophy for best first feature for the pair.
While Persepolis cleverly and precisely translated Satrapi's instantly recognisable graphic style to the big screen, Chicken with Plums is a more mixed dish: primarily a live-action film, it opens with a 2D animated credit sequence that's reminiscent of the earlier film, and includes a charming 2D animation in blazing early Disney colours of a story told by Azrael, the Angel of Death, to the film's protagonist, master violinist Nasser Ali.
Nasser Ali is two days from death by this point, and his hunger-induced hallucinations of past, present and other worlds are intensifying. This sequence, which begins with the startling – and quite funny – appearance of Azrael and moves into the cartoon through a table that turns into a pop-up book, is one of the most assured and involving sections of the film.
The live action, which concerns Nasser Ali's thwarted love for a beautiful woman named (rather over-symbolically) Irâne, is less involving if always interesting, offering as it does a chaotic but inventive journey through the history of early cinema, with pastiche sequences of slapstick, Expressionism, bold Technicolor and Méliès magic. Fans of early cinema compelled by The Artist will find other references to treasure here – as will fans of screen beauty, treated to Isabella Rossellini, Chiara Mastroianni, Maria de Medeiros and Iranian star Golshifteh Farahani, not to mention a cameo by Sophia Loren's breasts.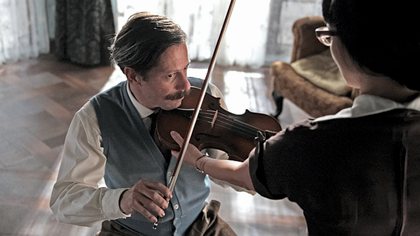 But the talent on screen is let down by the two-dimensional characterisation: a gallery of weak beauties, domineering mothers and shrewish wives. Mathieu Amalric, as Nasser Ali, has more to work with and becomes more effective the closer Nasser Ali is to death, and Jamal Debbouze turns in two welcome if bizarre cameos as a antique dealer and a dervish.
His presence – along with the film's whimsical, slightly cloying ideas about Art and Love, proclaimed rather baldly by Nasser Ali's violin guru in Shiraz – call to mind Amélie as much as Persepolis. Lacking a sympathetic central character, and with an uneven tone, it's unlikely to be as considerable a hit as either.
Correspondences: Jonas Mekas, José Luis Guerín, Jafar Panahi »
See also
The green badge of courage: Rafi Pitts talks to Gabe Klinger about his open letter of protest against the imprisonment of Iranian filmmakers (March 2011)
From strip to screen: Guillaume Gendron on French comic artists' fortunes on the big screen (July 2010)
Offside reviewed by Julian Graffy (June 2006)
Iranian house style: Hannah McGill on the Makhmalbaf film house (April 2004)
Café society: Ginette Vincendeau on Amélie (August 2001)