East London on film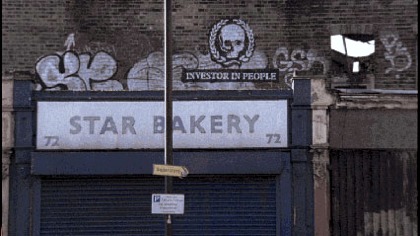 ---
London, UK
May 2011
Sender: Frances Morgan
---
Myth-making seems built into the bricks and concrete of London's East End, and the unruly, mysterious districts clustering on the edge of the City's centre of power have inspired filmmakers as much as they have novelists, artists and musicians. East London informs David Lean's classic adaptation of Oliver Twist; gangland thrillers like The Krays and Cronenberg's Eastern Promises; and diverse tales of daily life from cult kitchen-sink drama Bronco Bullfrog to the 2007 adaptation of Monica Ali's Brick Lane.
The East London Film Festival is as sprawling as the areas it represents, and its programming is far from parochial, with a focus on Romanian cinema in the European category this year. Where the East End itself is celebrated on film this week, it is as a space for hedonism and music, typified by the opening night gala premiere of The Libertines – There Are No Innocent Bystanders, a documentary about the erstwhile indie band; and as a space to live, with a focus on housing and community in numerous short films and some standout documentaries.
With a preponderance of social housing, regeneration projects constantly on the go and rapid gentrification, it's not surprising that housing is a preoccupation for residents of Hackney and Tower Hamlets; why social housing in particular is fascinating to filmmakers right now is less clear. The housing estate is perhaps a formally neat structure for telling the story of an area's overlooked residents; the ideals of early housing developers (explored in Shane Davey's 14th Floor, which makes great use of local archive footage) seem particularly resonant in 2011; and some of the buildings, like Goldfinger's Balfron Tower in Poplar, are wonderfully photogenic, as are images of construction and destruction. Housing also informs Phil Maxwell and Hazuan Hashim's East End Lives 3, made in collaboration with housing association East End Homes, although here the focus is less on infrastructure and more on individual testimony.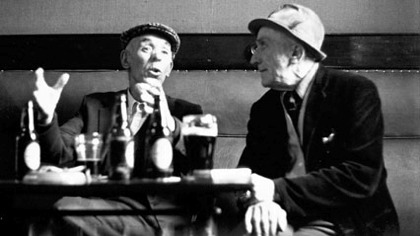 Maxwell, a photojournalist who has chronicled east London for decades, avoids the pitfalls of nostalgia that less experienced filmmakers, enamoured of legends of working-class communities and Blitz spirit, are prone to. His portrait of two ex-members of a capella girl band The Mint Juleps and a teenage artist living in the shadow of Canary Wharf celebrates east London's diversity without patronising, and gently explores memory, change and relationships using the framework of the home. Maxwell's black-and-white street photography, exhibited in Spitalfield's Market, has a similarly vital, humane presence, at odds with the brashly revamped market itself.
Emma-Louise Williams' Under the Cranes (pictured at top), which premiered to a capacity audience at Dalston's Rio Cinema, featured the work of another long-time resident, Michael Rosen, whose documentary play Hackney Voices steered this engaging, gentle, slightly dreamlike documentary. Somewhat inspired by Patrick Keiller's Robinson films, Williams' Hackney is a layered, shifting place teeming with multiple voices and realities, echoed verbally by Rosen's collage of reminiscence, characteristically generous poetry and collected urban folk songs.
Rosen's presence reminds us of east London's reputation as a place of political upheaval. In Under the Cranes this element is worn lightly, but significantly (the script includes an eyewitness account of 1930s fascist meetings, chillingly from the point of view of a BUF member).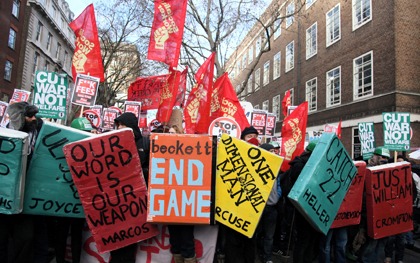 Rosen also appears in Michael Chanan's Chronicle of Protest, extolling the revolutionary potential of Shakespeare. Co-produced by the New Statesman and Roehampton University, Chronicle of Protest's freshness and urgency – the most recent footage, of the 26 March TUC demo, is only a month old – is perhaps a necessary counterweight to the archival feel in evidence elsewhere. Activist video, news footage and interviews are edited into chapters including December 2010's student occupations, campaigns against library closures and the actions of UK Uncut; commendably, Chanan gives space not only to London protest footage but also to a lecturers' strike in Bristol.
The recent wave of protest at government policy has sometimes been couched in simplistic terms of the young versus the old, but this intelligent and highly watchable film suggests a continuum of protest, as veterans like Terry Eagleton appear alongside a new generation of technology-savvy activists. Its screening in the East End, an area that has harboured chartists, suffragettes, anti-racist campaigners and many other oppositional groups, strikes a challenging note.
See also
London's burning: Frances Morgan on an evening of archive visions of war (February 2011)
This is our land: Frances Morgan on liminal Britain at the London Short Film Festival (January 2011)
Eight of the best: Dylan Cave picks his highlights from the London Short Film Festival (January 2011)
Get smarter: Danny Leigh on The Long Good Friday and paucity of contemporary equivalents (June 2000)