Ebertfest: thumbs on hearts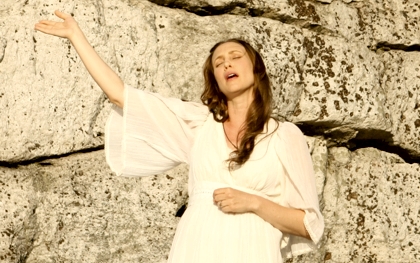 Vera Farmiga in Higher Ground
At Roger Ebert's Film Festival, films, filmmakers and fans come together under the guiding hand of the World's Most Famous Film Critic. Scott Jordan Harris joins the communion
---
Ebertfest: Roger Ebert's Film Festival, Champaign, USA; April 2012
Web exclusive, 14 May 2012
---
There are two key kinds of film criticism: the scholarly and the journalistic. The first seeks to investigate and analyse; the second to celebrate and share, to simply recommend the films most worth an audience's attention. Roger Ebert's Film Festival embodies both kinds of criticism and achieves the aims of each.
No films are submitted to Ebertfest and no awards are given by it, besides 'The Golden Thumb' awarded to each film that is screened. Ebert is the world's most famous film critic: the first to win a Pulitzer Prize and the only one with a star on the Hollywood Walk of Fame. His thumbs, both golden and flesh, are registered trademarks. He selects every film shown at his festival.
Ebertfest began as 'Roger Ebert's Overlooked Film Festival', its programme composed of films Ebert felt had been given too little attention. Ebert, and his audience, tired of stretching the definition of 'overlooked' to cover the better-known films he chose (2001: A Space Odyssey was screened with the explanation that 70mm was an overlooked format) and so now the festival simply presents whichever films Ebert most wants to show inside the Virginia Theater, the 1921 movie palace in Champaign, Illinois that hosts the festival.
For Ebertfest 2012 the paying audience came from across Illinois and America. The invited audience, primarily filmmakers and international correspondents for Ebert's website, came from every continent except Antarctica. Ebertfest is not a festival stiff with celebrity. This was particularly true this year as Patton Oswalt, who was to attend with Robert D. Siegel's Big Fan, in which he stars, and to present a free screening of Robert Hamer's Kind Hearts and Coronets, was forced to withdraw the night before he was due to arrive.
Notables such as Tilda Swinton, Charlie Kaufman and the great Indian actress Seema Bismas do attend, but more to promote their lesser-seen work (and to savour the sincerity of the praise it's given) than to amplify their fame. One does not go to Ebertfest to be seen, but to see.
This year's festival was dedicated to Paul Cox, the Dutch-Australian director of Man of Flowers and Vincent, whose work is a favourite of Ebert's and who has consequently had three films screened at Ebertfest. David Bradbury's On Borrowed Time [homepage] was, in a sense, the fourth: Cox is not the film's director but its subject. The affectionate documentary recaps Cox's career while documenting what could have been the last year of his life, during which liver cancer, and his rare blood type, looked likely to kill him until he was saved by an unexpected transplant. His Q&A session was intensely emotional: Cox crumpled into tears as he answered a question from a transplant recipient in the audience by saying that he feels a debt to his donor to live twice the life he led before.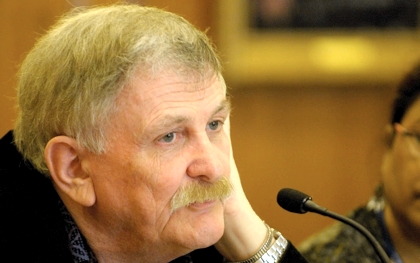 Such acutely personal sentiments were a feature of the festival, especially in its screening of Vera Farmiga's directorial debut Higher Ground [homepage], not a documentary but rather a biopic of its screenwriter Carolyn S. Briggs, who Farmiga plays in all but name (her character is called Corinne Walker). In early life Briggs was pulled into a claustrophobic community of born-again Christians; in mid-life she pulled herself out. Higher Ground is often remarkable for its subtly and always remarkable for its lack of bitterness about believers.
The same spirit is evident in Briggs, who amiably answered questions after the screening. While it would have been interesting to hear Vera Farmiga (who didn't attend) discuss the experience of portraying a character based on Briggs, it was fascinating to hear Briggs discuss the experience of watching a portrayal based on her. Ebertfest's focus on emotion again marks it out from other famous festivals, and this is perhaps the influence of Chaz Ebert, who seems as instrumental to Ebertfest as her husband and is more prone to public displays of feeling.
She wept unashamedly onstage after the festival's final film: Citizen Kane, which was shown with Roger Ebert's acclaimed commentary track, recorded for a DVD release before Ebert lost his voice to cancer, playing over the Virginia's speakers. It was in this closing screening that the two dominant motivations behind Ebertfest – the urge to celebrate fine films and to share the emotions they engender – combined most completely.
It is often said, usually by a director who has just read a bad review, that film critics all privately wish to be filmmakers. I am not sure this is true – but I'm certain that film critics all privately wish they could screen their favourite films at a festival carrying their name and attended by adoring audiences. All critics wish they had their own Ebertfest.
See also
Let there be light: Nick James reports from the Midnight Sun Film Festival (June 2011)
The mark of Kane: David Thomson wonders if Citizen Kane is still the Greatest Film of All Time (January 2011)
Roger Ebert's top ten films of all time (September 2002)