Midnight Sun: Let there be light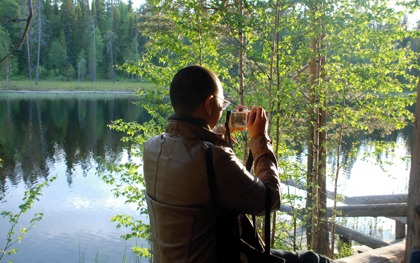 Apichatpong Weerasethakul, one of Peter von Bagh and Aki Kaurismäki's guests at this year's Midnight Sun Film Festival in Lapland
---
Sodankylä, Finland
June 2011
Sender: Nick James
---
The hard question is, what was the best moment of the 26th Midnight Sun Film Festival? Was it being surprised in the midst of a screening with live music of the Weimar Republic film Mother Krause's Journey to Happiness (Piel Jutsi, 1929) by a choir at the back of the Big Tent who began singing 'The Internationale', prompting one devout Finn in the audience to stand to attention? Was it seeing Aki Kaurismäki attempting to kiss the feet of Souleymane Cissé at an outdoor tango party, only for Cissé to fall down and join him on the ground? Was it sharing a sauna with a fine bunch of gentlemen including Apichatpong Weerasethakul and French Canadian auteur Denis Côté and then dipping into a cold lake like the locals do?
It was all of these and more. I took annual leave to make this trip more relaxing, and it proved to be a wonderful blend of cinema and mild carousing. Perhaps it was never seeing the sun go down (or the glass half empty) that made the roll call of guests so excitable. Alongside those I've mentioned already were Atom Egoyan, Athina Rachel Tsangari, Tony Palmer, cinematographer Michael Chapman, Ferroni Brother Olaf Möller (doing masterclasses on Soviet cinema of the 1960s) and many of Finland's finest. There were 'best of' retrospectives of Cissé's, Egoyan's and Chapman's films, plus Tsangari's impressive debut Attenberg (which I wrote about from Venice last year) and Côté's remarkable Curling, of which more later.
On the way to Sodankylä, I made an overnight stay in Helsinki at the Hotel Marski, where Hitchcock stayed when researching The Short Night (a never-made film which was to have starred Sean Connery and Liv Ullman). The evening was spent on a preparatory Kaurismäki experience – a visit to the Moscow bar, and the Kosmos restaurant, the former owned by the Kaurismäki brothers, the latter a famous 1930s artists meeting point which has recommendations from Aki in the menu. The Moscow bar is a tiny place ("it has the shortest possible distance between the toilet and the bar", noted festival head Peter von Bagh) and is fitted out in 1950s accoutrements like a typical scene from one of Aki's films. The restaurant (owned by the Hepolampi family) has a pleasant stripped down 1930s feel, and a comically austere idea of how much sustenance its hors d'oeuvres should offer a hungry client.
We flew from Helsinki to Rovaniemi (marketed as Santa Claus central), then took the festival bus north, driving for an hour or more after we passed the Arctic Circle before arriving. Watching a few hours of Peter von Bagh's splendid film Sodankylä Forever in Rotterdam earlier this year gave me some notion of what his festival would be like. Bagh has a very crisp and considered way with English that makes his famous two-hour interviews with guest filmmakers (which make up the bulk of his film) a real treat. They begin the day at 10am in the Sodankylä school hall (one of the festival's four venues – two of which are tents) and follow a routine that begins with the question, "What was the first film you remember seeing?". Filmmakers often fight shy of this personal line of questioning, but von Bagh's gentle nudging usually eases them past shyness.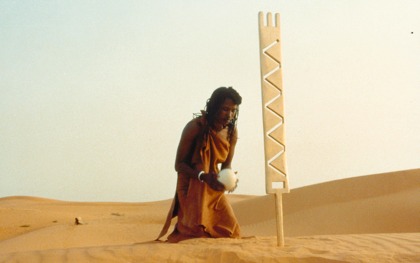 Not so the great Malian director Souleyman Cissé (of Baara, Finyé and Yeelen fame). So reluctant was he to pursue any personal matter not strictly related to his films that he kept up a complicated discourse of semi-comic exasperation and evasion that I only half followed through a combination of Cissé's French and an English translation of the Finnish translation. None the less von Bagh revealed Cissé in the end. We saw the combination of humility and Moscow-schooled hard-headedness in him all the more clearly for his recalcitrance.
Smoother luck was had with Chapman, though he was equally bemused that anyone could be interested in reminiscences of his working life. His stance is that of the hard-headed craftsman who worked his way up to shooting the likes of The Godfather and Taxi Driver and is chary of talking about the making of art. That said, he described Raging Bull as an Italian verismo opera – such as Cavalliera Rusticana – so he is clearly not an inverse snob. His pragmatic honesty and the way that he was seemingly ambivalent about himself as a cinematographer but happily convinced of his former talent as a young camera operator was very impressive. He was most involving when talking about how the actor and the camera operator are the only people on set who just have to go for it, so they are both athletes in that moment.
One fatalist lesson from Chapman was his insistence that you "can't fight technology". He meant, of course, digital cinematography and projection. This was not music to the ears of von Bagh, a committed member of the analogue resistance. I too still sometimes feel that you experience something more magical and emotional when you watch a film projection of a film print shot on film than when you view any digital mediation or origination of the image. In preparation for a talk I gave at Sodankylä, I watched The Third Man three times on a large television using a near-perfect restored DVD copy, admiring it over and over. But only when I watched the projected film – from a print lacking in contrast – was I moved by what is a pretty cynical movie I've seen at least a dozen times. The combination of scale, flicker and the swirl of grain in analogue film has some special neurological effect that we're losing.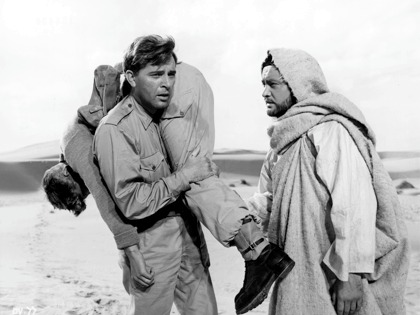 But Chapman's right that it's too late to save all that. "You can be sentimental about it but it won't change a thing," he said. The screenings here of The Last Detail (1973; an ironic title in this context), and Nicholas Ray's Bitter Victory (Amère Victoire, 1957) bear him out. Part of the poignancy of seeing Jack Nicholson's greatest performance in the former was the way the print had pinked, losing its richer colours. The Ray film was a fragile beast too, hard to focus and frame properly, and it broke at one point leaving us clueless at the outcome of a meeting between the British Desert Rats and two Arab horsemen. Yet it thrilled its audience, reminding us that Richard Burton – playing the lovelorn death-wish anti-hero to Curd Jürgens' cowardly commander – once had a simmering presence to match that of any of his American 'method' contemporaries.
These complaints about the prints are offered partly to assuage Von Bagh, whose self-mocking sense of humour makes him enjoy criticism more than praise. Aki Kaurismäki has traded for years off the same deadpan wit, and you could see the innocent sense of fun behind their friendship when the director crept up behind von Bagh when the curator was trying to call Kaurismäki to the stage to introduce the Finnish premiere of his new Le Havre. I'd caught Le Havre in Cannes, but seeing it again in front of the local crowd and under a big tent – that couldn't, of course, guarantee darkness – was still a blast. "I will be here afterwards," Aki joked. "You will not." Of course he was wrong – he got a standing ovation.
I did see one other new Finnish film, The Good Son (Hyvä Poika), directed by Zaida Bergroth and co-written by Bergroth and Jan Forsström. It concerns a borderline unhealthy relationship between a needy actress (played powerfully by Elina Knihtilän), recovering from an unsuccessful film release, and her volatile teenage son. Forsström was agonised that the projection of this film – shot using lightweight Canon D5s – didn't look right in terms of the colours. I had enjoyed the pastel quality of the light, but it might not have been intentional. Either way this was a promising feature that quickly gained authority in its character relations after a slightly shaky start.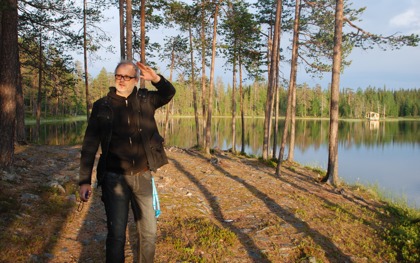 Denis Côté's Curling is a nicely distantiated tale about an isolated pre-teen girl kept largely from society by her overweening father, her mother being in jail. It is a beautifully observed winter chamber piece, with many unexpected macabre elements. Having got to know me a little, Côté took great delight in mildly mocking my question from the floor about which backwater community he had found to film Curling in. "Nearly all of the locations," he said, "could be found within a 20-minute drive from the centre of Montreal." I praised one early long shot that takes in a whole scene in which the father and daughter (played by real life father and daughter Emmanuel and Philomène Bilodeau) are walking along a main road in blizzard conditions when a cop car pulls up and the policeman asks them if they want a lift. Côté told me they had to shoot it that way because of equipment failure. In the sauna we saw blatant proof of Côté's cinephilia – his back is covered by a tattooed tribute to Sergei Eisenstein's Battleship Potemkin.
By a nice coincidence, a good print of Potemkin showed at the festival with Edmund Meisel's original music score (not the Shostakovich imposition) played by a trio of musicians led by the violinist-pianist-conductor Günther Buchwald. Atom Egoyan was so enthused by this dazzling performance he kept saying "wow" at the end, and led the audience to another standing ovation.
Egoyan's talk with von Bagh had none of the reluctance shown by Chapman and Cissé. He was happy to describe his original passion for theatre, something he's returning to (he recently directed his wife Arsinée Khanjian in a production of Martin Crimp's Cruel and Tender), and to posit the idea that the grammar of filmmaking – master shot, mid shot, close-up etc. – may be impossible to change because it may be the way we 'see' or experience our dreams. One real treat was to see a lengthy extract from perhaps Egoyan's least known full-length film, Gross Misconduct (1992), a television movie constructed so as to peak with two remarkable real-life deaths, that of troubled former ice hockey player Bryan Spencer, who was shot in a drug deal that went wrong, and that of his father, shot years earlier by police after he hijacked a TV station and forced the station chief at gunpoint to broadcast one of his son's games in his region. I wanted to see the whole thing but it isn't available (at least officially).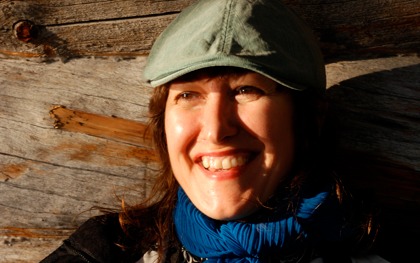 There were more self-indulgent highlights of the holiday variety: watching Athina Tsangari take solo pictures of everyone wearing a sleeping mask while sitting in a steamer chair by a lake; playing international football on a gravel pitch; getting Günther Buchwald to play jigs and reels, which he took to with alacrity – but enough of these. If, as so many argue, cinema in future has to make itself much more of an event culture, then the Midnight Sun Film Festival is one superb model of how outdoor and indoor cinephilia can coexist. The idea for the festival apparently came to co-founder Anssi Märittäri during Finland's winter of Polar Nights, when he was drunk and suffering from the total darkness. Perhaps it takes a kind of despair to produce so much manic fun.
See also
Restoration heaven: Jonathan Rosenbaum at Il Cinema Ritrovato (July 2011)
Dark days: Carmen Gray on post-Soviet realism at Tallinn's Black Nights Film Festival (December 2010)
Waft breezily: Nick James on Athina Rachel Tsangari's Attenberg at the Venice Film Festival (September 2010)
Lights in the Dusk reviewed by Ginette Vincendeau (April 2007)
Invisible classics: Mark Cousins on the hidden masterpieces of African cinema (February 2007)
Songs for swinging lovers: Linda Ruth Williams on Atom Egoyan's Where the Truth Lies (December 2005)
Ararat reviewed by Peter Matthews (May 2003)
Lovers of the Arctic Circle reviewed by Jonathan Romney (February 2000)
Felicia's Journey reviewed by Jonathan Romney (October 1999)