9th London Short Film Festival:
winners and rejects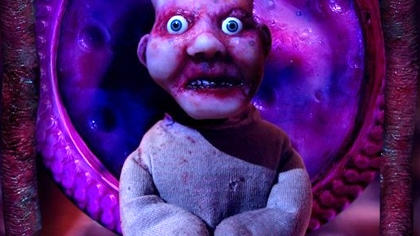 Robert Morgan's Popcorn Horror award winner Bobby Yeah
This year's LSFF even showed the films it wasn't showing. Dylan Cave peruses the award winners – and refusés
The London Short Film Festival thrives on acute curatorial clashes. This year its organisers chiseled their way through some 800 submissions to shape their eventual selection of 300 titles – each with its own style, ability and budget – into 24 different programme strands. As a provocation this year, the festival partnered with Salon des Refusés to show five filmic stragglers from this year's rejects pile before the closing-night awards.
Intended as a 'subversive experiment in short film curation', the Salon (run by Kirsty Dootson and LSFF producer Chloë Roddick) is a programming experiment intended to expose the subjectivities that lay behind shorts festival programming. Their philosophy is simple: they only screen films rejected by other festivals. And they raise legitimate questions: are the 90 per cent of short films that regularly fail to get into festivals necessarily poorer than those that are selected, or do other factors come into play? Are they, for example, too long; do they fit easily into the tone of a given programme or are they too similar to other, more popular, titles currently in circulation?
The Salon presented near-misses that Dootson and Roddick felt would hold their own among the titles in the larger festival. They ranged from the lottery-funded digital short Ellie to low budget Ricky Gervais-style comedy Conversation on a Bench, zombie spoof I Am Lonely (which, interestingly, won a prize at last year's Cannes) and a tense drama, Corner Shop. An eclectic bunch, the films nevertheless seemed to validate the Salon's raison d'etre, corroborating the proposition that film programming is subjective and a failure to get into a festival doesn't necessarily mean a film is poor. In fact it remained a mystery as to why the final film, The Making of Longbird (trailer), hadn't made the cut, its imaginative premise, loving references to old Soviet animation and fascination with moving-image technology (from 8mm to digital and back again) executed with an integrity and creativity that was a delight.
A swift trek from Bermondsey's Shortwave Cinema to the ICA, and the awards ceremony began with a film that hadn't actually played in the LSFF, Ed Lilly's The Hive. A thriller chosen by Andrea Arnold as Shooting People's December Film of the Month, it was a fine drama but no better or worse than the Salon's similarly angst-ridden Ellie. Perhaps it was the bee/wasp link that caught Arnold's eye?
The awards began in earnest with the Little White Lies award for Best Lo-budget (sic) Short, An Oral Fixation. This five-minute flash through three tableau was director Kevin Gaffney's honest hand-made video ode to an oral-sexual obsession. The bracing frankness was admirable, but I must confess that the magnified slurps and strained half-breaths of the performing actresses almost put me off my complimentary Kirin beer.
Other winners included Fritz Stolberg's Best Experimental Short Of This, Men Shall Know Nothing, chosen by the experimental-animation agency Animate! which one assumes will seek to produce his next work.
The Dirty Looks award for Best Music Short went to Prano Bailey-Bond's joyful House (above), a music video for all-girl band Cool Fun, who play a bunch of terrorised Barbies trapped in a spoilt child's dollhouse. Kumar Satkunarasa won the Best Student Short with his Bournemouth University graduation short Life and Stuff. A breakneck rush through the life of a hapless young boy who swiftly evolves into a regretful old man, it's rich in personal nuances yet universal in concept. Let's hope there's more where that came from.
The Popcorn Horror award was given to Robert Morgan's Bobby Yeah (trailer), which is also up for a BAFTA. It's a stop-motion model animation about a devilish imp who kidnaps his true love (an eczema-covered feminine worm, adorned with a white-blonde coiffure constructed from Morgan's collected toenails). The film delves into an abyss of lurid genital apparitions, waxy dismembered figurines and bloodied bodily fluids, yet manages to suck the spectator in with its narrative skill, creating a disquieting affinity with the beastly imp and his compulsion to act on temptation.
Elsewhere, Srdan Keca's 42-minute Mirage (trailer) won the Sheffield Doc/Fest award, proving that there is a place for long-form shorts. The London Comedy Film Festival selected All Consuming Love (Man in a Cat) (trailer) as Best Comedy Short, and Medeni Griffiths won the Underwire award for Best Female Character for her Summit. The evening's final award – the British Council prize for Best New Short (which includes £500 cash) – went to Andrew McVicar's Compulsion. (You can read my previews of all four films here.)
It was almost inevitable that the standard(s) of these award winners – some fresh, some ballsy, some with moments of brilliance – appeared to overshadow the thesis of Salon des Refusés. Talent will out, so the phrase goes. Yet the Salon's experiment served as a reminder of the hundreds of other original short films that continue to be dreamt up, planned, crafted and honed with varying degrees of success. Together with the awards ceremony, it offered an apt snapshot of the ideas, abilities and ambitions of current British short-filmmaking.
See also
9th London Short Film Festival: Dylan Cave previews nine highlights (January 2012)
Circumnavigating the world (and some time travel): Nick Bradshaw and Dylan Cave report from Bristol's Encounters short film festival (December 2011)
This is our land: Frances Morgan reports on liminal British filmmaking at the 2011 London Short Film Festival (October 2010)
Quick cuts and slow change: Laura Allsop on how the Arts Council funding cuts will affect experimental filmmaking in the UK (June 2011)