The Rotterdam conundrum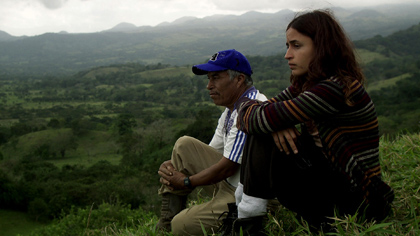 Yulene Olaizola's Paraísos artificiales
---
Rotterdam, The Netherlands
February 2011
Sender: Nick James
---
Always alluring for the straightforward reason that it's the first festival on the European calendar and is therefore – for those who can't afford or abide Sundance – the year's first escape from routine, Rotterdam seems of late to have mislaid some of its other charms. For its 40th edition, the festival pulled together a program not dissimilar to those of recent years: one built with the very best intentions of harvesting a range of fresh international talents in tandem with its Hubert Bals production fund. In their time, the fund and the festival have helped bring some important films and filmmakers to the world's attention. However, this task has seemed more difficult with each passing year and after this latest edition I'm left wondering if there isn't something out of kilter about the way the festival now comes together.
Indulgence of wild ambition and a leniency of taste have always been a part of the festival's enthusiastic general cultural approach. The attitude has always been 'let's put on as much as possible and see what shakes down into the culture'. As long as the avant-garde and experimental areas of small-scale cinema have been populated with interesting works and distinctive visions, and as long as world cinema has thrown up enough fascinating under-the-radar curios, Rotterdam has been the place to be. This was, arguably, the state of affairs until at least 2006. But on the evidence of the last few selections those pools of talent, risk and creativity have either seriously dried up or else the Rotterdam programmers are looking in the wrong places.
One of the difficulties Rotterdam in particular faces is the worldwide explosion of moving-image activity brought about by cheaper technology. Since Rotterdam is famous for its warm acceptance of work in all kinds of 'low-fi' formats, it is more vulnerable than other festivals to being overwhelmed by the sheer amount of work it feels obliged to process. I saw 24 films from across all the different strands this year (I'll be writing about the best of them in the magazine) and I'm not saying none of them were worthwhile or enjoyable – indeed, I'm very conscious that I managed to miss the Tiger award winners Park Jung Bum's The Journals of Musan, Sergio Cabellero's Finsterrae and Sivaroj Kongsakul's Eternity – but the films I did see that stood out were of the second rank and had come from the expected places (Romania, Korea, Russia). Otherwise, there were too many films that didn't work.
Some restraint ought to be exercised by those trying to achieve painterly landscape images with lower-end digital cameras. For instance, that clichéd Tarkovskyian shot of wind rippling through the wheat or steppe grass can look great on 35mm film, and would probably look equally good on the digital Red camera, but it just looks crummy in 'low-fi' (cf Julien, Gaël Lépingle's rural documentary about French 18-year-olds). It may seem harsh to say so in the context of an earthquake aftermath, but why bother to frame an ruined building with perfect classical form if the people walking in the foreground are seen to judder because the camera isn't set to capture their movement properly (José Luis Torres Leiva's Tres semanas después)?
Exemplary of the kind of cinema Rotterdam now shows is Yulene Olaizola's Paraísos artificiales. This is a portrait of Luisa, a 25-year-old junkie who travels away from her regular supply of heroin (so likely that!) to Veracruz, where she sits in a chalet chasing the dragon, or mooches about the beach ignoring the roaring surf, until she strikes up a friendship with the weed-smoking chalet attendant and starts to whine about her supply running out. The film ends on a beautiful note but it's a short idea overstretched to feature length.
And that's now the trouble with Rotterdam: it's become the place where you spend too much time counting the art-house clichés (the roaring surf, the stirring wheat, the intense smoking) rather than discovering what's ground-breaking. To be contrary for a moment, I still like the idea that I will see films here that care more about the way rain looks on a window or how dust motes catch the sun in a hotel window than they do about such Hollywood concerns as the character's journey, or such Berlin concerns as a social 'message', but too many of the programm fillers remind me how much better television currently does digital cinematography than cinema.
What's missing from the whole equation is critical acumen. Rotterdam is not alone in finding that the world now produces far too few works of abiding interest to sustain the huge number of extant festivals; it's also not alone in being too sentimental about both new talent and traditional cinephilia. There's no point in trying to wish back into being an age that, however regrettably, has now passed. I say: go smaller, reject more, be tougher. I'd give that advice to just about every festival. Why? Because if the kind of cinema we like is going to have any paid-for future it needs to raise its game.
See also
The festival directors: Sandra Hebron: our video interview with the director of the London Film Festival (October 2010)
The festival directors: Olivier Père: our video interview with the new director of the Locarno Film Festival (August 2010)
Smoke gets in your eyes: Nick James sees James Benning's Ruhr at the 2010 Rotterdam Film Festival (February 2010)
Beyond the horizon: Mark Cousins on the New Crowned Hope commissions of six new films from Asia, Africa and South America (July 2007)