Beyond the Horizon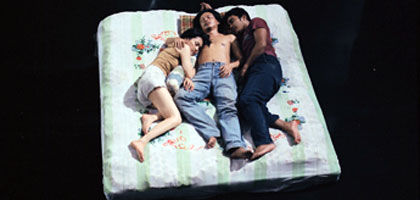 New Crowned Hope celebrates Mozart's 250th birthday with six films from Asia, Africa and South America that reflect the spirit of the composer's final works. By Mark Cousins
Back in 1790 new ideas were sweeping Europe. The French revolution was out of the starting blocks and marching to the tune of the Enlightenment, while in Vienna it was the freemasons who carried the torch of liberal fervour. When the secret police closed down their lodges there was an outcry, so the emperor - anxious to pacify his opponents - allowed one to reopen. To celebrate the event, a 35-year-old moderniser called Wolfgang Amadeus Mozart conducted a cantata that was to be one of his last compositions. The lodge went by the exquisite name of New Crowned Hope.
Two hundred and fifty years after the composer's birth, Austria is going Mozart mad. Amid the Amadeus keyrings and schnitzel, theatre impresario Peter Sellars has devised the New Crowned Hope arts festival, which took over Vienna at the end of last year and will play at the Barbican in London in July and August. This tribute to Mozart includes not a single note of his music. Instead Sellars has commissioned new works of music, theatre, dance, film, visual arts and architecture that respond to the themes of magic and transformation, truth and reconciliation, and ceremonies for the dead that inform Mozart's last three great works: The Marriage of Figaro, La clemenza di Tito and the Requiem.
While the festival's music, opera and dance are largely Euro-American, the six feature films and one short - commissioned by Simon Field and Keith Griffiths of Illuminations Films in London - are from Kurdish Iran and Iraq, Indonesia, Paraguay, Chad, Thailand, Malaysia and South Africa. France, Austria, Spain, the Netherlands, Belgium and Germany have put all money into the co-production pot, but the US seems not to have contributed a cent - not even to Bahman Ghobadi's Half Moon, which celebrates the fall of Saddam. Given the billions of dollars ploughed into the war in Iraq, the American championing of the Kurds and the winning optimism of parts of Ghobadi's beautiful film, it seems absurd that the US couldn't see fit to back such a cultural initiative. The fact that Europe is less isolationist and still racked by post-colonial guilt probably explains the continent's funding for films by Ghobadi, Tsai Ming-Liang (Taiwan-Malaysia), Apichatpong Weerase-thakul (Thailand), Paz Encina (Paraguay), Mahamat-Saleh Haroun (Chad), Garin Nugroho (Indonesia) and Teboho Mahlatsi (South Africa).
Britain's Simon Field (formerly both a director of the Rotterdam Film Festival and director of cinema at the ICA) and Keith Griffiths (a director and producer for Chris Petit, the Quay brothers and Jan Svankmajer) provide curatorial star-power, but it seems that national institutions such as the UK Film Council, Channel 4 and the BBC also kept their wallets shut. Which would not matter so much if it weren't that the New Crowned Hope movies represent one of the most exciting commissioned cinema projects of our times. If Sellars wanted six artistically daring films, then to look beyond the industrial cinemas of the US and India, Europe and Japan was an intelligent choice for both aesthetic and economic reasons.
Reading the body
Watch the films over two days, as I just did, and you see why. Tsai Ming-Liang's I Don't Want to Sleep Alone is a work of rare tenderness in which the director's regular Lee Kang-Sheng plays two men, one in a coma, one a migrant Chinese worker in Kuala Lumpur who has been mugged. The film is about how each is nursed - and their bodies washed - by a young woman and a Bangladeshi man respectively. In each case the nursing is both a Magdalene act and an erotic one. As Tsai uses no close-ups, we read his actors' bodies rather than their faces. Even more than in his previous films The Hole and Vive l'amour, the action is staged in depth, in glimpses through Vermeerian rooms and doorways, with his trademark camera position - 70 degrees to the action - rigorously maintained. Taken together, Tsai's films feel like quests for great spaces, with I Don't Want to Sleep Alone's vast, unfinished multi-storey building, abandoned when the Asian economic tiger stopped roaring, as a culmination. More even than Antonioni, Tsai refuses to let his plot impose a shape on the world he depicts, allowing it to tinkle along among the other sounds of life so that as viewers we can either bemoan its lack of audibility or take the overwhelming combination of the film in our stride. I Don't Want to Sleep Alone ends with a real coup, a cinematic equivalent to the hidden track on a music CD. More than 30 seconds after the movie seems to have ended, with black on the screen and no sound, the top edge of the frame begins to glow blue. Nearly two minutes later there is a revelation.
Where Tsai is a Freudian of sorts, his fellow ­thirtysomething, queer-inclined Asian director Apichatpong Weerasethakul is a Jungian. His previous films Mysterious Object at Noon, Blissfully Yours and Tropical Malady all include magical or subconscious material that erupts into the everyday to render its events mythic - and this is also what happens in Syndromes and a Century. Like Tsai's film, Syndromes has two stories and a style that's visually detached and radically spare. Tsai suggests in his film that one of the nursed men could be dreaming the other, but Weerasathakul goes further in that the people in his second story - set in a fluorescent-lit, humming modern hospital - seem reincarnations of those from the dappled sunlight of the first section. The last conversation in the first story is about reincarnation, a concept Weerase-thakul says he believes in, and as some of his other films are also double structured, then the idea that the characters from one world might be reborn into another seems key.
The spareness of Paz Encina's first featuremakes Tsai and Weerasethakul look frenzied by comparison - but the experience of viewing Paraguayan Hammock is not so much like watching paint dry as watching dawn break. This is literally what happens in the protracted opening shot, when a husband and wife, sitting in a hammock in the dark in extreme long shot, talk as the light levels gradually rise. A distant dog barks, a storm brews, their son has gone to war; the couple's conversation loops and swirls around these things. The last all-Paraguayan film was made in the 1970s, and Encina's aesthetic boldness puts her country back on the movie map. If Aleksandr Sokurov had adapted Raymond Briggs' When the Wind Blows - which sounds absurd, I know - the result would be something like this. When the credits rolled I felt it wasn't a film that had ended but a day.
Conjuring cinema
In the poem that prefaces the New Crowned Hope catalogue Toni Morrison writes that art is able "to lift the grime and glitter from our eyes" - and Tsai, Weerasethakul and Encina's exquisite minimalism does just that. But the next film I watched, Teboho Mahlatsi's 16-minute Meokgo and the Stickfighter, was a pointless and clichéd South African pastiche of spaghetti Westerns, 40 years after Niger's Mustafa Alassane gave us a comic African take on the genre in The Return of the Adventurer. The fourth New Crowned Hope feature, Garin Nugroho's Indonesian Opera Jawa, is unfortunately what you might expect from a theatre, music and dance festival 'doing' cinema: a Luhrmannesque mishmash of choreography, design and storytelling. I wanted to like this tale from the Sanskrit Ramayana epic but felt the camera was there merely to record the virtuosity of the performance styles.
The fifth film, Bahman Ghobadi's Half Moon, is as good as Kusturica at his best. It's a road movie about a famous old Kurdish musician based in Iran who is to stage a performance in Iraq and wants women (who are banned from singing in Iran) to provide "celestial voices". In a scene like something out of an Esther Williams musical, he finds a town where 1335 women, dressed in rainbow Kurdish clothes, sing on rooftops and play the daf (a hand drum) gloriously, but his attempts to bring one of them to the stage are thwarted. On the surface Half Moon is a skitting bus ride with the playfulness of kids' street games, but it keeps opening out into heartbreaking symbolic and geo-political realms. It's not easy to shift between the comic-absurd and the collective-mournful, but Ghobadi is a master of such gear changes.
Finally I watched Mahamat-Saleh Haroun's Dry Season, a version of the Dardenne brothers' The Son in which a young man whose father has been murdered is sent by his grandfather to kill the murderer, who turns out to be a taciturn, community-minded baker of physical nobility. The son becomes his apprentice and the baker asks to adopt him. As with the Dardennes, it feels as if Haroun has been watching Robert Bresson: most of Dry Season is confined to the bakery, where the suspense simmers as the men circle each other, and in the absence of words we read their body language.
The New Crowned Hope films play off each other beautifully - and also play off the absent Mozart. Paraguayan Hammock is structured like Mozart's Requiem and the composer's interest in magic finds an echo in both Half Moon and Syndromes and a Century. When asked by a journalist recently what I would do if I were ever again to become director of a film festival like Edinburgh's, I suggested, in all seriousness, that I'd programme everything but movies: gigs, readings, architectural walks, fashion shows. As with Mozart here, in its absence cinema would be conjured.
And New Crowned Hope conjures brilliantly. If part of the theme is hope and some kind of comparison between Europe 250 years ago and now, I'd have liked to see a contribution from Miyazaki Hayao, though animation may have taken too long to prepare. And Field and Griffiths perhaps missed a trick in not commissioning a documentarist such as Pirjo Honkasalo (The Three Rooms of Melancholia), the Japanese Tsuchimoto Noriaki, Michael Glawogger (Workingman's Death), or the Basque team behind the spirited Nömadak TX.
But these are quibbles. New Crowned Hope shows how good world cinema is.