2010 Young Journalist Competition:
the results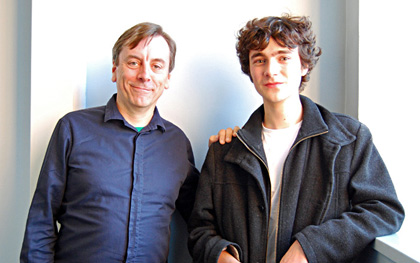 Our editor Nick James with this year's competition winner…
Tallying the entries for the second Sight & Sound Young Journalist Competition
"If you could interview any director in the world, who would you choose? Which five questions would you ask them if you were restricted to one theme or film?"
This was the second year of our Young Journalism Competition (in association with the BFI and London Film Festival) for wannabe film journalists aged 16-24, and we had 74 entries, up 20 on last year. As last year, the entries were striking for their balance amongst entrants' genders, and their imbalance amongst the genders of suggested interviewees: just four women directors to 71 men, and this in the year of Kathryn Bigelow's Oscar win.
Film subjects ranged from Darren Aronofsky's hot-out-of-the-lab Black Swan and David Fincher's The Social Network to Otto Preminger and the original Steve McQueen's star turn in The Great Escape. This year's in-demand director however was Inception's Christopher Nolan, and the hot-button topic was 3D cinema. (Several people wanted to ask Nolan about 3D.) More data about the entries can be seen further down this page.
We received two beautifully essayed introductions to the worlds of Terrence Malick and John Landis, which would likely have won had we been inviting pure critiques rather than more practical proposals for interview. Some other questions that entertained us:
"You [Lars von Trier] have a reputation as cinema's brooding, depressive, misogynistic, misanthropic maverick. In what ways do you think Antichrist eschews this notion?"
"As a materialist, do you [Patrick Keiller] find a lot of artistic complacency on display in cinema at the moment, and if so, what needs to change for a more socially conscious film culture to develop?"
"Would Paul Thomas Anderson ever direct a Resident Evil movie? Even just for fun/to confuse people?"
"Why do you [Tim Burton] continuously use Johnny Depp and Helen Bonham Carter, primarily as the main characters, do you not think other viewers will get bored?"
"I am a die hard fan of the film myself (I've watched it 40 times) and always wondered whether the chocolate fountain was real chocolate, was it real? And if so, surely you must have taken a swim in it sometime?"
"You [John Landis] have been bleeding for the film industry since the late 1960s…"
"What's the feeling you [Steven Spielberg] get when you have an idea?"
"Lastly [Christopher Nolan], sum up your whole life experience in directing in five words."
"I have about as much chance interviewing Terrence Malick as I do bringing the extinct Carolina parakeet back to life…"
"I would approach Bong Joon-ho in awe (maybe not literally on my knees but I'd probably have them slightly bent in utmost respect) to ask him following questions…"
"After I'd picked myself up off the floor on which I had just fainted, I would ask Darren Aronofsky…"
"I would find it hard to leave [Jonathan] Demme's company without wanting to talk more, but then no one likes a pest."
Our runner-up Alysia Wildman proposed five eminently simple, protean and open questions for Danny Boyle about the perspiration and inspiration behind 127 Hours. Did Boyle feel that filming in sequence resulted in a stronger performance from James Franco? Why did he work with two cinematographers? What drives him to film on location / what difficulties did you encounter? How did he work towards making the film have pace? As it is set in the one location, seemingly stationary. And what motifs / symbols did he use / run through the film to emphasise how Aron Ralston felt?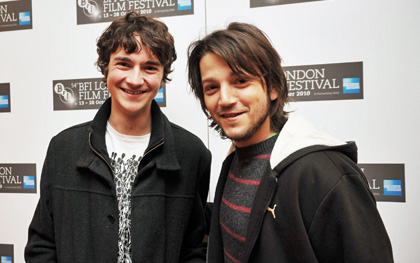 Our 2010 Young Journalism Competition winner Alex Dudok de Wit meets director Diego Luna
But our winner was Alex Dudok de Wit, who offered five beautifully informed, succinct and inviting questions for animator Sylvain Chomet about The Illusionist, his recent adaptation of an unrealised Jacques Tati screenplay:
1. How is the film different to the film Chomet envisioned at the start of pre-production? 2. What did he bring to the script [by Jacques Tati] that other filmmakers wouldn't have? 3. The visual style is softer than that of your very caricatural earlier films. Why? 4. Tati is revered in France. Did you ever fear that French audiences might consider it a blasphemy to render him in animation? 5. The protagonist – a stage magician – is practising a dying art. Some say that 2D animation is also a dying art. Do you agree?
Alex's prize was a trip to see Mexican actor-turned director Diego Luna's second directorial endeavour, Abel, after which he sat down for an interview with Luna. You can read the results of his endeavour here.
Nick Bradshaw
Entry statistics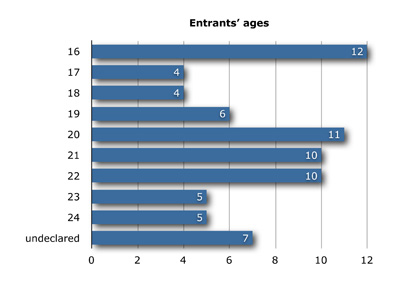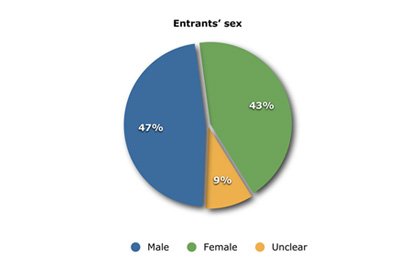 See also
Abel's Diego Luna interviewed by Alex Dudok de Wit
Youth on the march: Choosing the winners of the Sight & Sound Young Journalist Competition (online, October 2009)
Play away: 2009 co-winner Jamie Chadd talks to Andrew Kötting about film art, Ivul and life in the French tree-tops (online, November 2009)
Grim up Norfolk: co-winner Kate Smith interviews Tom Harper about his debut feature The Scouting Book for Boys (online, November 2009)