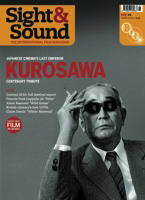 2010 marks the centenary of Kurosawa Akira, the great Japanese director who continues to cast a huge shadow over world cinema. With a flurry of Kurosawa-related activity underway – including a season of Kurosawa and his influence at the BFI Southbank in London and an imminent series of new BFI Kurosawa DVDs and Blu-rays – we celebrate the director's career with a collection of rare, vintage interviews and new writing, spanning everything from Kurosawa's ambivalent attitudes to traditional Japan and the post-war Allied Occupation to his ill-fated forays into Hollywood production.
Cannes is over, long live Cannes: this year's festival edition may have disappointed the glamour hounds, but it profiled a markedly healthy spectrum of new international cinema. We've gathered reports from four writers, whose picks range from Apichatpong Weerasethakul's otherworldly Palme d'Or winner Uncle Boonmee Who Can Remember His Past Lives to a fabulist horror film about the old weird Russia, two documentaries that peer at the end of the world and a 'nigh-perfect' portrait of a Calabrian village, 100 goats and all.
To countervail the talent-spotting, we also catch up with elder movie statesmen Francis Ford Coppola and Alain Resnais, both still productive (with Tetro and Wild Grass, respectively) after all these years. And we rediscover some lost gems of late-60s and 70s British cinema, courtesy of a forthcoming retrospective at the Edinburgh Film Festival and the BFI's re-release of Barney Platts-Mills' Bronco Bullfrog.
Plus: the raging slow-cinema debate, Serbia's 'other' director Goran Paskaljevic, Tacita Dean's Craneway Event and Robert Duvall's lost Angelo My Love.
We've reviews of 35 new film releases – including Claire Denis' White Material, our film of the month – and 20 new DVDs, including Tran Anh Hung's berserk anti-thriller I Come with the Rain and Sidney Lumet's Tennessee Williams adaptation The Fugitive Kind, as well as a new Blu-ray of Imamura Shohei's spectacular Profound Desire of the Gods. And our Books section covers new tomes on Jerzy Skolimowski, Harry Smith and Chris Morris, before neatly closing out with a review of Peter Cowie's new study Akira Kurosawa: Master of Cinema.
See also
Subscribe now!
Save £9 on the cover price, get a free DVD and receive new issues hot off the press and direct to your door.
View our archive
Order back issues, or search our online database of reviews and features from the magazine