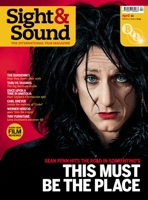 Who's that cover girl? None other than Sean Penn, cartooning The Cure's Robert Smith as a lapsed goth-gloom rocker turned, um, Nazi hunter in Paolo Sorrentino's eccentric, melancholic road comedy This Must Be the Place.
Jonathan Romney weighs a film "whose very premise, you may think, does not compute" yet which "constantly surprises, wrong-foots and exhilarates." Paul Mayersberg probes the chameleon sensibility of this "most consistently innovative of contemporary Italian filmmakers"; and as for Penn, notes John Wrathall, he joins the rich lineage of Hollywood stars (Lancaster, Nicholson, De Niro, Sutherland) who found themselves in the European art movie.
On the subject of modern maestros, we also spotlight Belgium's Dardenne brothers – Romney exploring their themes and variations in the light of their new The Kid with a Bike – and Turkey's Nuri Bilge Ceylan, who discusses his contemplative policier Once Upon a Time in Anatolia with Geoff Andrew (and slips us his diaries of its editing).
Roger Clarke talks to outspoken Polish auteur cum The Wire director Agnieszka Holland, and Nick James reflects on the public tussle for Berlin Film Festival honours between 1980s arthouse darlings the Taviani brothers and latterday maverick Miguel Gomes. Meanwhile Melissa Anderson brings you the "creative nonfiction" of 25-year-old writer-director-actor Lena Dunham, whose YouTube shorts were the springboard to her first feature Tiny Furniture.
As for the masters of the past, Jan Wahl recounts his conversations with great Dane Carl Theodor Dreyer as a student on the set of Ordet; Nicole Brenez asks if Fernando Solanas's 1968 agit-documentary epic The Hour of the Furnaces is one of the Greatest Films of All Time; Peter Hames profiles Czech 'Disney of the East' turned dissident Jirí Trnka; Mark Le Fanu remembers a late, great Zola adaptation by the neglected René Clément, and Ryan Powell unearths the unsung underground legacy of Peter de Rome.
Mike Leigh pays tribute to American indie-film crusader Bingham Ray, Sue Woods bemoans the government's closure of its distinguished Central Office of Information and Nick James offers his elegy to the art (and struggle) of photochemical film.
We've reviews of 37 new film releases – including Werner Herzog's Into the Abyss, our Film of the Month – and 21 DVDs, including features on Ken Russell's uncensored The Devils, Lionel Rogosin's neorealist classic On the Bowery and Nic Roeg-Dennis Potter collaboration Track 29. And our Books section straddles Hollywood studio pioneer Thomas Ince, Loretta Young's "virtuous glamour", Michael Lindsay-Hogg's memoirs of a life in film (rumoured parentage by Orson Welles onward) and Adam Mars-Jones's polemical re-reading of Ozu Yasujiro. All in just 98 pages…
---
Subscribe today, save £9 on the cover price, get a free DVD and receive new issues hot off the press and direct to your door!
See also
Berlinale 2012: our rolling blog (month, year)
Prince of darkness: Paolo Sorrentino talks Il Divo with Guido Bonsaver (April 2009)
The Consequence of Love reviewed by Philip Kemp (May 2005)
The Son reviewed by Richard Kelly (March 2003)
Rosetta reviewed by Lizzie Francke (March 2000)
Three Monkeys reviewed by Jonathan Romney (March 2009)
Our Beloved Month of August reviewed by Jonathan Romney (February 2010)
Raising hell: Mark Kermode on The Devils' rape-of-Christ scene (December 2002)
Ozu Yasujiro, tofu maker: Tony Rayns on the Japanese master's unsung side (February 2010)