Annie Girardot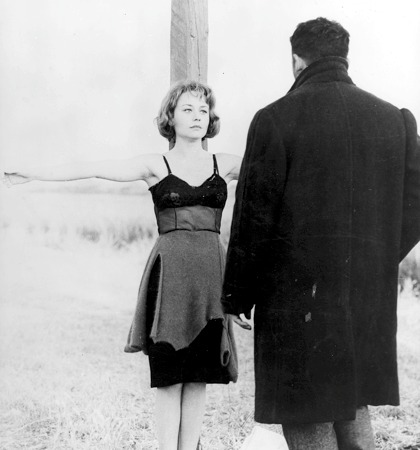 Girardot in Rocco and His Brothers (1960)
French actress, emblem of the 1970s 'new woman' and star of varying fortunes
25 October 1931–28 February 2011
---
Even though she was primarily a comic actress, there was always an aura of tragedy over the life and career of Annie Girardot. A hugely popular star in France from the late 1960s to the early 1980s, she went through several bad patches. And while she tended to work in popular genre movies, her reputation was indelibly marked by (and too often reduced to) her part as Nadia the tragic prostitute who is raped and murdered in Visconti's Rocco and His Brothers (1960).
Girardot was an accomplished stage actress whose early career in 1950s French cinema confined her to playing sexual vixens, similar in this to her contemporary Jeanne Moreau to whom she was often compared, both being considered jolies laides. Moreau moved on to the New Wave, Girardot to Visconti, but subsequently their paths diverged.
Girardot's Rocco experience was fruitful beyond her association with an acknowledged masterpiece. She married co-star Renato Salvatori, with whom she had a daughter and pursued a parallel career in Italy.
Meanwhile the failure of Marcel Carné's Trois chambres à Manhattan (1965) unfairly branded her box-office poison and she went through her first fallow period, aggravated by marital difficulties with Salvatori. Claude Lelouch's Vivre pour vivre (1967) led to an affair with the director, and more importantly to the second, triumphant phase of her stardom.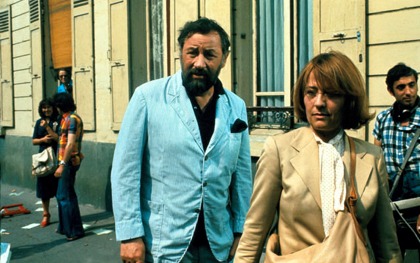 With Philippe Noiret in Philippe de Broca's Tendre poulet (Dear Detective / Tender Cop, 1977)
As Moreau and Deneuve saw their careers dip, and Bardot retired, Girardot was the French female star of the 1970s, ahead of more glamorous rivals like Romy Schneider, Marlène Jobert and Mireille Darc. In films such as Erotissimo (1969), Mourir d'aimer (1971), Docteur Françoise Gailland (1975, for which she won a César), Tendre poulet (1977) and many others, she was the emblem of the 'new woman'. Sporting cropped hair, discreet make-up and practical clothes, her heroines were resourceful career women, often in traditionally masculine roles such as police inspectors or surgeons. She was brilliantly funny and dynamic, her mobility enhanced by rapid-fire verbal delivery, and particularly popular with women.
Trade paper Le Cinéma français nailed the essence of her appeal thus: "Hers is an everyday face, the kind you could meet in the métro, in the street or at the supermarket." 'Ordinariness' was no barrier to sexual drive, and she artfully combined the twin 1970s feminine values of eroticism and feminism. Concurrently Girardot rekindled her stage career, scoring a huge success in 1974 with a one-woman performance as a teacher in Madame Marguerite, a role that she would reprise on and off for more than two decades.
The 1980s were less kind. While Deneuve converted to ultra-chic 'mature' women with Le Dernier métro (1980), Girardot traversed a second period in the wilderness. Parts dwindled, romantic affairs floundered, she became prey to depression, substances and financial problems. As she put it, "I went far into destitution and horror."
Again Lelouch helped her out, handing her the part of the old harpy La Thénardier in his Les Misérables du XXe siècle (1995), for which she won a César as supporting actress. This led to a notorious episode at the 1996 ceremony, when she tearfully berated French cinema for having abandoned her, defiantly claiming "I'm not quite dead yet!"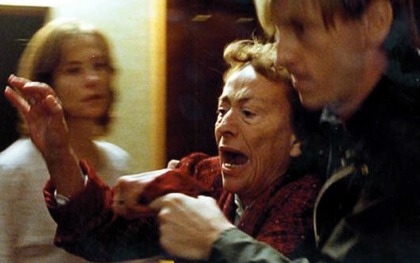 She later played the overbearing mother in Michael Haneke's The Piano Teacher (2001), for which she received another César. She had her come-back – but at the price of playing monstrous harridans. In Les Misérables and La Pianiste the camera complacently dwells on a her face ravaged by age and alcohol.
Sadly, Girardot hit the news again in 2007 when her daughter revealed she was suffering from Alzheimer's. But despite both on- and off-screen tragedy, Girardot should be remembered as the spirited 1970s heroine, the incarnation of a period of change and hope for women. Judged against most parts on offer to women today, it's an era that should be mourned along with its most attractive emblem.
Ginette Vincendeau
See also
The New Wave at 50: the star reborn: Ginette Vincendeau on the nouvelle vague's transformation of film stardom (May 2009)
The Actors: Isabelle Huppert: Ginette Vincendeau on the frosty presence that reshaped French cinema (December 2006)
The Actors: Catherine Deneuve: Geoffrey Nowell-Smith on the hidden artistry of France's most beguiling enigma (April 2005)
Death becomes Visconti: Michael Wood on the inexplicable in Michael Wood's later works (May 2003)
The Piano Teacher reviewed by Tony Rayns (November 2001)