Jane Russell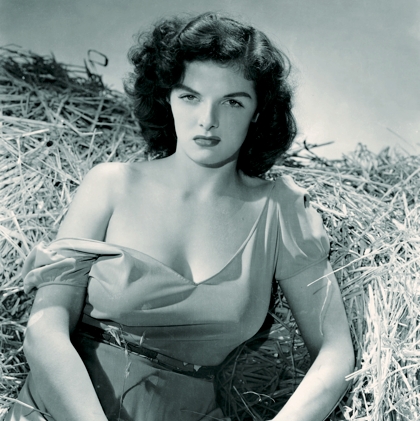 Famed Hollywood actress and sex symbol who proved skilled at comedy
21 June 1921–28 February 2011
---
From the protracted, scandal-inducing marketing campaign for The Outlaw (1943) to her 1970s Playtex adverts, Jane Russell was famed for her womanly silhouette. But what gave an original spark to both her beauty and her gift for light comedy was her almost masculine swagger: the kind of genial toughness that makes Gentlemen Prefer Blondes (1953) a bosom-buddy movie. Not for nothing, in Son of Paleface (1952), is her bandit/barkeeper monicker "Mike The Torch Delroy".
Initially typecast by Howard Hughes's censor-baiting RKO publicity machine as a smouldering sex symbol and GI pin-up, she rapidly became famous out of all proportion to that first attractively raw but affectless performance in The Outlaw. It was that "mean, moody, and magnificent" persona that got her cast in nearly-noirs His Kind of Woman (1951) and Macao (1952) as a femme fatale opposite Robert Mitchum, whose lizard-lid cynicism fitted nicely up against her sultry snarl.
And if a Life magazine pictorial had found her hilariously inexpressive teamed with Bob Hope for The Paleface (1948) – "neck and neck with Dorothy Lamour in the Deadpan Derby" – the film and its sequel honed the comedy chops and the purring alto that were to find their best expression in Gentlemen Prefer Blondes. Here Russell's game, man-hungry Dorothy is the perfect foil to Marilyn Monroe's breathy charmer. In the number Ain't There Anyone Here for Love?, Russell strides appreciatively through the US men's Olympic team workout, squeezing and grabbing athletes with unabashed enjoyment and expressing a hearty appetite for "big muscles and red corpuscles". There's a delicious wit and knowingness, too, in her shameless courtroom take-off of Diamonds Are a Girl's Best Friend, a shimmying parody that's smartly self-aware as well as funny.
The role fitted her to a T, but the next few years offered her frankly inferior copies of it. A burlesque version in RKO's The French Line (1953) had her feisty Texan heiress performing pelvic thrusts while singing I'm Looking for Trouble. Her performance and her scandalously cutaway one-piece got the Catholic League of Decency and the censors agitated once more, presumably fuelled by the slogan "J.R. in 3D. It'll knock both your eyes out!". In 1955 she was miscast as a ditzy showgirl in the execrable Gentlemen Marry Brunettes and, in one particularly ill-conceived number, cooked in a pot by African natives while singing Ain't Misbehavin'.
Raoul Walsh did use her sturdy, good-bad girl quality to fine effect, though, in the agreeably trashy The Revolt of Mamie Stover (1956), where her dancehall-hostess-turned-war-profiteer has a stubborn grace: "I got a number on my back and they all know it."
But if RKO chose poorly for her (1955's diving drama Underwater! was a thin excuse to show her in swimwear), Russ-Field, the company she formed with her husband, did no better. The Fuzzy Pink Nightgown (1957), a weak kidnapping comedy, was her last star vehicle. Perhaps encouraged by the 1954 contract she'd made with Hughes, which in exchange for six films gave her $1,000 a week for 20 years, her film appearances in the 1960s and afterwards were mostly forgettable cameos. Hollywood had made her a screen goddess on the strength of a handful of movies, but served her poorly subsequently. Her level-headed autobiography gives the impression that she quit while she was ahead. "No bows, honey, just eight bars and off," as Dorothy put it.
Kate Stables
See also
Restoration heaven: Jonathan Rosenbaum on rewatching Gentleman Prefer Blondes at Bologna's Il Cinema Ritrovato festival (July 2011)
The big stealer: Nick James on Robert Mitchum (August 2005)