Jean Simmons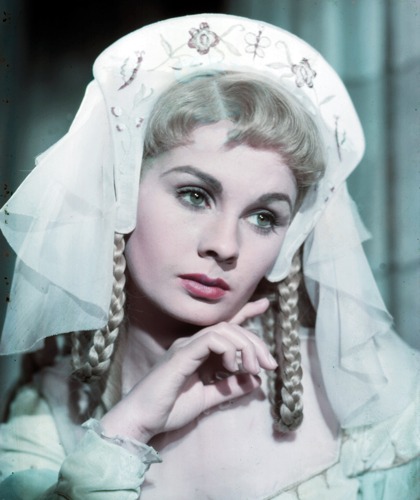 Actress
31 January 1929–22 January 2010
---
About an hour into David Lean's Great Expectations (1946) comes a moment that draws from audiences a sound between a gasp and a groan. It's our first sight of the adult Estella, whom we last saw played by the 17-year-old Jean Simmons. Now she's become the 29-year-old Valerie Hobson. It's unfair to Hobson, an attractive and graceful actress, but the gulf between her groomed good looks and the exquisite beauty of the teenage Simmons is too great to be bridged by the suspension of disbelief.
Simmons's delicate looks often had her cast in victim roles: a menaced heiress in the gothic melodrama Uncle Silas (1947), Ophelia in Olivier's Hamlet (1948), the tourist whose brother goes missing in So Long at the Fair (1950), a disturbed girl in the sub-Hitchcockian thriller The Clouded Yellow (1950). At other times, like so many young British actresses of the period, she found herself slotted into the pigeonhole marked 'demure'. But as her Estella suggested – or equally her Himalayan dancing girl Kanchi in the following year's Black Narcissus – there was a mischievous side to Simmons that was rarely exploited. Few films offered her the chance to play comedy, though Guys and Dolls (1955) was a rare exception: her strait-laced Salvationist discovering her inner raver in Havana was one of the film's high points.
Occasionally the dark side of Estella was let loose: the femme fatale of Otto Preminger's Angel Face (1952), the scheming housemaid of Footsteps in the Fog (1955), the compromised evangelist led astray by Burt Lancaster in Elmer Gantry (1960, directed by Simmons's second husband, Richard Brooks). But for the most part, even in her biggest-budgeted Hollywood picture Spartacus (1960), it was back to demure; and post-Spartacus, it was 50 years of mainly dross. Had it not been for the malice of Howard Hughes – who refused to loan her out when he had her under contract in the early 1950s because he resented her refusal to go to bed with him – Simmons might have had Roman Holiday and a career that soared like Audrey Hepburn's. Our loss as well as hers.
Philip Kemp
See also
Kathleen Byron: Philip Kemp on the actress who was always remembered for portrayal of the murderous, sex-crazed Sister Ruth in Black Narcissus (March 2010)