Kawamoto Kihachiro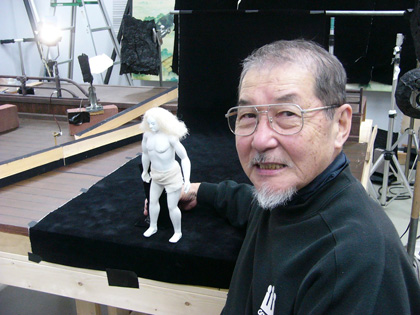 Puppet maker and stop-motion animator
11 January 1925—23 August 2010
A crucial figure in the field of independent art animation in Japan and the president of the Japan Animation Association (JAA) since 1988, Kawamoto began his film career after entering the Toho company's art department as an assistant in 1946, following an introduction from a school friend, Muraki Yoshiro, who went on to become Kurosawa Akira's long-term production designer. Kawamoto however lost his job in 1950 during a series of labour disputes at the studios, instead supporting himself making and selling dolls of famous Western stars until he made the acquaintance of dramatist Iizawa Tadasu in 1953.
Part of a small group that congregated around Iizawa, Kawamoto created characters for Iizawa's series of photographic puppet storybooks for children as well as others used in advertising work. The team were joined by veteran animator Mochinaga Tadahito, who in 1953 had returned from Shanghai after making two short stop-motion animations. Under Mochinaga's tutelage and inspired by Czech puppet master Jirí Trnka's The Emperor's Nightingale (1949), released in Tokyo that year, Kawamoto created Japan's first stop-motion animation, a television commercial for Asahi Breweries. In 1956, the team's critically-regarded promotional film Beer, Those were the Days… became the country's first such work to be released theatrically.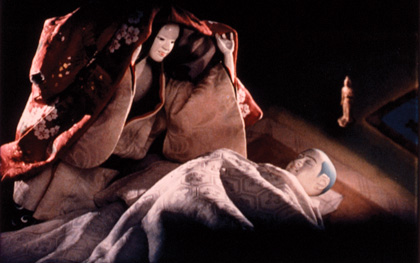 Advertising work afforded Kawamoto little time to make the more personal, creative films he really desired, so in 1963 he travelled to Prague to spend a year studying at Trnka's animation studios before returning to make his first independent short, The Breaking of Branches is Forbidden (Hanaori, 1968). Their style and content inspired by traditional Japanese theatrical forms of Bunraku, Noh and Kabuki, this title and the others that followed, including Demon (Oni, 1972), Dojoji Temple (Dojoji, 1976) and House of Flame (Kataku, 1979), regularly won acclaim at international animation festivals, and he later collaborated with Shanghai Animation Studios to make To Shoot Without Shooting (1988) and returned to Trnka's studios in Prague for Briar Rose or The Sleeping Beauty (Ibara hime matawa Nemuri hime, 1990). Despite producing two collage animations, The Trip (1973) and A Poet's Life (1974), he preferred working with the puppets he created, claiming they "made their own story, while with cut-out animation the story is created by the animator."
Kawamoto is particularly well remembered for the characters he made for NHK's live-action puppet series Romance of the Three Kingdoms (1982-1984) and Tale of Heike (1993-95). Buddhism played an important role in his art, particularly in his two feature-length works, Rennyo and His Mother (Rennyo To Sono Haha, 1981), written by Shindo Kaneto, and his final film The Book of the Dead (Shisha no sho, 2005) which, completed when he was 80, depicted the religion's arrival in Japan during the 8th century.
Jasper Sharp
See also
The Exquisite Short Films of Kihachiro Kawamoto and The Book of the Dead reviewed by Tim Lucas (September 2008)