Takamine Hideko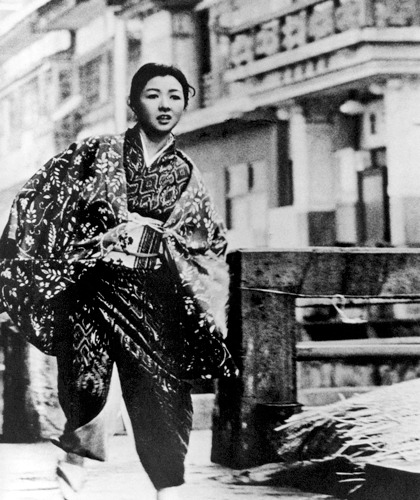 Actress
27 March 1924–28 December 2010
---
One of the finest actresses in the history of Japanese cinema, and among the most beloved of audiences, Takamine Hideko had a peerless career that stretched from child stardom in the days of silent cinema through to her final film in 1979. She had a soft beauty that drew your eyes to her even in ensemble pieces, coupled with a vividly alert onscreen presence that conveyed real depths and contradictions to any character she played.
Takamine worked with many of Japanese cinema's most celebrated directors, forging an enduring collaboration with Kinoshita Keisuke over many films, including the much-loved Twenty-Four Eyes. But – much as Hara Setsuko became muse to Ozu Yasujiro, and Tanaka Kinuyo to Mizoguchi Kenji – the director she is most indelibly associated with is Naruse Mikio, with whom she made 17 films, including several in the run of great films he made in the 1950s and early 1960s. These included the searing family drama Lightning (1952); Floating Clouds (1955), set in the confusion of post-war Japan, in which she plays a woman who continually tries to revive a wartime affair with a soldier; Flowing (1956), about a declining geisha house; and When a Woman Ascends the Stairs (1960), in which her bar hostess embodies a type of strong-willed, resourceful woman from Japan's lower middle class who found new opportunities – as well as new struggles – in post-war Japan.
Born in 1924 in Hakodate City in the north of Japan, Takamine started acting young, making her film debut for Shochiku Studios at the age of five in Nomura Hotei's Haha. Two years later, in 1931, she appeared in Japan's first talkie, Gosho Heinosuke's The Neighbour's Wife and Mine and played the daughter in Ozu's bleak Tokyo Chorus.
A string of roles followed through the 1930s, propelling her to fame, particularly after she moved to work with the Toho Studio – she was labelled the Japanese Shirley Temple. The family film was a popular genre in Japan in the 1930s, and Takamine shone in such titles as Yamamoto Kajiro's Composition Class (1938). Yamamoto was mentor to Kurosawa Akira, who served as assistant on his 1941 realist drama Horses, in which Takamine played a teenager who raises a horse on her family's farm, but is forced to sell it to the army.
Though Takamine was still cast in the daughter role in Horses, the film showed she was ready for more mature parts, as did the same year's Hideko the Bus Conductress, her first film with Naruse. The fact that her name is in the title is a measure of Takamine's celebrity at the time, for in the film she plays Okoma, a bus conductress who proves her independence when she tries to attract more customers by offering a sightseeing commentary to the route. The role was later echoed in Lightning (1952), the first of the glorious run of films she made with Naruse in the 1950s. As one of four children, each born to different fathers by the same mother, she at one point cuttingly remarks to her mother: "You had each of us without love. You're like a cat." For in Naruse's films Takamine was never placidly serene the way Hara Setsuko is in Ozu's, smiling through adversity; instead she could show irritation and even cruelty alongside warmth and stoicism, and yet remain sympathetic and believably adult.
By Takamine's own admission, Naruse wasn't an easy man to work with; she later wrote: "Mr Naruse was more than merely reticent: he was a person whose refusal to talk was downright malicious. Even during the shooting of a picture, he would never say if something was good or bad, interesting or trite. He was a completely unresponsive director. I appeared in about 20 of his films, and yet there was never an instance in which he gave me any acting instructions… so it was always up to me to decide how to act on my own." But Naruse clearly recognised that Takamine's face was the key to her acting. In the films she made with him it is peerlessly expressive; without overemoting she is capable of registering finely pitched emotion in merely a glance. Takamine said that, starting with Lightning, she would work on scripts herself with Naruse, cutting out lines of dialogue she didn't want to say, replacing them with gestures or looks. In Naruse's 1964 film Yearning, in which she plays a widow drawn towards a doomed love affair with her brother-in-law Kôji, the moment where she finally admits her true feelings for Kôji is played out in a magnificently subtle scene involving little more than an exchange of glances on a train. The film ends with her running along a street (pictured above) after learning of the discovery of Koji's body following her rejection of him; the emotions course across her face before Naruse closes with an unforgettable freeze-frame to rival Truffaut's of Jean-Pierre Léaud in The 400 Blows.
Takamine's collaborations with Naruse have tended to overshadow her films with other directors in the 1950s and 1960s, but in that period she acted for many more of her own choosing, having made the brave decision to leave the Shintoho Studio in 1950 to go freelance. She worked with Ozu for the second and last time in The Munekata Sisters (1950), and with Kobayashi Masaki in his war epic The Human Condition (1959). That film was partly written by Takamine's husband, the director and screenwriter Matsuyama Zenzô, who had been introduced to her by the director Kinoshita Keisuke. Though it was common for actresses to retire once they were married, Takamine kept working, because she said she wanted to "create a new style of wife who has a job".
Kinoshita brought out Takamine's comedic talent in two exuberant satires in which she played a stripper: Japanese cinema's first colour film Carmen Comes Home (1951) and its sequel Carmen's Pure Love (1952). He cast her in one of her defining roles, as a schoolteacher in the much-cherished Twenty-Four Eyes (1954), in his story of a married couple, The Lighthouse (1957), and in his great anti-war film The River Fuefuki (1960).
Takamine acted less frequently after the end of the 1960s, retiring from the screen in 1979, after making My Son! My Son! with Kinoshita. In her later years she remained creatively and intellectually active through painting and writing books, including an autobiography, My Professional Diary, in 1976.
James Bell
See also
Artist of the Floating World: Alexander Jacoby on Mizoguchi Kenji (April 2008)
Ozu Yasujiro, tofu maker: Tony Rayns on Ozu Yasujiro (February 2009)