Zdenek Miler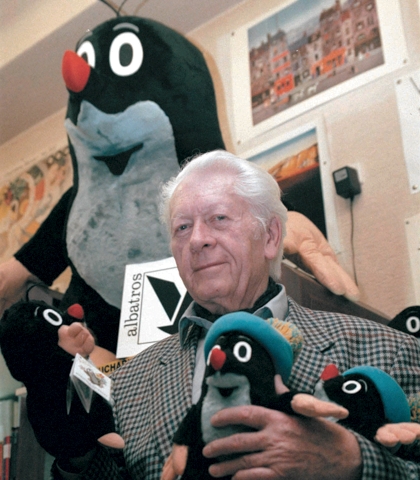 Photo courtesy Press Association
Czech animator whose many cartoons showcasing the Mole were distributed worldwide
21 February 1921–30 November 2011
---
Artists who cater specifically for children are usually taken less seriously than their adult-oriented contemporaries: quite literally, their work is something that one grows out of. And yet when Bagpuss animator Oliver Postgate, Vision On artist Tony Hart and playwright Harold Pinter died within weeks of each other, the public reaction left no doubt as to which two had burrowed more deeply into Britain's collective psyche, for all Pinter's unarguable creative importance.
Zdenek Miler passed away between the centenaries of two of the founding fathers of Czech animation: Karel Zeman (2010) and Jirí Trnka (2012). A decade younger than either, Miler was much less of a formal innovator, being a cel animator in a long-established tradition. However, his films far outstripped theirs in popularity – indeed, until Aardman, Ghibli and Pixar came along, Miler's wide-eyed, red-nosed and human-handed Little Mole (Krtecek) was arguably the most globally famous animated character to emerge from a studio other than Disney.
That studio was Trick Brothers (Bratri v triku), founded in 1945 by a group of animators with Trnka as their head. After training as an illustrator, Miler had worked for the marketing department of Tomás Bat'a's shoe empire in Zlín, where he learned basic film technique. After joining Trick Brothers as a draughtsman, he made his directorial debut in 1948 with About a Millionaire Who Stole the Sun (O Milionari, Ktery Ukradl Slunce), an animated folk tale with a Midas-style moral message.
The Little Mole first appeared a decade later, in How the Mole Got His Trousers (Jak Krtek ke Kalhotkám Prisel, 1957). Commissioned to make an educational short about the clothing industry, an unenthusiastic Miler took an inspiration-seeking walk, tripped over a molehill, and realised there was one species that animators had ignored.
From the mid-1960s to the early 2000s, Miler created over 50 Mole films. All were without dialogue, except for universally recognised words such as hello. Although he failed to crack the US market, the Mole's adventures were sold to over 80 countries, both capitalist and communist. The BBC frequently broadcast Miler's films in the 1970s, and they became an essential source of hard currency for the entire Czechoslovakian animation industry.
Despite feeling increasingly lukewarm towards the communist government that he had idealistically supported in the 1940s, Miler was never subversive in the tradition of Jan Svankmajer or even the Trnka of The Hand (Ruka, 1965), although he regularly poked gentle fun at two notorious Czech traditions: excessive bureaucracy and an abysmal environmental track record.
His most prescient Mole film was The Mole and the Rocket (Krtek a Raketa, 1965), for Miler lived long enough to see an eight-inch plush Mole toy visit the international space station in July 2011, courtesy of a space-shuttle astronaut who married into a Czech family. Had it ventured further, this surrogate Mole might have encountered the Zdenekmiler asteroid, discovered by Czech astronomers in 1998, and a truly cosmic honour for someone whose work was conceived on such an intimate scale.
Michael Brooke
See also
WAll•E reviewed by Andrew Osmond (August 2008)
Animation timeline (August 2006)
Castles in the sky: Andrew Osmond on Miyazaki Hayao's Howl's Moving Castle (October 2005)
A Bug's Life reviewed by Leslie Felperin (August 2000)
Chicken Run reviewed by Kim Newman (February 1999)