21 Grams
Germany/USA 2003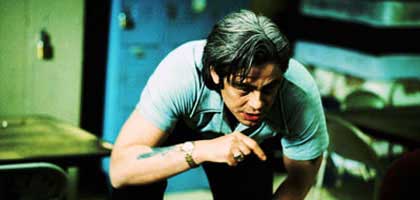 Reviewed by Paul Julian Smith
Synopsis
Our synopses give away the plot in full, including surprise twists.
An unnamed town in the US, the present. College professor Paul (Sean Penn) is awaiting a heart transplant. His English wife Mary (Charlotte Gainsbourg) is hoping to get pregnant through artificial insemination. Middle class housewife Cristina (Naomi Watts) comes home to find her husband Michael (Danny Huston) and two young daughters have not yet arrived. Reformed jailbird Jack (Benicio Del Toro) lives in poverty with his wife Marianne (Melissa Leo) and two children and is obsessed with religion. Jumping backwards and forwards in time, the film recounts the consequences of a traffic accident in which Jack runs over and kills Cristina's husband and daughters.
Paul is given Michael's heart, Cristina spirals into despair and drug abuse and Jack, overcome with remorse, gives himself up to the police. Paul finds out who his donor was and, breaking up with Mary, begins an affair with Cristina. He also discovers that his new heart is being rejected. Cristina tells Paul that they owe it to Michael to kill Jack. When Jack is released from prison he remains tortured by guilt and leaves his family to stay in a motel. Paul and Cristina follow Jack, but Paul is unable to kill him. When Jack breaks into their motel room, Cristina attacks him, but Paul's heart gives out and he shoots himself in the chest. They rush together to the hospital, where Cristina learns she is pregnant.
Review
A. O. Scott of the New York Times recently wrote that when he sees a film at a press screening he tries to look at it twice: once as a filmgoer who simply experiences the film and once as a critic, reflecting self-consciously on that immediate experience. There can be few films that demand this double vision so much as 21 Grams , Alejandro González Iñárritu's hugely ambitious drama in which the lives of a professor dying of heart disease (Sean Penn's Paul), a young suburban mother (Naomi Watts' Cristina), and an ex-con who has found Jesus (Benicio Del Toro's Jack) intersect after a tragic accident. In one of the opening fragments, Jack shows an apprentice hoodlum how a life can fall apart by having him remove a piece from a precarious pile of wooden blocks. The pieces cascade down. Testing formal fragmentation to the limit, González Iñárritu and screenwriter Guillermo Arriaga risk just this kind of collapse in the first half hour where there seems no way of holding the pieces of the film (of three lives) together. But they offer another teasing analogy: Paul plays electronic chess in his hospital bed. As spectators we are required to participate in 21 Grams' very serious game, facing the challenge that the film-makers have made to the audience as well as to the characters.
For lovers of González Iñárritu's magnificent first feature, 21 Grams might seem at first sight to be Amores perros times two, and not just in its premise of three lives linked and separated by a car crash. Breaking for the border, González Iñárritu brings his creative team from Mexico, but each of their contributions is intensified. While in Arriaga's earlier script the three strands were developed separately and rarely intersected, here they are crosscut kaleidoscopically from the start. Rodrigo Prieto's handheld cinematography was nervous and edgy in Amores perros . Here it is positively vertiginous, swinging between the distraught actors for much of the picture. And the grainy, degraded texture of the image, varying with the use of different film stocks, is more emphatic than before. Even Brigitte Broch's production design seems intensified. She has said that parts of the set which will never be seen (such as drawers which will not be opened) are dressed as diligently as those that are in sight. And there is a dense authenticity to these natural locations: sterile suburbs, raucous singles bars, grungy motels and hell-hole prisons. Shot in anonymous Memphis, a city whose stubby downtown towers few viewers are likely to recognise, and in the scrubby featureless New Mexican desert, 21 Grams is convincing both as a mid-American document and as the universal moral drama that it aims to be.
This curious combination of veracity and abstraction holds for the characters too. It comes as something of a shock to learn that Penn's gravely stoic Paul is a mathematics professor: we know nothing and care less for his professional background. The pressnotes tell us that Watts' Cristina, who switches from one scene to the next between squeaky clean suburban mum and dirty blonde drug-addled wreck, had substance abuse problems before her marriage. I had assumed she began to take drugs only after the accident. Only Del Toro's alarmingly thick-set Jack is provided with a fully fledged backstory: after a life devoted to booze and crime he has embraced religion with alarming ferocity. As his wife (the excellent Melissa Leo) confesses, she no longer knows who he is.
In spite, then, of these virtuoso performances, the focus of the film is more on abstract issues. 21 Grams tackles huge, unfashionable questions rarely posed in current cinema: if there is a God, why does He allow evil things to happen? What is the nature of human identity? How do we cope with guilt? One leitmotif is the line: "We have to go on living." Potentially clichéd, here it reveals the true cost of survival, its brutal and visceral effects. As in Almodóvar's All about my Mother (whose soundtrack Gustavo Santaolalla seems to cite in a wistful accordion theme), organ transplants are used as a metaphor for the all-too physical way in which people touch one another's lives, bringing love and death unerringly in their wake. Paul literally confronts his own heart, pickled in a jar after the operation. "Is that my heart?" he says, adding wryly, "The culprit." In González Iñárritu's relentlessly austere universe even vital organs have their guilt.
For all the brilliance of his plot construction and the seriousness of his moral enquiry, however, González Iñárritu remains primarily a poet of the visible world. Among the glittering, inexplicable shards of the opening sequence is a brief shot of birds rising, black against a blood-red sky. At the end we are treated to its mirror image, with a flock falling like leaves over a sky that is now streaked with blue. After a shattering climax which has brought the three main characters together for the first and last time, this is the clearest sign from this bleak triumph that there is still hope even after that cruellest and most banal of tragedies: a traffic accident.
Credits
Director

Alejandro González Iñárritu

Producers

Alejandro González Iñárritu
Robert Salerno

Screenplay

Guillermo Arriaga

Story

Guillermo Arriaga
in collaboration with Alejandro González Iñárritu

Director of Photography

Rodrigo Prieto

Editor

Stephen Mirrione

Production Designer

Brigitte Broch

Music

Gustavo Santaolalla