Ghost World
UK/USA/Germany 2001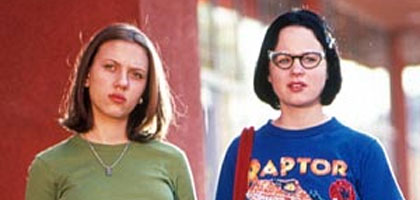 Reviewed by Leslie Felperin
Synopsis
Our synopses give away the plot in full, including surprise twists.
An unnamed US suburban town, the present. Best friends Enid (Thora Birch) and Rebecca (Scarlett Johansson) are two misanthropic teens fresh out of high school, although Enid has to take a summer-school art class to get her final diploma. She lives with her single-parent father (Bob Balaban), Rebecca with her grandmother. They spend their time hanging out in diners and teasing their friend Josh (Brad Renfro) who works in a convenience store. A prank reply to a 'just seen' personal ad leads to them meeting lonely, middle-aged Seymour (Steve Buscemi), a local man who collects blues and jazz records, and works in a middle-management job for a fast-food chain. Although Rebecca, who plans to rent an apartment for herself and Enid, dismisses Seymour as a 'geek', Enid befriends him and tries to help him meet women.
Seymour lends Enid a 1930s poster featuring racist imagery (produced by the company he works for). She enters the poster in her art-class show, intending it to remind people that such imagery was, until recently, widely acceptable. Meanwhile, Enid's dad starts dating his ex-girlfriend Maxine (Teri Garr) whom Enid can't stand. Rebecca gets a job in a coffee shop to raise rent money; Enid tries working in a multiplex cinema but is sacked after a day. When Seymour starts dating a real-estate agent, Enid becomes jealous and feels put out when he tries to distance himself from her. Her dad announces Maxine is moving in. Enid's art teacher arranges a college scholarship for her, but when controversy erupts over Seymour's racist poster, the school forces the teacher to flunk Enid, causing her to lose the scholarship. The media furore leads to Seymour losing his job.
Enid falls out with the increasingly more conventional Rebecca. One night she ends up going to bed with Seymour and regrets it. When Seymour comes looking for Enid, Rebecca reveals the prank that first brought them together and shows him the cruel drawings Enid made of him in her sketchbook when they first met. He takes a pill overdose but survives. Enid visits him in hospital, showing him subsequent drawings that suggest how much she cares for him. After making up with Rebecca, Enid finds a way out of town.
Review
There's a scene in Ghost World when Enid and Rebecca - the two disaffected suburban teenagers at the centre of Terry Zwigoff's new film - kill some time in a local video store (where trailers for fictional middlebrow fare such as The Flower That Drank the Moon loop drearily, and the clerk offers Nine 1/2 Weeks to someone looking for Fellini's 8 1/2). Browsing listlessly through the titles, the young women pronounce that, 'All these movies suck.' Would they like Ghost World itself, you wonder? Given their territorial pissing on most things, but particularly on anything that packages itself as 'cool' and is aimed at the teen/twentysomething demographic from which they feel estranged, they'd probably even sniff at their own star vehicle. Or at least Thora Birch's acerbic Enid would. Rebecca, played by Scarlett Johansson, might like it more, although she would be angry her character doesn't get to have sex with their friend Josh as she does in the Daniel Clowes' graphic novel, on which the screenplay is based. Viewers less biased than them will be more forgiving, and delight in the film's deadpan wit, softly layered details and deft portrait of suburban anomie.
It's not a perfect film. The bus-out-of-town ending feels pat, like something backers might have insisted on (even though it's in Clowes' original book), and runs counter to the pleasingly rough weaving of its several unresolved storylines. Otherwise, Ghost World adeptly evokes the unbearable dullness of being 18, the precarious power play of female friendship, the torpor born from having to decide what 'other plans' you should make if you're not going to go to college. Considering it was written by a couple of middle-aged guys (Clowes and director Terry Zwigoff), the film's twang of authenticity is even more impressive.
Perhaps because the slow dissolution of Enid and Rebecca's friendship is harder to dramatise on film, the movie departs from the book by creating the character of Seymour, the repressed but angry record collector whose moribund love life Enid tries to resuscitate. ('By the end of the summer you're going to be up to your neck in pussy.') Zwigoff, who directed the superb documentary Crumb about counterculture-cartoonist Robert Crumb, has admitted in interviews that much of Seymour is based on himself. So the temptation to interpret Seymour's sleeping with Enid as a queasy male fantasy is nigh irresistible. Nevertheless, you still have to applaud the unflinching way even their stillborn romance is treated. This is no Lolita for the lo-fi set. Like Robert Crumb, who openly admits and explores his own misogyny in his art, Zwigoff lets the 'weirdness' of Enid and Seymour's relationship trouble as well as charm, while remaining scrupulously non-judgemental.
As the title obliquely suggests, Ghost World is all about detachment. The camera often stands fixed and far back from the action, particularly in the exterior shots as the characters trudge doggedly through the abrasively bright, clearly Southern Californian landscape of scruffy condos and pastel strip malls. The stiff-postured tableaux ring true to Clowes' original black-and-50s-mint-green strips. Cannily, the main performers deliver most of their lines in slack monotones, all the better to set off the script's wit and balance the glistering cluster of varyingly deranged lesser characters - from Bob Balaban's heartbreaking turn as Enid's dad and Illeana Douglas' painfully earnest art teacher, down to a numchuck-wielding loser who haunts Josh's convenience store and an old man who uses a wheelchair just because he's too lazy to walk.
Credits
Director

Terry Zwigoff

Producers

Lianne Halfon
John Malkovich
Russell Smith
Janette Day

Screenplay

Daniel Clowes
Terry Zwigoff
Based on the comic book by
Daniel Clowes

Director of Photography

Affonso Beato

Editors

Carole Kravetz-Aykanian
Michael R. Miller
Production Designer
Edward T. McAvoy

Music/Score Conductor

David Kitay