Tropical Malady
Thailand/France/Germany/Italy 2004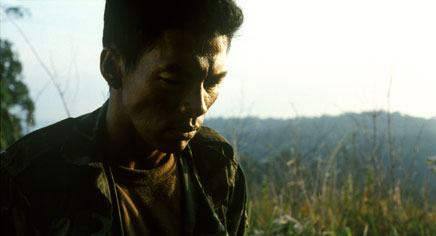 Reviewed by S.F. Said
Review
When it premiered at Cannes in May 'Tropical Malady' seemed to defy explanation. As the most audacious film in competition, it fully deserved its Jury Prize, even if it was too singular to command the consensus needed for the Palme d'Or.
Though unheralded, it was not unexpected. In 2002 young Thai director Apichatpong Weerasethakul won the Un Certain Regard prize for his mesmerising fiction feature debut 'Blissfully Yours'. That was a film of two halves, moving from the city to the country and marking the shift by running the credits half way in. 'Tropical Malady' takes this structural unorthodoxy further, offering two distinct yet connected films with a short in between.
It starts out as a sweet, quirky love story. Soldier Keng and country boy Tong drift into a tentative courtship which blossoms into love. Their romance has the flavour of early Jim Jarmusch or Tsai Ming-Liang: beautifully observed, underscored by deadpan humour, yet shot through with strangely numinous moments. As the love affair develops, we're enveloped in an idyllic world saturated with the reds and greens of the Thai countryside or the synthetic pinks and blues of the city. All seems well - until one night Tong walks, inexplicably, into the darkness.
He takes the whole film with him. Everything goes black and for what feels like an eternity there's no image or sound. You think the projector must be broken, until it whirs into life again, and the title 'A Spirit's Path' comes up on screen, together with a stylised picture of a tiger. What follows is a short within the feature, telling the tale of a shape-shifting shaman who gets trapped in the form of an animal.
The feature begins again, picking up the soldier as he searches for his companion in the jungle. But it's a very different film now. The jungle feels like neither city nor country and it's so dark you can hardly see. Then as the soldier goes further in, reality gives way altogether: monkeys start talking; a cow's ghost walks; and finally, with awesome majesty, a tiger looks out from the gloom.
In changing from a charming romance to a shamanic ghost story - and in switching mood to something like 'Apocalypse Now' on Mogadon - 'Tropical Malady' invites much speculation. Faced with such a film, perhaps it's best to let go of the desire for rational explanation, and instead surrender to its remarkable dream logic.