Dear Wendy
Denmark/Germany/France/ United Kingdom/Norway/Sweden 2004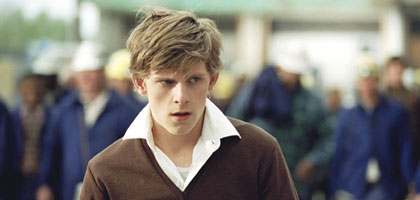 Reviewed by Roger Clarke
Synopsis
Our synopses give away the plot in full, including surprise twists.
The mining town of Estherslope, US, the present. Eighteen-year-old Dick (Jamie Bell) is a loner and misfit. His father died working in the mines and his own attempts to follow this career path have proved shortlived. When obliged to attend a birthday party for the grandson of Clarabelle (Novella Nelson), the African-American woman who raised him, Dick finds himself in a dusty bric-à-brac shop buying a pearl-handled toy pistol. He later discovers that it is a real gun; a fellow local misfit provides him with a bullet to test it. Dick finds himself powerfully drawn to the gun, which he names Wendy. An avowed pacifist, he recruits other town misfits of his age into a secret society called the Dandies. They meet in abandoned industrial buildings at the edge of town and indulge in shooting-range sessions, read poetry and dress up in theatrical hats and capes.
Dick is asked to look after youthful criminal Sebastian (Danso Gordon) by the local sheriff - but Sebastian's presence compromises the purity of the Dandies. Meanwhile Clarabelle has grown mentally disturbed in her dotage and Dick resolves to help her leave her house on an errand; Clarabelle panics, draws a gun and shoots a policeman. The activities of the Dandies are exposed when armed police storm their hideout. When the local sheriff offers them an amnesty they suspect treachery, and drop their pacifist credo in a lengthy shoot-out against armed officers in which all the Dandies are shot.
Review
There's an unavoidable hint of Billy Elliot as Jamie Bell reaches for his second coalminer's son in five years. Here is another sensitive soul who does at least try to go down the mines before devolving into a perfectionist private world of his own (though this time the moves are not sissonne and battement frappé but the flourishing of guns, feathered hats and secret marksmanship). He plays an alienated American 18-year-old named Dick, who forms a fantastical gun club with other town misfits his own age.
Aside from the dancing boy there are other 'British' films here too - A Clockwork Orange in particular (director Thomas Vinterberg acknowledges this), and for all the filmic references to Westerns such as Red River (in which Montgomery Clift and John Ireland homoerotically compare weapons) there's more than a nod to Lindsay Anderson's anarchic If... That foppish grey regency hat that Dick wears? Perhaps the ghost of James Mason's sadistic Lord Rohan in The Man in Grey lurks beneath. And when we discover that a chorus of stuttering is the ultimate embellishment and form of praise in Dick's secret, gun-crazy society, the rolling eyes of Nikolas Grace in Brideshead Revisited are evoked.
But let's be clear. This is a film about America. It may have been made by one of the founder members of Dogme '95 from a script by Lars von Trier, and may have European funding and location shoots, but its skewering of American gun-fetishism is perfectly specific. Not that the owning of guns is shown to be anything less than seductive; when Dick accidentally comes into possession of a small pistol, and calls it Wendy, and perceives a kind of richness around the worship of the gun, the soothing and psychosexual aspects of his obsession seem perfectly readable. Godard once talked about needing a girl and a gun to make a movie; what happens, Vinterberg and von Trier want to know, when the girl is the gun?
This feels, through and through, a von Trier project. Vinterberg has not yet developed a convincing directorial identity, having quickly abandoned the Dogme strictures that made Festen such a stand-out success. His 2003 film It's All about Love was a move towards bracing surrealism, and indicated that he was indeed very interested in big-canvas ideas and landscapes a mile away from the literal-minded claustrophobia of Dogme. The very physicality of the town's central square in Dear Wendy, around which much of the later action and shoot-outs take place, seems consciously reminiscent of Dogville (there's one scene with a diagram of the square which clearly echoes the von Trier film and its floor markings).
Many of von Trier's critics - mostly American - have detected an anti-American bias to his films, but the truth is that he is too wrapped up in his own pathologies to be properly polemical, and is too obscurely human to be called a political humanist. Vinterberg has rejected all accusations that Dear Wendy is anti-American; but the fact is he does depict a gun-crazed police force hiding behind a folksy charm, does show a broken industrial landscape with a broken working class, and does present a sense of a people whose paranoia and fear of violence is itself causing violence.
But there's also something very archaic and non-specific in this notion of objects creating people; Dick's gun makes him into a man, a self-confident being, and it restores dignity too to the other frail teenagers whom he enrols in his gun club. Wendy is a shamanistic totem object that takes him on a journey, and the subterranean 'temple' of the Dandies (as Dick and his friends call themselves) with its candles and drapes and poetry is a very Hell Fire Club of evocations. But the purity that Dick has convinced himself he has found with Wendy - she can hit the bull's-eye even when he is blindfold, so great is the symbiosis between them - is compromised as soon as Wendy seems to prefer the hand of the outsider Sebastian. Dick's determination that the gun should never be used against another human, his exalted notions of camaraderie, are as nothing when it comes to the gun's wheedling and dishonest whisper to kill and maim. This is not, of course, the NRA mantra. People don't kill people. Guns do, because they want to, of their essence.
Impressively shot by Anthony Dod Mantle and with striking music from the Zombies, this film is so physically dark that I was hard put to take notes during the screening. After a rather slow beginning it gains momentum, and Vinterberg's handling of the last 15 minutes has a sleek sense of action and violence. Subdued anger, bewilderment, raw gobbets of rage, these are themes that recur in Vinterberg's handful of films; and for all the von Trier input they do seem to be very present in this film. There is good ensemble acting here - Jamie Bell is excellent - and the film overall has a fine anarchic energy. But Vinterberg's low output since 1998 is to be regretted, and to find him back with von Trier so many years after Festen suggests a grown-up son who just can't leave his parents' house. He's shaken free from Dogme. Now he has to shake free from von Trier.
Credits
Director

Thomas Vinterberg

With

Jamie Bell
Bill Pullman
Michael Angarano

Certificate 15

105m 10s